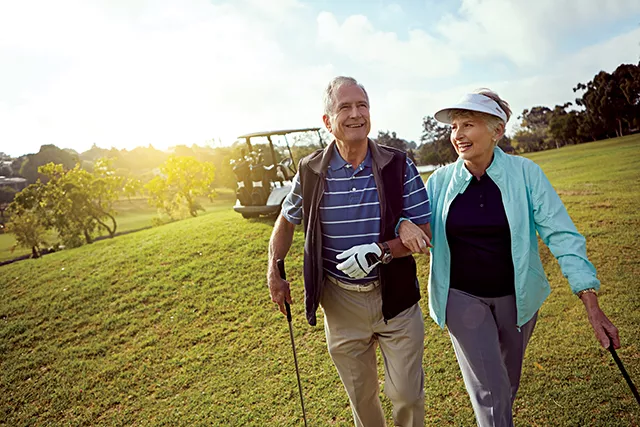 Many of us marveled at Olympic athletes performing amazing feats on skis, snowboards, skates and bobsleds. Clearly these athletes are passionate about their sport. But they are not likely to still be barreling down the track or completing triple axels when they are seniors. Golfers are also passionate about their sport, and the passion can extend over a lifetime.
Avid golfers cite the physical, social and mental benefits of golf. Jim Johnson, general manager of The Rail golf course, says, "Golf is an ageless game played by millions of seniors, not only for social and health benefits, but also for mental challenges. Although the distance of your shot may be shorter than when you were younger, the fun of the game is still there." According to Johnson, the average golfer walks four miles playing 18 holes, and most golfers burn over 1,400 calories walking 18 holes and as many as 850 calories riding a golf cart.
One avid golfer says he started walking the course only after retiring. His job required him to be on his feet most of the workday, so he used a cart when playing on weekends and evenings. After retiring at 65, he and a golf friend decided to walk 18 holes and carry their clubs. They soon discovered they liked this form of exercise, and for the last 12 years typically play six days a week when the weather is good. He says it's a perfect workout – combining the enjoyment of the game with the healthiness of the walk.
Johnson says golf is great exercise as you cover different terrains of the course. Walking helps build muscle strength, improves cardiovascular function and increases endurance, which are all important as you age. For those used to riding a cart, he suggests walking nine holes and using a cart on the second nine.
Many mention camaraderie as one of the benefits of playing golf. Some say it's an opportunity to "trash talk" with friends. For others, it is a chance to spend quality time with family members. Many enjoy meeting new people through leagues or joining a foursome.
Jim Lestikow started golfing at age 12 when he caddied at Flossmoor Country Club and was allowed to play on Mondays when the course was closed. He was on the junior varsity golf team at Bloom Township High School and played some great area courses, such as Olympia Fields, which has hosted the U.S. Open three times. He enjoys playing golf when traveling and says, "Golf gets you out on some of the most beautiful real estate wherever you are. When traveling and being paired with two or three others for our group, I have rarely played with a jerk, and 99 percent of the time I really enjoy getting to know the others. Since we are together for four to five hours, there is plenty of time."

Lestikow now uses a cart due to back issues. He tracks his steps and racks up 5,000-7,000 steps in a round. He does stretching and strength exercises designed to help his swing. He also notes that you have to squat and reach below your feet to get a ball out of the cup, so golf can help with flexibility. He enjoys the scenery, camaraderie with playing partners, sunshine (and soaking up vitamin D) and the exercise. But mostly, he says "it is half a day not spent sitting inactively, and doing something challenging, often frustrating, but generally fun."

Larry Haas started playing golf about 25 years ago when his kids picked up the game. Now he plays five to seven times a week during the season. He says initially it was a wonderful way to spend time with his family, a great way to all be together and do something they all enjoyed. Haas walks and carries his clubs and cites the fresh air, being outside, seeing nature and exercise as the many benefits. Says Haas, "There is something therapeutic about being outdoors in such beautiful surroundings with family and good friends. Golf is challenging and never mastered. Golf, like life, challenges me for continual self-improvement. I used to tell my boys, 'you play mad; you play bad!' My advice is to enjoy the game!"

Tom Pigati has been playing for 35 years and also got started when his sons wanted to learn to play. Now he plays four to five times a week. He says he loves the personal challenges and the chance to improve. Fresh air, sunshine and a chance to meet and play with nice people are the benefits for him. He says, "Golf keeps you active and gives you something to look forward to. Good physical health is important in this game."
Men don't have a monopoly on the love of golf. Many women enjoy playing for the same reasons. And it's never too late to start. Trudy Nelson decided to take up golf at the age of 56. Like learning any new fitness regimen, she says it takes practice and patience – practice from herself and patience from her foursome. By joining a league, she committed to playing weekly. Her goal is to develop the skills and speed to walk the course. She says it is super exercise and a fabulous way to be out enjoying the weather with her family as well as new golfing friends.
There's lots of evidence that as we age, learning something new has many physical and mental benefits. It's never too late to take on a new challenge. Both longtime golfers and those new to the sport say golf is a way to challenge yourself both mentally and physically while having fun with friends and family.

Karen Ackerman Witter is retired from the state of Illinois. Through freelance writing and volunteering, her goal is to connect people, organizations and ideas to achieve greater results.