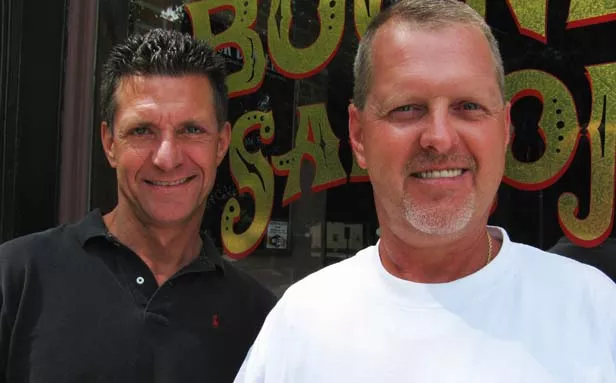 Charlie Roberts, 51, of Springfield, knows what it's like to race a motorcycle at speeds of more than 130 miles per hour around a flat track. He also knows what it's like to lose control of a bike, ending up seriously injured and hospitalized a long way from home. After an injury in 1980, Roberts spent nearly 10 years paying $100 a month to the hospital that cared for him after an accident in Syracuse, N.Y.

Charlie's story and others like it are why Charlie and other riders from AMA Grand National Champion Rookie-Expert Class of 1979, affectionately called "The Class of 79," decided to host the Saddlemen (TM) Class of 79 1st Annual Charity Golf Classic to benefit Aid to Injured Riders (AIR), a nonprofit organization founded to assist injured flat-track racers.

"Most of the guys who do this are underinsured and they're doing something that's very dangerous," Roberts explains. "If someone is hurt racing, Aid to Injured Riders steps in and tries to take care of some of the medical bills to alleviate some of this pressure from the families." When Texas rider Terry Poovey was seriously injured in the last lap of the May 2006 Springfield Mile, AIR provided $10,000 to help airlift Terry to a Dallas hospital.


Steven Luparell, owner of Boone's Saloon and Charlie's lifelong friend, is contributing to the effort by hosting an after party. Golf Classic participants will come from Piper Glen Golf Club to Boone's Saloon for lunch and an afternoon of fun.
Former Grand National Champions Bubba Shobert and Mike Kidd will be in attendance. Jared Mees (current leader in the Grand National Championship points race), Nicole Cheza and several other current riders are also making plans to attend. Some riders, coming into town early for the Fall IMDA Springfield Mile, will have their motorcycles on display in parking lots adjacent to Boone's Saloon, giving race fans an opportunity not only to mingle with flat-track racers but also to see their high-powered motorcycles up close. The after party will also feature celebrity bartenders, live music, raffles, a 50/50 drawing, a memorabilia auction and cold beer.
Join the flat-track racers at Boone's Saloon, 301 W. Edwards St., Springfield on Friday, Aug. 31, from 2 p.m. until 7 p.m. To learn more about the after party, contact Boone's Saloon at 217-679-3752. To learn more about AIR, contact Nicalee Sowders at 405-664-7821 or by email at
ftfan21@gmail.com
.

Contact Grace at writtenbygrace@yahoo.com.