It is, really, very simple.

Apply throttle, turn left every 10 seconds or so and forget about the brakes. Boiled down, that is the essence of racing motorcycles on dirt tracks. You don't have to be big or tall.

"It's fingertips and toes," says Steve Morehead, a retired racer who works as a race director for the American Motorcycle Association, presiding over competitions at the top tracks in America, including the oval at the Illinois State Fairgrounds in Springfield. "It's all ballet. Finesse."

Beyond the obvious need for nerve, you must be in excellent physical condition. You must have an understanding family that doesn't mind when you travel thousands of miles to risk your life. It helps to have a job with flexible hours that pays a lot of money, considering that a flat track bike can cost more than $25,000, the prize for first place is considerably less than $10,000 and orthopedic surgeons don't work cheap.

Making a living by racing motorcycles on fairground racetracks is tough, but dying is easy. Since the 1920s, at least 109 riders have been killed racing motorcycles on dirt tracks around the nation, with 10 men taking the last lap of their lives in Springfield, which boasts the fastest dirt track on the planet, thanks to short straightaways and relatively gentle turns that render brakes superfluous and encourage speeds as fast as 130 mph.

On smaller, less expansive tracks, riders must let off the gas, perhaps even apply brakes, but not at Springfield. It is full-throttle-crouched-over until a turn approaches, then sit up to catch the wind while easing back to half-throttle or so, then crank it back up once past the curve's apex.

Simple.

The gas may never go off at Springfield, but the laws of physics are always in force. Attached to frames and forks, motorcycle wheels become gyroscopes at anything faster than 5 mph, and so Newton would be fascinated by a flat-track racer in full turn, front wheel pointed away from direction of travel while rear wheel slides, the back tire at once a brake and a rudder that determines direction as the rider uses courage and position in the saddle to coax the sliding bike along the right path. The optimal line of travel on a brown dirt track can turn blue from transfer of rubber, and nowhere is the so-called blue groove bluer than in the turns, where, if you venture close enough and listen very carefully, you can hear the slide of tires against the considerable roar of twin-cylinder motors.

"You're actually peeling the rubber off the tires," Morehead says.

Making the unimaginable even more unimaginable is the left foot, which skims along the track's surface in the turns, sole protected by a strapped-on steel plate called a hot shoe. In addition to helping the rider maintain balance, getting the left foot off the foot peg and onto the ground allows the rider to dip the bike extra-low toward the infield so that the handlebar tip sometimes goes south of a rider's knee.

"It's like stepping out of your car on the freeway at 70 mph," Morehead says.

And Springfield is the mecca.



Almost like asphalt

NASCAR has Daytona. Formula One has Monaco. Indianapolis is famed for open-wheel racing on oval tracks. Springfield ranks with all these cities when it comes to a uniquely American form of racing.

During the years leading up to World War I and into the Roaring Twenties, motorcycle racing in the United States was popular on wooden tracks. Built from two-by-fours and running as long as a mile-and-a-quarter with banked turns that enabled speeds surpassing 100 mph, the so-called motor dromes were dubbed "murderdromes" by the press, owing to the frequency and severity of crashes.

Dirt tracks, typically on fairgrounds and often in the Midwest, became the home of motorcycle racers by the Great Depression, with races in Springfield starting in 1937. The capital city quickly became known as the place to win, with the coveted Number One number plate awarded for the entire racing season to the rider who won in Springfield. In 1954, a points system was established so that the Number One plate and official championship was awarded to the rider who compiled the best record over an 18-race schedule, but Springfield remained special.

Beyond the track's dimensions, the clay-like surface is notorious for being smooth, and smooth equals fast. It is distinctly different from the surface used for harness racing at the fairgrounds in that a layer of loose dirt a half-inch thick is atop the track when the ponies compete. It's called a cushion, and that's bad for motorcycles that already slide just fine without any loose dirt.

"This has almost no cushion," says Mark Burtle as he takes a break from watering the track last Friday, one day before the first of back-to-back Springfield Miles on Saturday and Sunday. "It's almost like asphalt, but better. We get a lot of photo finishes here."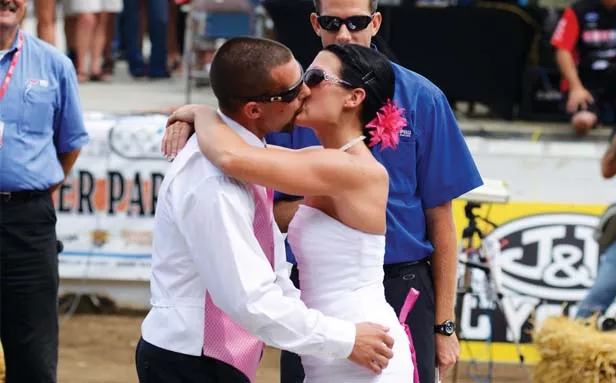 Burtle, who works full time for the state at the fairgrounds, has been preparing the track for Springfield Miles for 27 years. It is largely a job of moisture management, and he constantly checks the weather forecast. Preparation for this year's race began five days before the first heat. During the final two days before racing started, Burtle dumped 70,000 gallons of water on the track.

On race day, Burtle will add calcium chloride, which helps the track retain moisture, to the water applied to the surface. A track that becomes too dry is prone to cracking, Burtle says, and racing on a cracked surface is like racing atop loose jigsaw puzzle pieces. A just-right surface is almost tacky – close your eyes when you kick your foot atop a properly prepared track and you would never know that you were standing on dirt.

When conditions are right, the Springfield track allows for classic motorcycle racing. Warm-ups and eight-lap heats and the better part of the main 25-mile event are used to test and gauge the competition, figure out which riders are fastest and put yourself in a position to take off when they do. Anything can happen, but the final five miles of the main event are often marked by positioning and drafting other bikes and thinking ahead until, ideally, you accelerate out of the lead bike's slipstream at the finish, just in time for your tire to cross the line first.

"It's a mind game," Morehead offers. "It's like playing high-speed chess."


History and infamy

Famous as the Springfield Mile is, it was not always welcome in its hometown.

Now held on Memorial Day weekend and again over the Labor Day holiday, the Springfield Mile was once held on the last day of the state fair, and the crowds did not always mix well. Thousands of race fans, many from out of town, spilled over into downtown bars at day's end.

"The police would walk in groups of four to six," recalls Springfield Mayor Mike Houston. "They didn't have billy clubs. They had much longer sticks, and they had helmets on."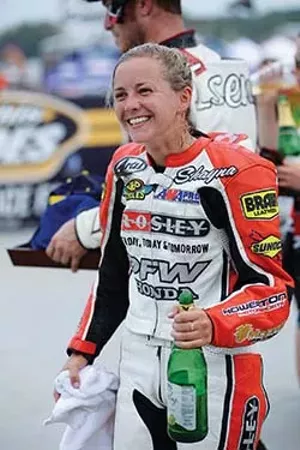 By the mid-1960s, motorcyclists had a bad image, fueled in part by the 1966 publication of a bestselling book, Hell's Angels, by Hunter S. Thompson. The Springfield Mile came to an end that same year, after a race for the ages.
The race then was 50 miles long, twice the distance of today's final, and the winner, often as not, was decided by mechanical failure, engines in that day not being known for durability when run flat out for any appreciable time. Sure enough, the leader, then nearly 20 seconds ahead of the pack, blew a piston with one lap to go. Four riders had a chance and played nip-and-tuck all the way to the finish, with Gary Nixon finally taking it at the line without his protective steel hot shoe, which had come off 10 laps earlier. He collected $3,230 in winnings before a cheering crowd of 30,000.
Less fortunate were Bill Corbin and Rick Vetter, who died in a five-bike wreck during an amateur event prior to the showcase race. It remains the deadliest day in the history of the Springfield Mile, which culminated that year with 70 arrests for disorderly conduct, drinking offenses and moving violations as rowdy spectators moved from the fairgrounds to pubs. There was no race for the next 15 years.
Motorcycles didn't return to the fairgrounds until the early 1980s, when Stan Hall, owner of Hall's Harley-Davidson on Dirksen Parkway, and other race backers convinced authorities to allow a Labor Day charity ride to benefit children with muscular dystrophy. For a dozen hours straight and through the night, just one rider at a time was allowed on the track, with people pledging as little as a penny per lap for charity. Hall still remembers the fastest lap time.
"Forty-seven seconds," he says with an obvious gleam in his eye.
Not bad, considering it was the middle of the night on a track with no lights.
The glory years
The charity ride proved the wedge that reopened the fairgrounds to real racing. Within two years, Springfield was back on the national dirt track circuit just as the sport was approaching a zenith.
There were 20 or more top-level flat track races each year during the 1980s and 1990s, with coverage on ESPN and lots of money from RJ Reynolds, which had naming rights to the circuit dubbed the Camel Pro Series. Top riders raced for teams owned by manufacturers, notably Harley-Davidson, and didn't need day jobs. With purses as high as $100,000 for a single race, the Springfield Mile was the richest stop on the circuit. There was talk of establishing a dirt track hall of fame in the capital city. More than two dozen riders were inducted, but the hall was never built as interest in dirt track racing waned and ESPN found other sports to feature.
This year, the circuit includes just 13 races, the Springfield purse was $50,000 and there was plenty of room to sit last weekend in the fairgrounds grandstand. Many of the 43 riders in Springfield had to cobble together sponsorships to pay the bills, many of them working regular jobs during the week.


Dan Ingram, who at 48 is one of the oldest racers on the circuit, works as a union construction worker in Indiana when he isn't crisscrossing the nation racing motorcycles. Like most of his colleagues, he started riding young, when he was less than five years old. He reached the top echelon of dirt track in 1983 and won three races going handlebar-to-handlebar with the best until a horrific crash at the 1993 Springfield Mile, when he lost it in a turn and hit a wall.

"I almost died," he recalls.

After coming out of a coma and recovering from a broken neck, Ingram retired, but racing was always on his mind. He began running and working out a few years ago, getting in shape for a return to the track. Despite some initial concerns from friends and family – and he says that it wasn't easy telling those who love him that he was coming out of retirement – he started racing again last year.

Why?

"I just never lost the love for it and I wanted to see if I could still do it before it was too late to try," he offers.

Ingram and others who know what it's like to go 130 mph down the straights, then bump handlebars and knees while side-by-side in the corners, say they do it because they love the competition or the challenge or the adrenaline or all three. But Ingram is realistic.

"If you're not scared, you're an idiot," he says.


"It's who I am"

Motorcycling is such a way of life for flat track racers that getting married on Sunday in front of the grandstand seemed perfectly normal for Jared Mees, who proposed to fellow racer Nichole Cheza a year ago at the Springfield Mile.

"She races, I race, everyone around us races," Mees explains about the couple's choice of wedding venues. "Why not get it on?"

Mees, who finished first in the overall standings last year and so rides with the coveted Number One plate on his bike, often rides in the same events with his bride, who suffered a serious back injury during a crash last year in Springfield while Mees finished fourth. She walked away from a spectacular wreck earlier this year in Indianapolis, but her bike was cut in half by another rider who hit it after she went down.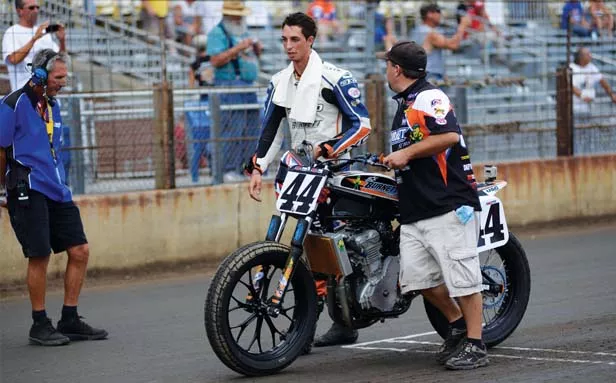 "She's been through crashes," Mees says. "It worries me. I try to block it out."

Cheza, the new bride, was a fan favorite in Springfield, judging by lines for autographs and cheers that rose whenever her name was announced on the PA system. But Shayna Texter was the It Girl of the Springfield Mile this year, dominating preliminary heats and winning both main events in a new rider classification created for racers just starting out on twin-cylinder bikes on mile-long tracks.

Texter won her class's 12-lap main event on Saturday by a Secretariat-sized 11.4 seconds and rode the fastest lap of any rider that day, regardless of class. Her margin of victory was more than four seconds on Sunday, still huge by Springfield standards. The weekend marked the first time that Texter had ever raced a twin-cylinder bike on a long track. She usually races smaller single-cylinder 450cc bikes.

"I always dreamed of winning the Springfield Mile," Texter said after Saturday's win. "Hopefully, I've proved to some people today I can ride a twin as good as a 450."

Skepticism would be understandable, given that Texter, a 22-year-old college student from Pennsylvania, stands five feet tall and weighs between 95 and 100 pounds, less than a third of the weight of a dirt track racing motorcycle. Sure, it's about finesse, but Texter says that heavier riders have an advantage on some tracks because it's easier for them to maneuver the rear tire into proper position in the turns. But any such advantage disappears on smooth tracks like Springfield, she says.

Texter, who is studying sports management and taking courses online, comes from a family of racers. Her father, who died three years ago, raced dirt track bikes and ran a Harley-Davidson shop after retiring from the track; her grandfather raced sprint cars on dirt. Her reason for racing is simple.

"It's who I am," says Texter, who started racing a decade ago.

Texter's sweep of the weekend's races earned her $2,000, a grand for each win. Brandon Robinson, who swept the main races in the top class plus won two shorter competitions, also won every event in his class and took home $17,000 in prizes, the best possible finish. It was another step on a comeback from his rookie season in 2009, when he went down in Indianapolis, bounced off a light pole and landed outside the track, suffering a shattered back, pelvis and hip. It was four months before he could walk again.

He was back on the bike the next year.

Contact Bruce Rushton at brushton@illinoistimes.com.