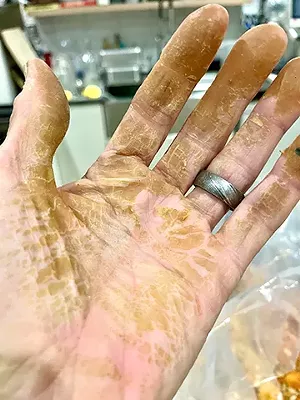 The R&D and Fermentation Lab at Chef Sean Brock's Audrey restaurant in Nashville is one of only three of its kind in the whole world, the other two being in Copenhagen. My job in the lab is to find ways to unlock hidden flavors from foods through ancient food preservation practices like lactic acid and koji fermentation, and modern technologies like microwave extraction, freeze drying and ultrasonic sonification. Because I came to this position without formal food science training, and because much of what we do takes us into uncharted territories, I am constantly learning and experiencing new things, such as
Cucurbita moschata dermatitis.
This past week the produce deliveries coming through the back door of the restaurant have shifted from summer vegetables like corn to fall vegetables such as butternut squash (aka Cucurbita moschata). Chef Brock likes to season his dishes with fermented sauces, pastes and dehydrated powders made from the same product, so I recently spent the better part of a day peeling, cutting and seeding several bushels of butternut squash. After filling a couple of 5-gallon buckets with shredded squash, I cleaned up my station and started washing my hands, which were covered with a sticky-but-stiff orangeish film that I couldn't rinse off. After I dried my hands, I noticed that my palms had gotten tight, discolored, crackly and tingly. I rewashed them, and as I scrubbed, the skin on my palms started sloughing away. I showed my hands to my boss and he chuckled and said: "You have squash hands. Next time wear gloves!" I wasn't aware that "squash hands" was a thing.
Squash hands, or Cucurbita moschata dermatitis, is caused by an unidentified allergen present in butternut squash. Fortunately, it only affects the skin, so you won't have an allergic reaction from eating the squash. Which is a good thing for me, because butternut squash is a staple in my pantry. It doesn't require refrigeration, it keeps a long time, it is nutrient-dense and it is very versatile.
Depending on the requirements of your recipe, there are a few different ways to prep butternut squash. If you are making mashed squash to serve as a side dish, all you have to do is trim the top and bottom of your squash, cut it in half lengthwise, and scoop out the seeds with a spoon. Brush both sides with olive oil, sprinkle with salt, place the halves on a sheet tray, flesh-side down, and roast at 375 degrees F for 40 minutes or until tender.
To use as a component in salads or rice dishes, butternut squash can be cut into cubes and roasted. Start by trimming off the ends, removing the skin with a vegetable peeler, and cutting in half widthwise. The "neck" of the squash doesn't have seeds and can be cut into uniform cubes. In a mixing bowl, toss the cubes with some olive oil, season with salt and spread out on a sheet tray. Roast at 375 degrees F for 20-25 minutes until golden brown and tender.
The bulbous base of the squash contains the seed cavity, and it is difficult to prep into uniformly sized cubes, but it can be diced and used for soups or pasta sauces. Cut the base in half and remove the seeds with a spoon. Slice into strips, then cut into small pieces. Put the pieces of squash into a pan, cover with water, season with salt, and simmer for 10-15 minutes until soft.
Check to see if it's properly cooked by inserting a knife into a piece. Whizz to a smooth paste with an immersion blender or food processor. If you want a thicker puree, drain the cooking liquid before blending.
Butternut Squash Apple Soup
Serves 4
Ingredients
1 tablespoon olive oil
1 medium carrot, diced
1 medium yellow onion, diced
1 butternut squash, peeled, seeded and cubed
2 apples, peeled, cored and chopped
1 teaspoon ground cumin
½ teaspoon ground coriander
1/8 teaspoon cayenne
2 teaspoons kosher salt
¼ teaspoon black pepper
4 cups low-sodium chicken or vegetable stock
Yogurt to garnish (optional)
Preparation
In a large pot, heat 1 tablespoon of olive oil and sauté the onion and carrots for 4-5 minutes. Add the butternut squash and cook for about 10 minutes, stirring occasionally, until soft. Then add the apples, cumin, coriander, cayenne, salt and pepper, and stock. Stir to combine, bring to a boil, and reduce to a simmer and cook for 30-40 minutes or until the squash is very tender.
Turn off the heat and use an immersion blender to purée until smooth. Alternately, purée in batches in a blender or food processor. If too thick, thin it with a little water. Taste the soup and adjust the seasonings as needed. Serve with a dollop of yogurt, if using.
Butternut Squash Risotto
Serves 4
Ingredients
1 butternut squash
2 tablespoons olive oil
2 tablespoons unsalted butter
1 yellow onion, chopped
3 cloves garlic, minced
2 cups Arborio rice
1 cup dry white wine
6-8 cups of low-sodium chicken or vegetable stock
1 teaspoon kosher salt
¼ teaspoon freshly ground pepper
1 teaspoon fresh sage, chopped, plus more for garnishing
½ cup grated parmesan, plus more for garnishing
Preparation
Preheat the oven to 375 degrees F. Cut the squash in half lengthwise, and then crosswise to separate the base from the neck. Peel the neck and cut it into ½-inch cubes. Leave the base unpeeled and scoop out the seeds. Line a sheet tray with parchment. Brush the base halves with a little olive oil and toss the cubes in a bowl with the remaining oil.
Place base halves cut side down on one section of the sheet tray and scatter the cubes on the other section of the tray.
Roast for 20-30 minutes, checking the cubes for doneness. Remove the cubes when tender. Let the base halves roast a little longer, until tender throughout. Scoop out the squash from the skins and place it in a bowl. Mash with a potato masher or large spoon.
In a saucepan, warm the stock and stir in the mashed squash. Meanwhile, melt butter in a large heavy pot. Sauté the onion and garlic with a pinch of salt for about 5 minutes, or until translucent, but not browned. Add the dry rice and toast for about 5 minutes. Reduce the heat to low. Add the white wine and cook until the alcohol boils away. Begin adding the stock/mashed squash in 1-cup increments, stirring until absorbed, before adding each additional cup. After it reaches a slightly thick, soupy consistency, add the roasted squash cubes, salt, pepper, sage and Parmesan cheese. Stir to combine. Serve topped with additional Parmesan cheese, black pepper and sage.