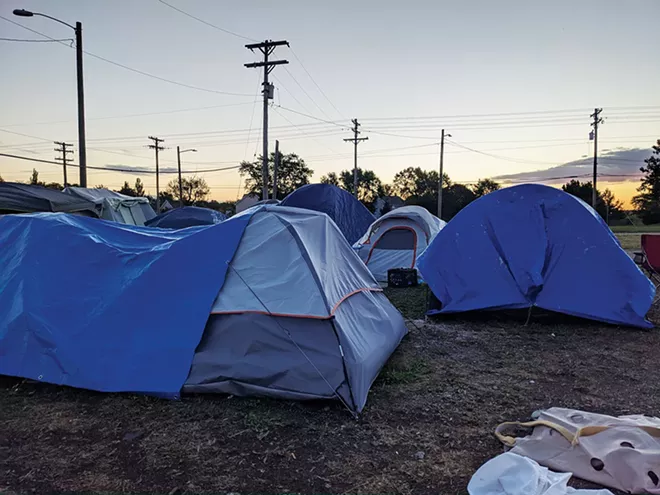 Don't print my name, he asked, and don't show my face.
I won't, I promised.
The bargain struck, Jack, with help from me, pulled off his left boot so I could take a picture. "Whose fault is this?" I ask. "Mine," he answers.
He's embarrassed that he lost all five toes to frostbite a couple years ago. He was drunk and sleeping outside. Even as his foot darkened and a doctor told him the bad news, it didn't hurt as much as you'd think, Jack recalls. After surgery, he says he spent three months recovering at a nursing home. What did you do for beer? Jack smiles, thinking back to pharmaceutical painkillers. "They had stronger stuff," he tells me.
He's been a roofer. He once worked livestock, wrestling with cattle in auction lots. Now, at 52, he's drunk every day, part of a knot of homeless people anchored at the intersection of Sixth and Carpenter streets, midway between County Market and Citgo – everyone knows the price each charges for Steel Reserve. Today, a half-dozen people are plopped by the road, a "Homeless Anything Helps" panhandling sign lying on the ground.
Something or someone reeks of urine. Donuts and fruit dropped off by the charitable are untouched. St. John's Breadline is walking distance. Beer is running short. A few whose cans aren't empty give sips to the thirsty.
A woman boasts about her grown son while picking on a younger woman who's 32 and has been living this way for four years: It's your fault you lost your kids, you know, the older woman keeps telling her, as if trying to stir trouble. We can't force anyone to leave – we're family, Jack explains, the same way someone would describe a dysfunctional Thanksgiving spent with unpleasant relatives. But this holiday never ends.
I ask if anyone knew Bill Caillier. Nope. I'd been asking homeless advocates the same question, but, always, the answer was the same: No.
A quiet death
A passerby found Caillier last February, dead on the concrete floor of a garage behind an abandoned house on South State Street, his pillow a paper yard waste bag from Lowe's. He'd been there awhile.
Caillier, 72, died from bladder cancer and with full knowledge: The coroner found an appointment card for a doctor's visit, recent medical paperwork and a hospital ID tag near his body, a catheter protruding from his pants. He had $330 in his pocket and owed $197 to the Springfield Housing Authority, which had evicted Caillier from the Bonansinga apartment complex on Jefferson Street, a half-mile from where his body was found. It's not clear when Caillier died, nor when he left his apartment for the street. Delinquency notices and eviction paperwork began accumulating on his door two months before anyone knew that he was dead.
No one can know Caillier's final hours or how long he spent in that garage, where cops found a battery-powered lantern, a transistor radio, blankets, an empty bottle of Wild Irish Rose and three spent cans of Steel Reserve, with a fourth unopened. He was an alcoholic, but Caillier died with a blood-alcohol content low enough that he was legal to drive.
Caillier's younger sister, who's cleaned up after troubles that include a prison stint and drug issues, says that she helped her brother get into his apartment, but he wouldn't stay. The homeless, she says, won't always accept help.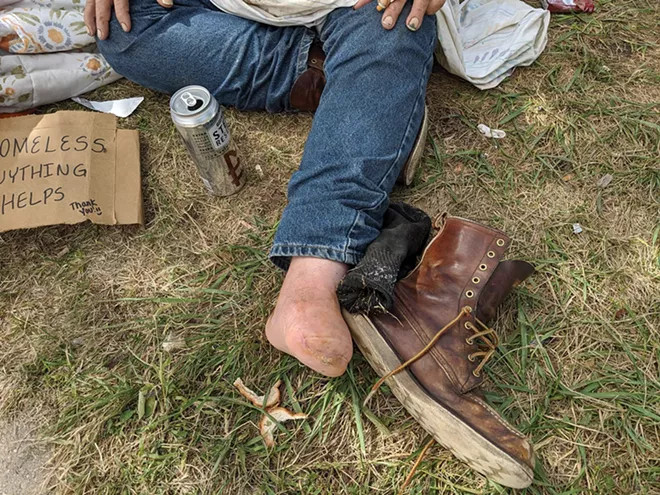 A woman who lived across the hallway from Caillier on Jefferson Street says she never knew his name. He lived next door for about three years, she recalled, and would disappear for weeks at a time. Kept to himself, she says, although she would sometimes hear him raise his voice. She remembers wondering whether he was arguing with someone on the phone or just talking to himself.
"It was a mess"
The daily newspaper ran two short stories, one when Caillier was found, the second when the coroner's office released his name. Months later, folks at Sixth and Carpenter have drawn more attention, as has a tent city that popped up this summer at the intersection of 11th and Madison streets.
Homelessness has long been an issue in Springfield, but not like this, with people sleeping curbside and living in tents alongside busy streets, just like in Seattle or San Francisco. City council members are demanding action. "We've got people in the prone position for hours at a time," Ward 7 Ald. Joe McMenamin declared at a recent city council meeting. "In the prone position: That's clearly in violation of some kind of ordinance that we've got."
Tent City is kitty-corner from the Springfield Housing Authority and across the street from the Salvation Army Adult Rehabilitation Center, an 80-bed treatment center for alcoholics and drug abusers that closed in September. "It's a constant reminder of our failure to this point," says Sangamon County Board Chairman Andy Van Meter.
Since 2005, at least four plans for homeless shelters have disintegrated. Of 20 regions in Illinois eligible for federal homeless funds, the one containing Sangamon County ranks last in landing money, and funding has decreased during the past five years. A consortium of agencies called the Heartland Continuum of Care that applies for federal money has been dysfunctional, according to Amy Voils, executive director of M.E.R.C.Y. Communities, who recently told the city council that only in the past year or so has the consortium, which includes her agency, improved.
"It was a mess – it was a disaster," Voils acknowledged during a September city council meeting. "No one was working together. It felt like everybody was working against each other – it felt like you were competing for funding."
Mayor Jim Langfelder has killed two proposed homeless shelters, first in 2016 by stopping work on a building on Ninth Street that is now a parking lot and again last year, when he balked at supporting a shelter on 11th Street after his staff helped pick the site. The mayor's last-minute pullback from the 11th Street shelter infuriated the city council and civic leaders. Last summer, the mayor hired a consultant to come up with a plan for the homeless.
The mayor's $24,000 consulting contract with John Fallon, who lives near Chicago, was signed in July, four months after the United Way of Central Illinois solicited proposals for experts to develop a homeless plan. The city, the county, United Way, the Community Foundation for the Land of Lincoln, Memorial Health System, HSHS St. John's and Southern Illinois University School of Medicine are supposed to pay for the plan, but more than six months after United Way asked for proposals, a contract has not been awarded.
"We are taking a pause to make sure we bring the right people to a steering committee to finalize who will be that outside consulting firm," explains John Kelker, United Way president. "One of the things we're running into is that, because of COVID-19, whoever that outside firm is may not be able to be boots on the ground here in Springfield."
Fallon, who's spent four nights a week at the Carpenter Street Hotel across the street from homeless people at Sixth and Carpenter, has told the city council that Springfield needs neither a grand plan nor a new homeless shelter. The city, he says, needs to find housing, now, by working with landlords and leveraging federal funds, and that's something that should have been done years ago.
"As a city, you seem stuck in the same spot of building another giant place when services need to come from your trunk," he told the council. Pegging the number of street homeless at 50, Fallon, since August, has said that places to live for all of them can be found before winter sets in. He's lambasted existing social service agencies and Springfield's health care providers, saying that they've done little to help the homeless and should be held accountable for failures. A regular at Sixth and Carpenter can't shower because of a broken wheelchair, he says, even as nearby nonprofit health care providers collectively have nearly $2 billion a year in revenue.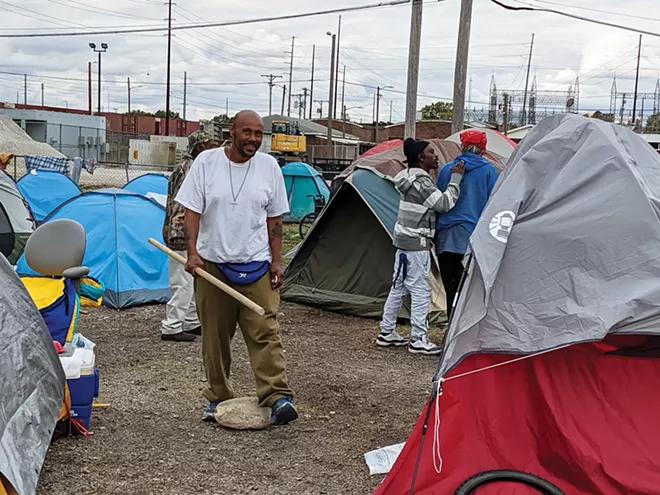 "Within the city of Springfield, you have access to a lot of resources that aren't being drawn," Fallon told the council.
Fallon hasn't proven popular with local social service providers, and he's clashed with city council members who've told him that he's not saying anything new. "We screw the very providers that are going to make progress – he threw them under the bus," Kelker complains of Fallon's presentations to city council members, who've told the mayor's consultant that they want a solid plan. Ward 8 Ald. Erin Conley bristled last month when Fallon observed that he'd invited council members to call him, but he hadn't heard back. "I take that as a poke at me, so thank you," Conley told Fallon during a September meeting. "You can call me if you'd like."
Since April, Helping Hands, a homeless shelter two blocks from Tent City, has found housing throughout the city for 20 people, says Erica Smith, the shelter director, and the nonprofit hopes, with public and private grants, to house 50 more. A remodeling project is creating 17 beds, boosting capacity to 71, and Helping Hands, which once granted admission based on breathalyzer results, has lowered the bar: Behave yourself and you can sleep inside, even if you've been drinking.
Langfelder is backing off from his own consultant. "John and I don't always agree," says the mayor. Fallon, Langfelder says, goes too far by insisting that the city doesn't need a new homeless shelter, although the mayor says that last year's failed project on 11th Street, which would have had 130 beds, was too large. "Personally, I thought it got bigger than what it should have been," says the mayor, who declined to say just how many beds a new shelter should have.
"The mayor tells me to shut up," Fallon told the city council last month. "I don't do a very good job of it." Since then, Langfelder has barred Fallon from speaking with the media. The mayor says that Fallon, who's told the council that he's delivered recommendations to Langfelder, is concentrating on "coordinating outreach for Tent City" and coming up with a plan for the winter. After the council gets the plan, Fallon can talk to reporters.
Last winter's shelter next to Tent City will be too small, given social distancing considerations that didn't exist a year ago, but a replacement seems obvious. Tent City is a football toss from the Salvation Army building that sits empty, essentially a vacant homeless shelter with dormitory space, a kitchen, showers and plenty of room for cots in what was once a thrift store and a warehouse, all across the street from where people are living outside. Regardless of homeless people, the city needs part of the property to expand the adjacent railroad corridor. On Tuesday, Langfelder presented the council with a proposal to buy the property for $2.94 million, with final action anticipated before month's end.
Long term, Van Meter says the stalled planning effort pushed by United Way should be from scratch, with no preconceived notions about whether Springfield needs a one-stop-shop for the homeless with beds, a detox center and a health clinic, as was contemplated for 11th Street. Fallon, Van Meter says, hasn't helped.
"I know the mayor feels a sense of urgency, and that may have motivated him in bringing in his own consultant," the county board chairman says. "Operating in his own sphere hasn't been helpful in building a durable community consensus with all of the interested parties."
"It almost became normal"
City council members deride Tent City as unsafe and unsightly, a tolerated place that encourages similar enclaves throughout the city. Last month, a woman and a man there were hospitalized after being attacked by a man with a rake handle who's been charged with aggravated battery. The argument started over suspicions that someone had stolen beer, according to Julie Benson, who quit an office job at Henson Robinson last year and now provides supplies and sometimes hotel rooms to the destitute.
"It almost became normal, and people – not only the homeless population, but people in this city – embraced Tent City as an alternative," Ward 3 Ald. Doris Turner said during a recent council meeting. "I just think that's wrong. It should have never happened. ... It's promoting a disastrous situation that cannot stand."
Jack and other denizens of Sixth and Carpenter told me that they avoid Tent City because it's dangerous and people steal. It did not seem threatening when I stayed there for two nights, nor did it seem secure.
The first night, I was awakened shortly before 5 a.m. by a determined voice, demanding that Bill return the money: You're no good, Bill, you owe me, and you know it. Whoever it was sounded sober and serious. I poked my head outside my tent and saw no one. The voice was coming from a nearby tent that had not been there when I'd made camp at sundown many hours prior, nearly unnoticed – I'd picked a spot on grassy outskirts and minded my own business. I left at dawn after surveying the state of the portable bathroom.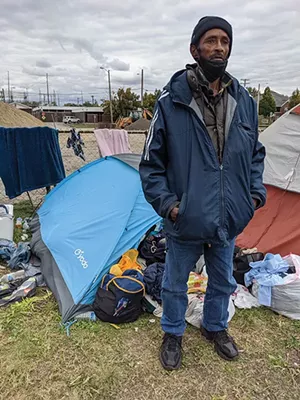 The second night was closer to the crowd – whomever was in charge had taped off the grassy outskirts. I was loaned a hammer to pound tent stakes through gravel, a few feet away from other tents. Someone helped hold up a pole as I made shelter. Another person asked if I'd trade my lightweight backpacking tent for his, which was covered with a plastic tarp to ward off rain. A woman named Rebecca – she told me she didn't stay here but was waiting for someone – gave me fleece gloves and the nickel tour, pointing out a stash of bottled water on one side of the encampment and Scott's empty tent on the other. She didn't know much about Scott, only that he's 28 and hadn't been seen in three days.
Dinner was fried chicken, and it was delicious. No one asked the source when two men drove up and deposited a big box on a picnic table. When I awoke the next morning, another box filled with foil-wrapped hot dogs was on the table. After using the portable toilet, which was cleaner this time, I took down my tent, which I'd considered leaving while I went about regular life elsewhere. I'd spent less restful nights in fancier campgrounds, bothered by RVs with generators and loud stereos. But none of those people coveted a waterproof tent and North Face sleeping bag.
I returned the next day. Markey Surratt showed me his two tents, one that contained either trash or food, with flies abuzz, the other tent stuffed full of shirts, pants, coats and other clothes, with no room to sleep. Where did you get all this stuff, and what will you do with it? Surratt tells me that he scrounged the clothes from piles left at Tent City by people who drop off discards for the homeless. Looking impossibly thin, Surratt, who appears to have no teeth, says that he will donate his tent full of clothes to the needy. He says he doesn't sleep here. "I hide," he tells me. Where? "It's discretionary – I'll just sleep on the sidewalk," he replies.
Surratt doesn't think much of the homeless on Sixth and Carpenter, whom he labels racist, or Donald Trump. "How many chiefs of staff has he had?" he asks, the day before the president fell ill. He says he's cleaned floors for money and been a union member. "I'm Teamsters, county, state and federal," Surratt says. "I'm a flight nurse."
Shouting breaks out a few minutes later. "Walk!" someone demands.
Patrick Collins, who'd declared my tent fit for Everest the previous night, is squared off opposite a recent arrival. The dispute's nature isn't clear. Collins holds a wooden staff, which he raises as if meaning business. The other man, unarmed, backs down, coaxed by bystanders to stay cool. Then he finds two sticks and begins lashing them together with duct tape. Benson rushes up.
"Good lord, you're not making a weapon, are you?" she asks. "What do you think?" he replies. He says something about shoes. Then he digs at the ground with his taped-together sticks, right next to Scott's tent, which, not being otherwise used, is now his. For now, at least, peace is restored.
Collins doesn't recognize me from the night before, but he remembers my tent and tells me I clean up well. He grew up in Springfield and remembers the Hay Homes. It is fair, he says, to call him the mayor of Tent City, although he's not out here permanent.
"I just got a bum chance," he says.
I saw Surratt at Tuesday's city council meeting, a few days after we met. He waited for almost two hours before he was allowed to speak near the end of the meeting, when the public is permitted to address the council. He spoke for several minutes about conditions in Tent City. "Please put these people in a home," he said. "It's cold outside."
Afterward, I followed him to the elevator: Where will you stay tonight, I asked. He didn't seem to know, exactly. "I'm tired," he said, as he stepped inside and the door closed
Contact Bruce Rushton at brushton@illinoistimes.com.