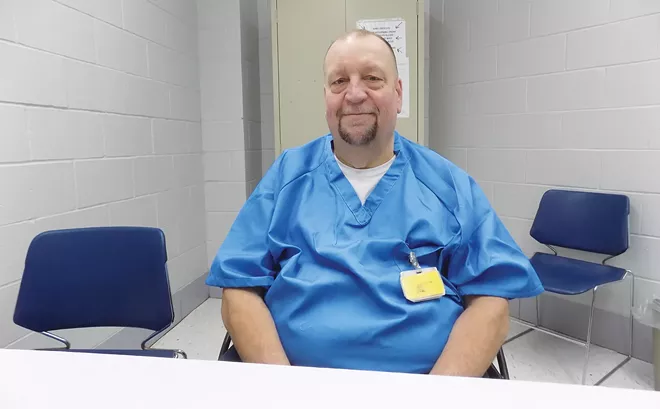 The new year has been kind to William Kent Dean.

On Jan. 1, his first grandchild was born – near the end of his third state prison term for selling cocaine, this one a 15-year bid. Dean prefers that the girl's name not be published. Then, the state advanced his release date. He was freed from Taylorville Correctional Center this week, months earlier than forecast when he won an $11 million verdict in December against Wexford Health Sources, the Pennsylvania company that holds a contract worth nearly $1.4 billion to provide medical care in Illinois prisons, and its employees.

The verdict includes $10 million in punitive damages against Wexford. Dean says he's not sure why his out date was moved up, but he gives thanks to former Gov. Bruce Rauner for initiating prison reform measures that increased chances for three-time losers like him to earn good time.

Before getting a court-appointed lawyer and taking the case to trial, Dean, in a handwritten lawsuit, asked for $1 million, a fraction of what he's now due. Is he lucky? With his lawyer listening in via telephone, Dean says he prefers the term "blessed."

"I know the jury paid careful attention, and I want to thank them," he says. "I would have to say I was surprised at the amount."


Dean has terminal cancer, and his surprise is understandable. Central Illinois jurors who made him a millionaire, at least on paper, reside in a rock-solid conservative region not known for coddling criminals. He's alive, and other inmates – or their estates – who've, arguably, suffered more have gotten less. For instance, the family of Alfonso Franco, a Taylorville inmate whose colon cancer went undiagnosed nearly two years after he first showed symptoms, settled for $800,000 in 2015, according to probate records. By the time Wexford sent Franco to a hospital in 2012, he'd shed 40 pounds and was in diapers, according to a lawsuit filed by relatives. Doctors outside prison promptly diagnosed stage four colon cancer. He died a month later. Like Dean, he was serving time for a cocaine offense.

Four years after Franco died, Dean underwent nine hours of surgery in the summer of 2016, nearly seven months after a Wexford physician told him that bloody urine came from either cancer or kidney stones. Wexford, which is appealing the verdict, says that Dean was doomed when he first reported passing blood – by then, the company says, cancer was incurable. On the other hand, if Wexford had acted faster, cancer might not have spread to the point that Dean needed to have his chest cracked open, his heart stopped and all the blood drained from his body so surgeons could scrape tumors that had advanced via a vein toward his heart, lawyers for the plaintiff argued.
"It would be like someone showing up in your office with a broken leg and letting them suffer for seven months without putting a cast on it," testified Dr. Bruce Barnett, a Harvard-trained doctor who also holds degrees in law and business. "I mean, short of someone who's having a heart attack or appendicitis or delivering a baby, I can't think of anything more urgent than peeing big clots of blood with the risk of having cancer. It's something that needs to be looked at and dealt with within a matter of days."

Dean says doctors haven't told him how long he has, but a physician, early on, told him that the average patient with his condition lives two years. He says that he didn't hesitate in the spring of 2016 when a urologist, after diagnosing cancer, told him that he had a 50-50 shot of surviving surgery that could prolong his life long enough to die a free man. Without surgery, he'd likely die before his sentence was up.

He doesn't hesitate when asked to show his scar. Could you please email a photo to my wife, he asks. Lifting shirts during visiting hours, he explains, isn't allowed, so the woman he's been married to for nearly 40 years has never seen his post-surgery chest. She'll get to see it soon enough. Shortly after the interview, the state advanced his release date to Jan. 28. He's gone home.

Experts sound alarm
The verdict came amid a wave of federal lawsuits filed by Illinois inmates against Wexford, which has provided health care in state prisons since 1992. Just what happens behind prison walls can be difficult to discern. Both the state and Wexford have resisted transparency and reform, even as they wrestle with a consent decree reached last year to settle a class-action lawsuit filed by inmates who allege poor health care amounts to cruel and unusual punishment.

Prior to the 2019 consent decree, two court-appointed experts in the class-action case documented issues ranging from a lack of staff to delays in diagnosis and treatment. In 2014, the first expert found two cases of cancer that weren't diagnosed for more than a year after inmates reported symptoms. Quality of care hadn't improved four years later, according to a second expert who examined medical files for 33 inmates who'd died. The expert also found that 12 deaths were preventable and another seven were possibly preventable. The expert reported that records in five cases were incomplete to the point that he couldn't draw conclusions. In one case, the expert reported, a mentally ill inmate who ate two sporks died. A doctor initially ordered an x-ray, which wasn't likely to pick up plastic. More than two months later, after the patient had lost 33 pounds, a nurse practitioner took no action after the inmate told her that he'd eaten sporks. After losing 21 more pounds and receiving no treatment, the inmate died of esophageal perforation. He was 24 years old. In five cases, the expert reported, records were incomplete to the point that no conclusions could be reached.

A third report, written by a monitor appointed to oversee the 2019 consent decree and filed in court this month, documents little progress in a reform effort that gives the state and Wexford years to improve care.

The consent decree calls for corrections officials to conduct mortality reviews when inmates die, with a goal of identifying shortfalls in care and making improvements. Instead of bona fide reviews, the monitor reported the department has prepared summaries that don't address the timeliness or quality of care, nor do records show how care might be improved. In some cases, the monitor reported, summaries didn't include causes of death.

Like the two previous experts who filed reports, the monitor was troubled by Wexford's practice of referring cases to company officials in Pittsburgh before sending inmates outside prison for treatment. In 2018, the court-appointed expert wrote that the policy unnecessarily delays treatment, jeopardizing patient health. In the report filed this month, the monitor says that 11% of more than 20,000 recommended annual referrals were either denied, delayed pending additional information or substituted with other courses of action by reviewers who hadn't examined patients and weren't given access to medical records. The review process should be scrapped, the monitor recommended in his report written one month before the Dean verdict came in.

Wexford has contracts with jails and prisons across the nation and provides health care for 97,000 inmates, according to the company's website. Dr. Stephen Ritz, Wexford's corporate medical director of utilization management, testified during the Dean trial that he spends as much as two-thirds of his time dealing with Illinois prisons. Based in Pittsburgh, his job duties include collegial review to decide whether inmates should get tests, treatment and other health care that can't be provided by Wexford employees.

Ritz told the Dean jury that he disagrees with court-appointed experts, both former medical directors for the Illinois Department of Corrections, who've concluded that Wexford's brand of collegial review doesn't work and puts patients at risk. Ritz testified that he believes the two experts had preconceived notions about the company and state Department of Corrections.

A similar stance didn't fly in the class-action case last summer, when Wexford and the state objected to the court-appointed monitor retaining the two experts as consultants. The defendants argued the experts were biased, but U.S. District Court Judge Jorge Alonso ruled that they had valuable expertise and that the attempt to bar them from evaluating medical care constituted a violation of the consent decree.

Dean's lawyers and hired experts hammered on Wexford's collegial review process, and reports from experts in the class-action lawsuit who criticized Wexford's review process were admitted as evidence. A CT scan that would have spotted cancer should have been done early on, testified Barnett, the Harvard-educated physician hired by Dean's lawyers. Instead, nearly four months passed before Dean got a CT scan that confirmed cancer. Another three months passed before he got surgery. By then, a second CT scan was required to determine how far cancer had spread since the first scan. Barnett testified that Wexford's collegial review interfered with prompt treatment for Dean, whose need was urgent.

"It's like an ambulance with someone who's got a gunshot wound," Barnett told the jury. "The ambulance doesn't stop at the stoplights. It would be wrong to do so. As this collegial review process is set up, it's like a stoplight that won't let the ambulance through."

Understaffing and under-spending
Collegial review isn't necessarily bad, says Dr. Marc Stern, former medical director of the Washington state prison system who takes a dim view of privatized prison health care and authored a critical report of medical care in Illinois prisons two years ago.
"There's nothing unusual or remarkable that Wexford has a collegial review process," says Stern, whose report on problems in Illinois prisons was funded by the American Civil Liberties Union. "Collegial review is a common practice in the industry, not just in corrections, but in the insurance industry: It's prior approval."

Problems arise, Stern says, when reviews aren't properly performed. Inadequate access to medical records can interfere with decisions on whether to approve referrals to care providers outside prison, he says, and the profit motive, also, can play a role. "The human beings making the decisions may not be making decisions in people's best interests as opposed to the company's best interests," Stern says. Private companies that provide health care in prisons aren't inherently bad, he adds. "I think they're inherently capitalist," he says. "Their first fiduciary responsibility is to their shareholders, not to patients."

In his 2018 report for the ACLU, Stern, now a professor at the University of Washington School of Public Health, looked at files for plaintiffs in the class-action lawsuit and found substandard care ranging from delays in care to medication errors. The report, prepared in preparation for a trial that was canceled when the consent decree was reached, wasn't filed in court. While none of the five inmates died, Camille Bennett, ACLU lawyer, says the report shows change is needed. "There's just an enormous amount of needless pain and suffering in those pages," she says.
Prisons without private health care also have poor care, Stern says. "I think the unifying theme is under-spending," he says. And Illinois has a history of that.

According to a 2017 report published by Pew Charitable Trusts, Illinois between 2010 and 2015 ranked 43rd in per-inmate spending for health care, finishing lower than Mississippi, West Virginia, Texas, Arkansas and scores of other states. Nationally, median spending for health care was $5,720 per inmate in 2015, according to the study; Illinois that same year spent $3,619.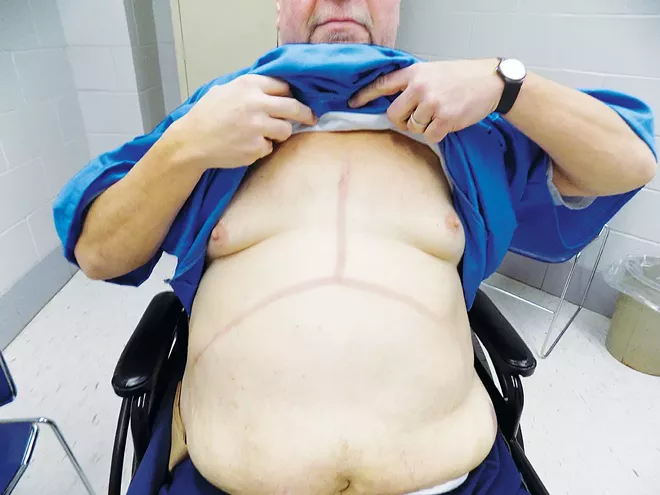 Alan Mills, a Chicago attorney who represents inmates in the class-action lawsuit, says spending has gone up, but he's not sure by how much. "We're certainly spending more than we did back then, but we have a long ways to go," Mills says. As evidence, he points to the monitor's report filed this month that shows understaffing, both in prison infirmaries and in the Department of Corrections' Office of Health Services that sets policy while also overseeing Wexford and patient care.

More than half of OHS positions were vacant last spring, the monitor reported, and while some jobs have been filled, the state should consider hiring contractors to get work done. The monitor reported a need for a "significant increase" in nurses and other care providers. Wexford's website last week listed 426 job openings in Illinois prisons, ranging from an as-needed clerical worker at Lawrence Correctional Center to a full-time medical director at Lincoln Correctional Center.

Proper training also is an issue, according to the monitor, who reported that 12 of 35 primary care physicians in state prisons hadn't completed residencies in internal medicine, family medicine or emergency medicine, as called for in the consent decree. Seven of the twelve who hadn't completed residencies were trained in fields other than primary care, including anesthesiology, general surgery, nuclear medicine, radiation therapy, pediatrics, pathology and radiology.

If physicians inside prisons don't have proper training, Mills says, then they shouldn't be discouraged from seeking assistance from experts on the outside. "The broad message the monitor is sending is, we're vastly understaffed, and we are going to be understaffed," Mills says. "We have people who are under-qualified, and they should be encouraged to seek out help when they need it."

Work has started on improvements to programs for immunizations and cancer screening, the monitor reported. On the other hand, just 21, or 1%, of 1,785 inmates with active hepatitis C had received treatment as of last June, the monitor says.
The monitor also recommended reducing the number of inmates. Nearly 1,000 inmates are between 65 and 70 years old, the monitor reported, and 61 are older than 80. Some have dementia, advanced cancer, heart disease and are prone to falls, the monitor says.

"The infirmaries are becoming filled with patient-inmates who are confused, incontinent and require assistance with the basic activities of daily living, including dressing, feeding, bathing and toileting," the monitor wrote. "It is the position of the monitor that in the short term, additional...resources must be directed to properly house and care for this population but in the near future, IDOC must take the lead to create a pathway to discharge those men and women whose mental and medical conditions make them no longer a risk to society to appropriate settings in the community."

Bottom line, spending needs to go up while the prison population needs to go down, according to Bennett, the ACLU lawyer, and freeing geriatric inmates is one way to accomplish the goal. "If they don't remember who they are or what they did, incarceration really doesn't serve any purpose," she says.

The monitor's report filed this month is the first in a series set to be filed over the next five years. While expressing concerns, the monitor hasn't issued an opinion on whether the state has complied with the consent decree reached last year. Change, Bennett says, isn't imminent.

"In some sense, the consent decree has to result in meaningful reform – it's a court order, and it's enforceable," she says. "I don't think any of us think it's going to be an easy process for the state, and it will take a long time."

Meanwhile, Dean, now on his fourth chemotherapy drug, says that waiting months for a CT scan, then for surgery while peeing blood and facing cancer was a daily struggle. From the start, his goal was to die outside prison.

"It means everything," he says. "That's what I fought for all this time."

Contact Bruce Rushton at brushton@illinoistimes.com.