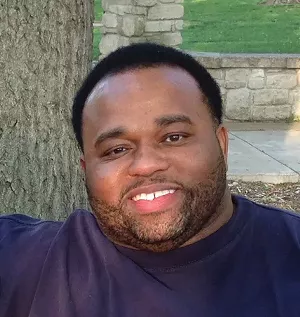 At nearly six feet tall and topping 300 pounds, Dameon Johnson is big. And he thinks big.
For years, the former Springfield High School lineman pleaded. Can we scrape together $60,000 or so for a feasibility study to help create STAR Village, a $300 million sports complex with outdoor ballfields and indoor playing areas and a water park somewhere near Dirksen Parkway?
He asked Sangamon County. He asked the Springfield Park District. He asked the Springfield City Council. Everyone said no.
Last month, the state of Illinois said yes.
In a state grant package worth $809,000, the East Springfield Community Center Commission, a nonprofit Johnson created in 2012, has been awarded money for STAR Village, which would employ 2,000 people, according to the commission's grant application. Hotel and Leisure Advisors, an Ohio company slated to produce a feasibility study, is budgeted for $30,000. A budget in the grant application also includes $206,000 for architectural and engineering services. No site has been identified, nor has financing, aside from the state grant, been secured, although the commission in its grant application says that it has "a great financial partner" that will help secure capital.
In addition to STAR Village, the grant includes money for helping 30 ex-inmates find housing and jobs. Johnson, an internal investigator with the state Department of Human Services, will be paid a monthly salary of $5,555 as director of workforce development.
The money is coming from marijuana – state law requires that 25 percent of pot taxes go for grants aimed at helping communities ravaged by the war on drugs. Johnson's nonprofit, headquartered in his east side home, landed more state weed grants than all other local applicants – including the City of Springfield, the Springfield Urban League and Illinois Legal Aid – put together.
The East Springfield Community Center Commission, created in 2012, is small enough that it's never filed lengthy IRS disclosure forms required from charities realizing more than $50,000 in annual revenue. The commission has a $10,000 annual budget, according to its grant application. Organizations with small budgets, no experience managing grants or that are new to proposed endeavors weren't penalized when nearly 400 applications were scored by the state. Johnson, who is the commission's chief executive officer, says that he was optimistic, but he confesses surprise when the Illinois Criminal Justice Information Authority announced the winners.
"I almost fell out of my chair when I saw the press release," Johnson recalls. "We knew our chances were good, but not really this good." As the city's biggest pot-grant winner, he acknowledges feeling pressure. "If anybody knows me, I have pride in my word and my work," Johnson says. "I don't want anything to diminish that. Whenever I do something, I set out to do the best job I can."
Never having run a program this size, the East Springfield Community Center Commission plans four meetings with a Peoria-based prison ministry that helps ex-inmates, as well as meetings with prison officials and city officials, according to the grant application, which mentions the commission's experience with youth athletics and mentoring programs.
Nearly 20 years ago, Johnson formed the Springfield Scorpions, a youth football team that started out at the Boys and Girls Clubs of Central Illinois. "He created his own team and he raised his own money," recalls former Ward 2 Ald. Frank McNeil. "I think he had some assistance from the Boys and Girls Club, but he did most of it himself, and by organizing the parents. They were a good little football team. They were tough – nobody in Springfield would play them. They were driving to Bloomington and East St. Louis to get games. They were well-coached, and Dameon had them under control." The team, McNeil recalls, lasted about seven years.
"A lot of them went on to college," Johnson says. "Some of them went to trade school. Unfortunately, we had some losses along the way."
The day after we first chatted, Johnson called back. He wanted to know how I'd gotten a copy of the grant application. I explained that it's a public record, given public money is involved. Johnson, who's also trying for a state license to grow pot near the Wabash Avenue-Interstate 72 interchange, pointed out that applications to grow pot aren't public records: How is this any different?
"A lot of people are having a lot of questions about how we did it," Johnson said. "Anyone could get that (application) and copycat what we're trying to do." He also disputed that marijuana tax revenue is public money. Only 20 percent of the population, he said, uses pot. "It's not like it's property taxes or sales taxes," he said. "It's just from the people who bought the product in Illinois. ... These things (applications) should be further protected than they are." He requested my help.
"I would appreciate anything your organization could hold in secrecy as much as you can," he said.
Journalists shouldn't keep secrets. I'll be happy to report how this all turns out.
Contact Bruce Rushton at brushton@illinoistimes.com.