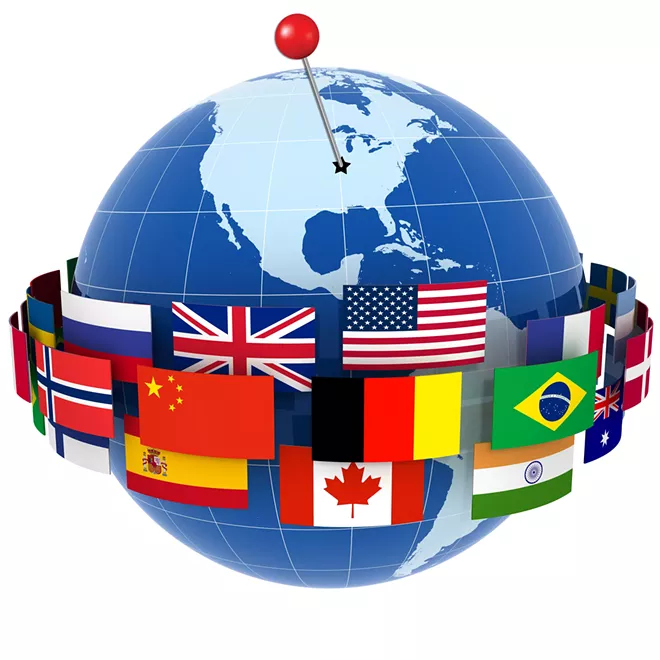 The COVID-19 pandemic, supply chain issues, the war in Ukraine and other developments have brought into sharp focus the global relationships that reach into every part of our daily lives.
What happens around the world affects our health and safety, what we can buy and how much we pay for it, and what the future holds for our children. It may seem that big, impersonal, far-removed forces are determining how we live in central Illinois.
But there are a number of entities in the Springfield area that have direct international connections and are helping to chart the course for our global future. They are businesses and organizations that are taking an active role in how we relate to the countries and citizens with whom we share the planet.

BRANDT
BRANDT products are sold in 82 countries and the Springfield-based company is playing a major role in feeding the world.
"We work in many countries where hunger and a low standard of living exist," said BRANDT International Vice President Ramon Georgis. "Our role at BRANDT is to provide the yield and quality that will benefit the end user."
Georgis joined BRANDT in 2008 when the company's board of directors wanted to take the firm's products to a wider global market. International sales have gone from .2% of BRANDT sales to now accounting for 10% of the total company revenue.
BRANDT manufactures plant nutrition products, including fertilizers and naturally derived enhancement products that increase yields and improve plant growth. The company also produces adjuvant chemicals that get mixed with pesticides to improve performance and to reduce "drifting," or going where the chemicals aren't intended.
Six years ago, BRANDT acquired a company in Brazil with $1 million annual sales, and now BRANDT Brazil is up to $45 million annually. BRANDT Europe was established through an acquired company in Seville, Spain, five years ago and is doing well. BRANDT has a four-person group in China to manage sales and marketing efforts there, and has a major business management presence in Australia, Chile, Argentina, Costa Rica, Turkey, Egypt, Morocco and Ukraine.
"We match the product to the country and the crop," Georgis said. "We have some unique technologies, because if you don't have unique technologies you can't compete in the marketplace. If you are the same as everybody else, the customer will simply seek the lowest price.
"Our specialty products are the Mercedes in our mind," Georgis said. "They always give you a predictable level of control and quality of yield enhancement."
BRANDT's global headquarters is located on Koke Mill Road in Springfield and the company has a major research and development complex in Pleasant Plains. BRANDT would like to continue its international expansion, and Georgis said strengthening the use of BRANDT products in the Balkan nations of Romania, Bulgaria, Serbia and Albania is next.
BRANDT is not immune to the global supply chain issues or the war in Ukraine, according to Chief Marketing Officer Karl Barnhart.
"Supply chain issues are very real, they are driving up costs and there are very scary things especially with what is going on in Ukraine, Belarus and Russia," Barnhart said. "A lot of the base fertilizers and commodities come from that part of the world and a lot of the food is grown in that part of the world."
But every business has its challenges and, despite those issues, BRANDT's international trajectory continues to go upward.
"We are taking technologies developed here in the U.S., proven in the fields of central Illinois, and using those technologies to help feed the world," Barnhart said. "But we are also bringing technologies back from different parts of the world that we can use here."

LRS, Inc.
Levi, Ray & Shoup, or LRS Inc., has sales and product support offices in the United Kingdom, France, Germany, Italy, Spain, Sweden, Singapore, Australia and Costa Rica, as well as its United States regional offices in California and Connecticut.
The international offices are operated by LRS' Enterprise Output Management Division, the company's largest segment. The division deals with the product on which the company was founded in the early 1980s, software that is embedded in printers, scanners and similar devices.
The nature of LRS' business means that it hasn't been affected as much as other industries by supply chain or COVID-19 issues.
"Since we don't manufacture, we really aren't into hard products, the supply chain hasn't affected us terribly like it would if we were in manufacturing," said LRS Vice President Ryan Levi. "The COVID changes were really a net benefit to some degree because it cut down on our travel expense.
"The customer understood that we couldn't get in front of them as much as we previously did," Levi said. "So that minimized our expense without affecting our revenue."
Still, there are challenges with doing business in other countries, and Levi said managing human resources with foreign workers is different than in the United States.
"One of the biggest challenges is managing all of the different employment laws such as maternity leave, vacation time, workday length, those kind of things," Levi said. "Some countries allow employees to take holidays for a month at a time."
Several nations also make it hard to fire employees.
"The employees can be pretty well protected," Levi said. "Some of those countries make it very difficult, if not impossible, to terminate someone who is not working out."
Levi said the war in Ukraine has caused LRS to closely monitor its small trade actions in Russia to ensure the firm is in compliance with all current restrictions the United States government puts in place.
Levi said that the LRS decision to go international occurred in 1993 when domestic sales of their software products reached a point that overseas expansion was the logical next step. But Levi said that most people who drive past the company's global headquarters on West Monroe in Springfield aren't aware of the firm's international ties.
"The story I hear the most is that people think it's a hospital building," Levi said.

Armbruster Manufacturing Company
The founder of Springfield's Armbruster Manufacturing Company came from Germany, and the 147-year-old firm continues to have foreign business dealings today.
R.H. Armbruster made canvas Conestoga wagon covers for settlers who were moving west in the 1870s, and about 20 years later his small business began making circus tents. The firm has been going strong making tents of all sizes ever since, and the current president, Hellar Armbruster, is the fourth generation to lead the company.
"We manufacture and ship to Europe, Asia, around the world," Armbruster said. "Not as much as we used to because of the pandemic, but we are starting to pick up again internationally. Foreign sales account for about 15 percent of our business."
Armbruster said the company has made tents for delivery to England for many years.
"Pretty much any event you do in England throughout the year needs to be under a tent because of the climate over there," Armbruster said. "I ship a lot of historically accurate tents around the world to different museums, or movies that are made overseas."
Nightmare Alley, a 2021 film featuring Bradley Cooper and Cate Blanchett, was filmed in Toronto and featured custom-made Armbruster circus tents. The movie was nominated for an Academy Award for set production, with the authentic period tents being a major factor in that nomination.
Another foreign filming venture featuring Armbruster tents was the Anzac Girls series that was filmed in New Zealand.
"I've shipped tents to Japan for historical productions, museums and art performances," Armbruster said. "We have also shipped a lot of tents to U.S. embassies in Cambodia, Nigeria and other places."
Armbruster said supply chain issues are having a major impact on his business.
"We are seeing raw material shortages in every department, from fabrics to metals to materials. That has really affected our ability to supply quoted products based on delivery," Armbruster said. "We are directing the customer into a product where we know we can get the raw materials and deliver on time. The shipping of supplies from overseas has really affected us and the fabric industry as a whole."
Another foreign business-related issue is language, which is particularly crucial because every Armbruster product needs to be made to each individual customer's specifications.
"Sometimes language poses a challenge to be able to understand that I am delivering exactly what they need," Armbruster said.



Open World Program Exchange
The war in Ukraine is intensely personal for some in Springfield who have hosted emerging leaders from that country for several years.
"They have a democracy in Ukraine and they are fighting to save that democracy," said Barb Malany, one of several Open World Program volunteers whose families have hosted visitors from Ukraine and other countries over the past 10 years.
The city of Springfield has partnered with the federal Open World Program for several years to bring emerging young leaders from Ukraine to the capital city. The visitors were parliamentarians and media specialists, and Malany said they were taken to visit city and county government offices.
"I am still in touch with eight or nine of them," Malay said. "One is a media person who had originally been with a television station, but she is now just reporting, and I read her reports almost every day."
Malany also follows the daily essays written by another Springfield visitor, a Ukrainian physicist who is part of a team of six young men who are doing all they can to help their fellow citizens.
"They find automobiles, fill them up with gas, and drive along the roadways and pick up families that are trying to get to safety in the west part of the country," Malany said. "They also pick up supplies to take back to the soldiers.
"The people that I am in contact with have positive, resilient attitudes. They know they are going to win," Malany said. "They are thankful for all of us who are sending them money or showing support. They feel lucky that we are paying attention to them."
Janet Kenney, chair of the Springfield Commission on International Visitors, hosted Ukrainian delegates as part of the Open World Program. In the opening days of the war in Ukraine, she recognized Ivan Federov, the mayor of Melitopol, who had been kidnapped by Russian troops. Federov was part of the delegation that visited Springfield in 2019.
"I was watching it on the news and I recognized Ivan. I was actually the one that notified Open World that one of their delegates had been kidnapped," Kenney said. "It was just horrifying to see when they put a bag over Ivan's head and dragged him off. I finally had to turn it off, I couldn't watch it any more."
Kenney went to Ukraine in 2013 and visited three of the delegates she had hosted in Springfield.
"I have a lot of friends in Ukraine," Kenney said. "We always enjoy hosting them, and they have always been very pleased with the hospitality they have received here. That's why it is so difficult to watch what they are going through."