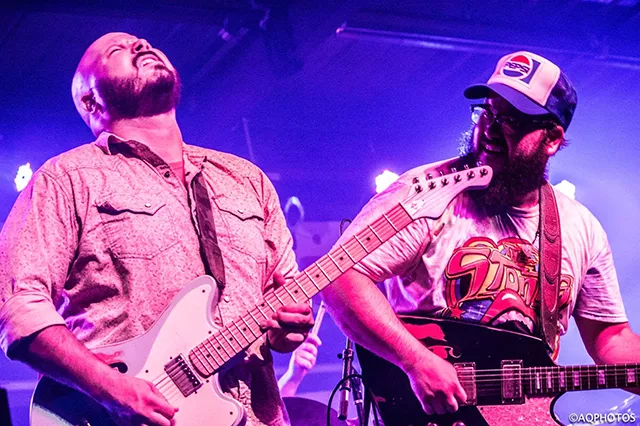 The dominant music happening this weekend is, of course, the Legacy of Giving Festival surrounding the Old State Capitol area on Friday evening and continuing on Saturday from noon to midnight. Originally known as SOHO Fest, the new name just says what it is – a gathering of incredible diversity and inclusivity where musicians play for fun and glory while the proceeds of the event go to local charities. It's also more than just a music festival, featuring large family-friendly areas, several arts and crafts vendors, food trucks, citywide events and much more. I've used up space talking about the event and that doesn't leave room for spotlighting bands – especially when there are 60 groups from seven states on five stages to talk about – so just go and listen, and all will be good in the giving universe of music and money.

The Danenberger Family Vineyards music venue, known as "Wine Rocks," has emerged as a premier place to play in central Illinois with several musical acts per weekend performing regularly in the mostly-covered outdoor area. From a nicely-built stage with professional lights and sound to a room set up with sweet sight lines and people-friendly seating, the space works on many levels as a good spot to see and hear live music. On June 1, the monthly First Friday series at DFV (brought to you by a mighty mysterious bunch called the Red Beard Brigade and featuring rocking Red Dirt-Americana Texas bands) hosts The Reed Brothers. From San Antonio, brothers Kyle and Keegan play gutsy, bluesy songs that rely as much on Southern soul as Texas swing for their temperament. Before the music begins (Good Times & Company, an original local group, opens at 6 p.m.), DFV uncorks their official bicentennial rose called "Love Locks" with a group of dignitaries on hand, including the governor and local elected officials, in an hour-long ceremony beginning at 5 p.m. Congratulations to the Danenberger family for all the good stuff they have going on – past, present and future.
This weekend the Walnut Street Winery in Rochester features a couple of out-of-towners. On Friday Sara Quah heads down from Normal for an acoustic showcase of good songs, both cover and original, all sung from the heart with a lovely voice that hangs around the head awhile. On Saturday Bongo Jak comes up from St. Louis to work his loop machine magic, complete with bongos and guitars plus original songs and covers, keeping it all very interesting, danceable and friendly.
In other happenings, Larson, Larson & Harte play Craft Beer Bar and Johnnie Owens and Friends do up Robbie's on Friday night, both braving the logistics of the downtown LoG Festival for the love of live music. Mr. Opporknockity continues the almost next-to-last (maybe) reunion tour with a stop into George Rank's on Saturday night. On Sunday (4 to 6 p.m.) the Groove Daddies and Cats on Holiday combine friendly forces at the Curve Inn for a jam sponsored by Len Trumper's Whatever Productions to benefit the Little Flower Men's Club. And, speaking of old friends and musicians, Tapestry, a band from Jacksonville together for some 47 years, plays Danenberger Family Vineyards on Sunday afternoon.