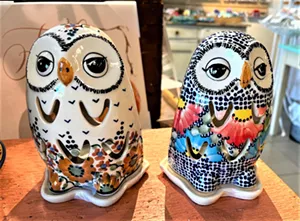 Springfield is fortunate to have more than a dozen brick-and-mortar stores that sell primarily handmade and often unique gifts. Some feature works from area artists, others have items by artists around the world, and some have both. You can find jewelry, pottery, hand-painted clothing and much more. While many of these stores are located downtown, others are dotted around the city.
Here's a look at some of them, with a fuller – though not comprehensive – list below. (We focused on stores that offer primarily handmade gifts.) Don't forget to check the weekly Illinois Times calendar for holiday fairs, markets and special events that sell handmade or unique items.
Art4U
4015 Yucan Dr.
217-801-8425,
Sixty-two artists, mostly local, have created the items here, which range from body care products (lip balms in flavors like whiskey, cinnamon, or fluffed-nutter) to one-of-a-kind, fantastical clay sculptures, including teapots. Others include paintings (landscapes, Lincoln, florals, etc.), jewelry, night lights, clocks, ornaments, stained-glass Christmas hangings, striking lamps, frames and magnets for pet lovers and more.
Be Lovely Boutique
801 S. Grand Avenue West
(in the small house behind the brick house that faces S. Grand)
217-606-5307
The hand-painted and colorful denim jackets, pillows, totes, stationary and handmade candles (with several scents), and holiday and home décor are made by Springfield-area women enrolled in Douglas Avenue United Methodist Church's Wooden It Be Lovely program, which helps women recover from lives of addiction, abuse or poverty. Purchases help fund the program. Open Thursday and Friday (10 a.m.-5 p.m.) and Saturday (10 a.m.–2 p.m.).
Once in a Blue Moon International Gift Gallery
1535 Wabash Ave.
217-679-1280
Handmade and fair-trade items from around the world are featured here, from the beautiful to the whimsical, like intricately painted Polish dishware and stickers of Lincoln eating Springfield's signature dish, the horseshoe. There are also bird ornaments, angel sculptures, Mexican tin art, woven baskets or bags and dioramas for houseplants – one features an alien boxing a cat, and more.
SAA Collective
105 N. Fifth St.
(on the Old State Capitol Plaza)
217-544-2787
www.springfieldart.org/collective.html
The Springfield Art Association's Collective features works by about 70 juried, central Illinois artists who bring in new pieces every eight weeks. You'll find paintings, jewelry (earrings made of found materials, for instance), hand-painted silk scarves, comic greeting cards, home décor, metals, glass, hand-bound books with ceramic covers, holiday décor, ornaments and top hats made from Oak Ridge Cemetery oak trees.
Studio on 6th
215 S. Sixth St.
217-522-8006
studioon6thboutiqueandgallery.com
This artist co-op and boutique offers a variety of jewelry, children's clothing and toys, home décor, wooden bowls and holiday decorations by area artists. Felt wool Lincoln sculptures, Camp Craft cocktails, paint-your-own bath bombs kits, a hanging whale kit and lamps made of liquor bottles are among the offerings. Fair trade items include candy, clothing, alpaca socks, llama dolls and even sodas.
Wild Rose Artisans Boutique
115 N. Sixth St.
217-572-1884
Shirts adorned with an image of the Grateful Dead, Jimi Hendrix or Route 66 art are among the rare finds here; you can buy them at the store or its website. The same goes for long, beaded earrings and crystal necklaces. For the kid in all of us, there are stuffed animals and monsters or dolls of historical women. Or, how about a Tibetan singing bowl or rose-wrapped sage bundle?