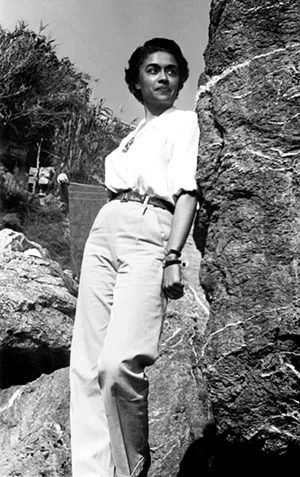 Ask friends and family what they remember most about Giovanna Forstall, and the answer will be her infectious laugh, her high energy, her religious devotion and her passion for justice and equality.
Born in 1926 in the town of Banzyville in Congo (currently known as Mobayi-Mbongo in the Democratic Republic of Congo), Giovanna and her brother were raised in Italy by their father. Giovanna experienced the horrors of bombings during World War II, and what she witnessed running for shelter never left her. It was one the most influential periods of her life, and yet, the trauma did not incapacitate her or dull her zest for life.
Giovanna met her husband, Dr. James C. Forstall, after the war while he was an officer stationed in Italy. They married and moved to his hometown of New Orleans. Several more moves, both domestically and internationally, followed as James continued his career in the military. Giovanna persevered in caring for their two young sons while her husband was engaged in both the Korean and Vietnam conflicts.
Dr. Gregory Forstall, their son, recalls that he attended kindergarten in Okinawa, Japan and first grade in Italy while their father was in Vietnam. After the war, Giovanna traveled with her sons to meet her husband in New York, then the family drove to Springfield so that James could finish out his military service career in the Illinois National Guard.
Gregory says, "You have to realize, we were European. We wore socks pulled up to our knees with buckle shoes and dress coats." Springfield was quite the culture shock. "We were the first African- American family to live on the west side of Springfield," states Gregory. "I later learned there was a petition to keep us out, but my parents sheltered us from that. We were also the first African-Americans to attend Christ the King Grade School, and there were very few of us at Griffin High School."
Gregory remembers when he was running for student senate president in 1978, and someone wrote the n-word at the bottom of his campaign poster. He took it home and showed his mother, who told him, "We're going to fight this." Giovanna encouraged and assisted him in writing a speech that addressed the n-word and what it meant. He gave this speech to a student body shocked into silence and ended up winning the election by a landslide. "My mom was always there for us," Gregory recalls, buffering him from the racist response to desegregation, but fighting fervently on his side when it confronted him directly.
Giovanna loved to throw lavish dinner parties in her home in the Western Knolls subdivision in Springfield. She took a lot of pride in her meals, serving multiple courses of homemade authentic Italian cuisine. Gregory recalls, "Everybody wanted to be invited to the Forstalls for her parties. It was an event!" He laughs, "For her children, it was a day of washing dishes." She was the life of the party, with her infectious laugh the centerpiece.
Gregory recalls her devotion to the Blessed Virgin Mary, adopting her, he believes, as a surrogate for the mother she left behind in Africa. Though Giovanna was devout in her faith, she never required or pressured her children to adopt her beliefs. She lived by example, and her son Gregory now includes this devotion as a big part of his own life.
Giovanna was also quite involved in the social scene, including the YWCA, Italian Cultural Society, and the Legion of Mary. Gregory recalls attending the ethnic celebrations in Sherman as a child, wearing traditional costumes, dancing to traditional music, and of course eating traditional Italian cuisine. "It was a highlight of our year."
Giovanna was the staunch support behind the scenes in her family. After retiring from the military, her husband pursued higher education and received his doctorate. As Gregory states, "They say behind every successful man is a successful woman. Dr. James Forstall couldn't be Dr. James Forstall without Giovanna Forstall."
Shortly after James passed away in early 2017, Giovanna, a non-smoker, was diagnosed with stage 4 lung cancer. Giovanna was initially placed in hospice care, but later chose to begin treatment. She visited her son, Gregory, for Thanksgiving in 2017 and decided to move to Flint, Michigan, with him in hopes of getting strong enough to visit her brother in Italy. Gregory recalls it was the most rewarding time of his life, spending time with his mother, providing for her basic needs and being her friend. Giovanna died at home in October 2019, in the arms of love, gracious and full of faith to the end.
Carey Smith of Springfield is a mother and an Earth poet who highly values justice and equality and hopes to live up to Giovanna's example of living life to the fullest.