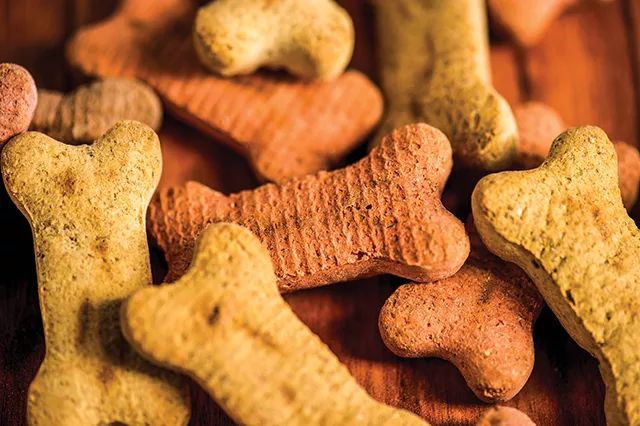 If you get a kick out of giving your pet a gift, you're in good company. According to a survey conducted by Rover.com, 95 percent of pet owners said they have purchased a Christmas gift for their pet. Another 61 percent have bought birthday presents for their pets. While the average amount spent is $36, five percent of respondents said they had bought a pet gift that cost $100 or more.

If you're shopping for furry friends this holiday season, you'll be thrilled by the variety of gift options available in Springfield's locally owned pet stores. You might even find something for yourself and your friends who walk on two legs, too.
Whether you have a pet bird, or just enjoy viewing the birds in your backyard, Wild Birds Unlimited, located at 1930 South MacArthur Blvd. in Springfield, has gifts for animals and people. Owner Wade Kammin and his staff can answer your questions about feeding birds throughout the changing seasons and give you tried-and-true methods to stop predators from getting into your bird feeders.
Once you decide on the type of birds you want to attract to brighten the winter months, the staff will create a special mix of bird seed just for you. You can request your bird seed and suet cakes spicy hot, which the birds don't mind, but the squirrels won't be coming back for seconds.
Wild Birds Unlimited has gift ideas for your friends and family, too. You'll find bird seed feeders in the shape of snowmen, art poles to "plant" in the yard to offer color and inspiration year-round and seasonal door mats. Other outdoor gifts include rocks carved to look like owls, unique and functional bird houses and solar-powered outdoor accent lights. They even sell fun and funky socks, along with the more subtle alpaca fair trade socks.

And despite the name, Wild Birds Unlimited also has items for the four-legged family member on your list. The store carries enrichment toys, slow feeders, food and treats for cats and dogs; special orders are no problem.
Nature's Select Springfield, located at 540 West Monroe and owned by Chris and Rachel Laier, is a premium pet products company that uses high-quality ingredients to make food and treats right here in the USA. Like the convenience of online shopping but want to support local businesses? You can give your dog or cat the gift of specially formulated food and delightful treats, delivered right to your door.

Nature's Select Springfield is also a full-line pet store carrying fresh and salt water fish, reptiles, ferrets and everything necessary to make their lives healthy, happy and fun. There are also plenty of dog and cat toys, and they don't mind taking special orders.
Have a carnivore on your list? If so, drive your sleigh on over to Lincoln's Doggie Delicatessen, located at 2028 South 15th St. in Springfield. Owner Juli Dowding describes the store as a canine boutique specializing in nutrition for your pet carnivore. The butcher will gladly show you the variety of fresh raw meat and pre-mixed raw food selections made especially for your canine friend. Learn the benefits of raw feeding your dog, and if you decide to give it a try and take some home, be sure to put it in the freezer and not under the tree, because that gift will get opened early!
Do you have someone exotic on your list? If so, head to the Fish Man Pet Center, owned by Gary Pickett and located at 1508 East Sangamon Ave. in Springfield. Check out the fish, birds, frogs, toads, spiders, reptiles, scorpions and amphibians, just to name a few. Don't forget the selection of Tillandsia air plants. If you're considering buying your family the gift of a beautifully stocked aquarium, Gary and his staff can answer any question you might have.
As you shop for gifts and spread good cheer this holiday season, make your list and check it twice to be sure you're not forgetting someone. And don't forget the someone that gives you unconditional love, your special pet.