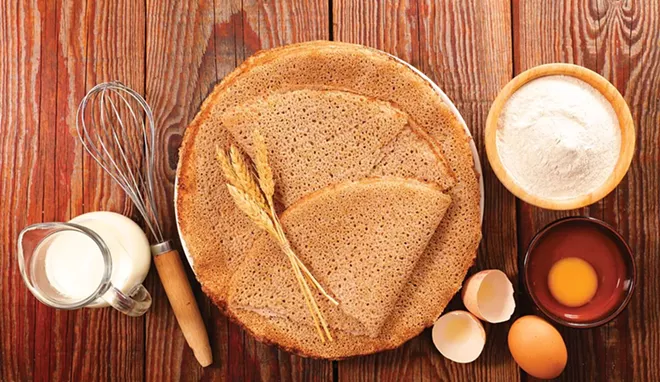 Autumn is upon us. After a somewhat frazzled summer I've relished walking out into the deliciously crisp air each morning. My hysterical mess of a garden is often framed by a soft blanket of fog, punctuated with bright pumpkins, shriveled cucumber vines and dried up bean plants. A better gardener would have pulled most of it out long ago and replanted with fall crops like spinach, broccolini, radishes and carrots. I did manage to plant some fast-growing lettuces and cold-hardy veggies like carrots, but it was too late in the season to plant Brussels sprouts or broccolini. Rather than let the beds succumb to weeds for the remainder of the growing season I decided to try something new and plant a cover crop of buckwheat. Cover crops help to smother weeds, retain moisture, and improve the structure and nutrient availability of soils. Buckwheat has attractive white flowers and is a favored plant of many pollinators, so I was eager to add it into my garden rotation.
Buckwheat has been cultivated for thousands of years, first in Asia before making its way across the Middle East and Europe. It became a staple ingredient in Slavic cuisine, and Russia is still the world's top producer of buckwheat. Known as "blé noir," or "black wheat" throughout France, it is a beloved ingredient in the regional cuisine of Brittany. Toothsome Japanese buckwheat soba noodles are one of my favorite dishes to make when I'm by myself. They cook in minutes and are delicious simply tossed with soy sauce and sesame oil, topped with sliced green onions and whatever crisp veggies I have on hand. Buckwheat is not related to wheat, and technically isn't considered a grain but rather a fruit related to rhubarb and sorrel. The triangular seeds are known as "groats," and can be cooked whole and used in porridge or casseroles, or ground into flour. Buckwheat does not contain any gluten and is loaded with protein, iron and antioxidants.
Intensely flavored buckwheat honey is one of my favorite fall ingredients. A rich, dark mahogany color, it's incredible spooned into yogurt, whisked into a vinaigrette, and of course drizzled over earthy buckwheat pancakes. Look for it at the farmers market starting in late September. Buckwheat flour and groats can be found at specialty stores like Food Fantasies and the Asian Market, both on Wabash Avenue in Springfield.
Kasha and Mushroom Casserole
Adapted from Please to the Table: The Russian Cookbook, by Anya von Bremzen and John Welchman.
This rustic recipe is a lovely compliment to a simple roast chicken, and is hearty enough to serve as a vegetarian main course.
1 ounce dried wild mushrooms, preferably porcini, well rinsed
4 tablespoons butter
1 cup whole kasha (buckwheat groats)
2 large onions, chopped
2 cloves garlic, minced
16 ounces mushrooms, rinsed and sliced (if foraged fall mushrooms are available, all the better)
1 cup sour cream or plain Greek yogurt
½ cup chicken or vegetable broth
Parmesan cheese and parsley to serve, optional
Soak the mushrooms in two cups hot water for 30-45 minutes. Remove the mushrooms from the soaking liquid, chop, and set aside. Strain the liquid through a coffee filter to remove any grit, then transfer to a sauce pan and bring to a boil. Add the kasha and a generous pinch of salt, then cover and reduce heat to low and simmer until the liquid is absorbed, about 15-20 minutes.
While the kasha cooks, melt two tablespoons of butter over medium high heat in a large skillet. Add the sliced mushrooms and season with a pinch of salt. Cook for about five minutes, until the mushrooms begin to brown, then add the onions, garlic and chopped dried mushrooms and cook for another 10 minutes until nicely browned.
Preheat the oven to 375 degrees. Combine the cooked kasha-mushroom mixture along with the sour cream and broth. Mix well and transfer to a buttered 3-quart casserole dish. Top with grated Parmesan cheese if desired, then dot with the remaining two tablespoons butter. Bake for 20-30 minutes until lightly browned. Top with parsley if desired and serve immediately. Serves four as a main course, six as a side dish.
Buckwheat Crepes
1 cup buckwheat flour
3 eggs
A pinch of salt
1 cup milk
Combine the above ingredients in a blender and blend for 30 seconds. Cover and let rest for at least 2 hours or overnight. When you're ready to cook, whisk the batter and add water, about ¼-1/2 cup as needed to thin the batter to a pourable consistency.
Heat a nonstick skillet over medium heat. Lightly grease the pan with butter, then pour in enough batter to thinly coat the bottom of the skillet, tilting the pan to swirl the batter as you pour to help it coat evenly.
Cook the crepe for about 2 minutes on the first side, until it's golden and releases easily from the pan. Flip and cook for about one minute more. Transfer the cooked crepe to a plate and cover with a towel. Repeat with the remaining batter, stacking the crepes on top of each other and keeping them covered with a towel. Fill as desired, and serve warm. Makes about 12 crepes.
In Brittany these crepes are usually a savory treat, sometimes rolled around a sausage (Galette- Saucisse) or filled with melted gruyere cheese, ham and an over-easy egg (Galette Complète). They are also delicious as a sweet preparation when filled with ricotta cheese and drizzled with honey.
Ashley Meyer lives and gardens in Springfield with her husband, daughters and too many chickens.