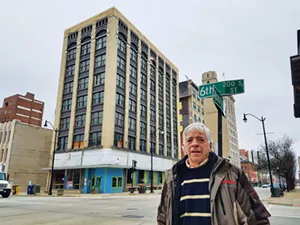 I am recently returned from two weeks on the road, where I social-distanced via motorcycle and lack of hygiene – six feet apart is no problem when you've been camping and haven't showered in awhile.
The most memorable moment came the first night, when, caught in an OMG electrical storm, I slept in a car wash off Highway 36 in rural Missouri. If I'd left the next morning instead of departing after dark, if I'd heeded lightning ahead instead of pressing on, I would not have slept on concrete, soaked by horizontal rain delivered by epic wind.
While I was away, Mayor Jim Langfelder unveiled a plan for the downtown Booth and Ferguson buildings. The public tab — $3.15 million in tax increment financing funds – isn't out of line with prior subsidies of almost $4 million, nearly $1 million of which has been spent. It sounds a darn sight more reasonable than $7.65 million in TIF money that the city council granted last year to a developer who, at last report, was banking on a Spanish financier to build a downtown hotel featuring a bowling alley and rooftop bar and an indoor swimming pool and a lot of other things that smart money always said would never transpire.
City council members who now squawk about the Booth-Ferguson proposal last year approved public money for the hotel-with-a-bowling-alley deal absent a financing plan and shortly before municipal elections, praising the project as a catalyst for downtown revitalization. Ward 1 Ald. Chuck Redpath said back then that it was a winner, despite a zillion unanswered questions. He now thunders about transparency and blasts Mayor Jim Langfelder for producing insufficient information about the Booth-Ferguson project: We should, he says, sic Attorney General Kwame Raoul on Rick Lawrence, the original developer who won TIF money under former Mayor Mike Houston. In the course of failing to complete work, Lawrence didn't pay $1.2 million in benefits for union workers, which has understandably upset organized labor.
The new developers have promised to make good on unpaid benefits. They've also promised to finish a project that will bring 41 apartments to a downtown where "For Lease" signs abound, and they haven't blinked at the city saying not a dime of public money will be turned over until the project is finished. They've given the city financing plans, and they have track records.
Chesterfield Faring, a New York real estate investment firm that doesn't shy from distressed properties, owns the note and is cobbling the deal. When and if the city agrees to TIF financing, the endeavor would be turned over to Tom Lee, who runs an East Coast construction management company, and Charles Everhardt, a Chicago financier who's dabbled in video gambling enterprises and has built and redeveloped everything from gas stations to Hooters restaurants to historic buildings in the Windy City. Also, there was a failed attempt to bring a pro basketball franchise to Las Vegas.
They're bottom feeders, but so what? There is nothing, per se, wrong with halibut. And the city might well be dealing with these folks again, given that Chesterfield Faring has acquired mortgages on the Illinois and PNC buildings in addition to buying the loan on the Booth and Ferguson buildings for $2 million, leaving the prior lender with a $1 million haircut.
The city council behaves as if it has the upper hand while downtown real estate sells for next to nothing, if it sells at all. Absent public subsidies, there's no way that the Booth-Ferguson buildings will ever be more than they are today. The holdup is Lawrence, whom the new developers call a consultant and won't discard. Council members and union types say no deal so long as Lawrence is anywhere near it. While the developers say that Lawrence will have no role managing the project, Lawrence tells me that he wants Siciliano Construction, his contracting firm, to have a shot at doing the work, which I'm guessing means that Siciliano would do the work. "If you steal once, you'll steal again," says Brad Schaive, business manager of Laborers Local 477. "Nobody's against the project. It's just that people know that Rick's still in it."
The city, years ago, should have better recognized risk. The city approved TIF financing under former Mayor Mike Houston even though Siciliano had failed to complete construction projects for public entities ranging from Springfield School District 186 to the Illinois Department of Transportation, according to a 2006 lawsuit filed against the company by Safeco, which had issued surety bonds. The failures came after the state withheld money for Siciliano's work on the Abraham Lincoln Presidential Library and Museum. The state ultimately paid Siciliano what was owed under the ALPLM contract, with the company forgoing $5.5 million in claims for additional expenses, and the lawsuit was resolved out of court.
Lawrence now acknowledges mistakes in the Booth-Ferguson project and says he's determined to make things right. He and the city council should remember that decisions come with consequences: If you ignore storm clouds, you risk sleeping in a car wash. The city needs to make this deal work because this trip needs to end, the sooner, the better.
Contact Bruce Rushton at