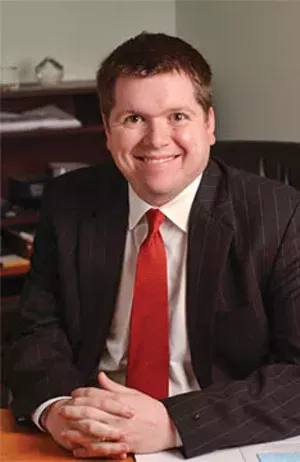 People convicted of low-level crimes in Illinois could soon see less time behind bars, but that doesn't mean Illinois is going soft on crime.
State lawmakers during the spring legislative session approved the creation of a committee to reconsider sentencing guidelines. However, the legislator who pushed the idea says it's about being "smart" on crime, not just letting criminals off the hook.
Rep. Michael Zalewski, a Democrat from Riverside outside Chicago, sponsored a resolution in the Illinois General Assembly to create a Joint Criminal Justice Reform Committee, which would look at ways to improve rehabilitation of inmates while reducing the time they spend behind bars. Zalewski's outlook on the criminal justice system was forged during his time as a prosecutor in the Office of the Cook County State's Attorney.
"We need a broad-based approach to the way we go about sentencing people," Zalewski said. "There's a difference between a low-level drug offender and a felon carrying a gun."
His resolution states several disturbing facts about Illinois' criminal justice system. The state spends $1.3 billion each year to warehouse the adult prison population. Incarcerating just one juvenile costs the state $86,861 per year. Prisons and jails are overcrowded, the resolution notes, and yet crime continues to plague communities around the state. Meanwhile, the state's recidivism rate hovers around 50 percent, meaning about half of parolees return to prison within one year of release.
The committee will build on the foundation of research that has been established by the Illinois Sentencing Policy Advisory Council. Led by Kathy Saltmarsh, former legislative director for Illinois Attorney General Lisa Madigan, SPAC has been analyzing data on incarceration and sentencing since its creation in 2009. SPAC's reports touch on why the state's prison population continues to grow, how technical parole violations send people back to prison, and how enhancing criminal penalties affects the state's bottom line, among other topics.
Taking SPAC's research into account, Zalewski's committee will examine the state's sentencing guidelines to determine whether to decrease prison time for people who commit certain minor crimes. That follows a nationwide wave of criminology research which shows that while prison may still be a deterrent, it offers very little rehabilitative value for people who commit minor crimes like nonviolent drug possession.
Part of the committee's focus will be mitigating the effect of sentencing guidelines on racial, ethnic and social disparities among the prison population. A 2005 study by the Illinois Criminal Justice Information Authority found that black men in Illinois were 57 times more likely than white men to be sentenced to prison for drug crimes. Prison watchdog groups like the Chicago-based John Howard Association have found that black defendants in court are often charged differently than white defendants for the same crimes and, when convicted, the two groups are often sentenced differently.
Zalewski said the issue of sentencing came up during the recent spring legislative session when he tried to push for an increased mandatory minimum sentence for certain crimes involving guns. The bill, which was aimed at addressing gang violence in Chicago, was not called for a vote. Zalewski said he hopes the committee will offer a measured approach to future sentencing decisions.
"I think we don't do a good enough job with (sentence) enhancements in general," he said. "We tend to approve them all without much thought."
Zalewski notes that Illinois has already taken steps toward a smarter approach to crime, including mandatory videotaping of interrogations, reducing prostitution from a felony to a misdemeanor, and making it easier for rehabilitated ex-criminals to get their records expunged.
"We're taking a step in a new direction," he said. "There's a real appetite for reform on both the left and the right because people are sick of watching their tax money go toward locking everybody up with no return on their investment. There are a lot of people who need to be in a prison cell; I don't deny that. But ultimately, we need to be smart on crime, not tough on crime."

Contact Patrick Yeagle at pyeagle@illinoistimes.com.