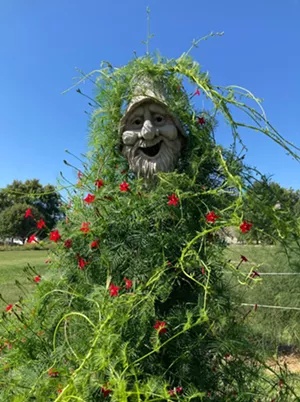 The 164-acre eco-center Jubilee Farm in New Berlin sits just a handful of miles away from Springfield and has been a peaceful destination for many since its original opening in 2000. Jubilee Farm is run by the Dominican Sisters of Springfield and features outdoor walking trails, an outdoor labyrinth, indoor meeting spaces for retreats or groups, programs for children and adults and a Creative Arts Center where patrons can take classes in, or purchase, homemade crafts such as woven textiles and hand-thrown pottery.
Sister Sharon Zayac and Sister Anita Cleary have been living and ministering on the grounds at Jubilee Farm since its inception, and Sister Rose Marie Riley moved into the property's 120-year-old farmhouse in 2018. I had the occasion to spend some time with the sisters learning more about their experiences on the farm, as well as their hopes for the space in the future.
The first time I visited Jubilee Farm, it was on the recommendation of a friend who said it was a fun place to bring young children. Indeed, to this day, my young sons love seeing Jubilee's chickens and alpacas and are enamored by the outdoor cats on the premises. We have spent many lovely mornings winding through the hiking paths, picking up rocks and visiting the pond. In the spring and summer of 2020, Jubilee was a haven from worry and, quite frankly, an exciting and easy day of homeschool. Sister Rose Marie, the director of Jubilee Farm, explained to me that many Springfield residents flocked to the site during COVID, citing the crowds in Washington Park and the desire to be someplace quiet and in nature.
This spring, Jubilee Farm is offering a series of events designed to invite individuals, groups and families to enjoy the wonders of nature and the beauty of the farm and of the Jubilee community. Some key events in the coming months include Spring Fling, a family-friendly outdoor concert with musician and storyteller Tom Irwin on April 30, a bird banding event with a presentation and children's activities in conjunction with the Illinois State Museum on May 14 and a seedling sale, featuring chemical-free herb, flower and vegetable seedlings, between April and July. Additional details about these events and others can be found in the Illinois Times Spring Guide calendar.
Additionally, should you have an idea for a small group activity, the sisters at Jubilee Farm would be happy to arrange a personalized workshop. Choices to consider include weaving, pottery, a vegetarian cooking class or a bread-making workshop, but the sisters are happy to work through any and all ideas you may have. I had the privilege of touring the Creative Arts Center and was impressed by the beautiful looms on site, as well as by Sister Anita's ability to turn thread into beautiful tapestries and shrouds. Her expertise and craft are certainly stunning, and I have no doubt that she would be a patient and wise teacher in all things.
Two years after many of us were forced to slow down, we are now faced with the decision to get back to it all right away – vacations, outings, activities, events. I have to imagine that I am not the only person who is hesitant to give up long, meandering walks or quiet, meditative space. Jubilee Farm offers precisely the sense of peace and calm that we all crave.
According to Sister Sharon, most of all, living on the land at Jubilee has taught her that the nature of life isn't linear, it's cyclical. Just as this spring brings with it new life, another still and stark winter will always follow. It is our job not to try to control nature or our lives, but to weather the storms and accept life's gifts and shortcomings. It is this contemplative theme that brings so many to Jubilee Farm to find time, space and sanctuary.
Pamela Savage is a freelance writer from Springfield who appreciates the area's many outdoor opportunities.