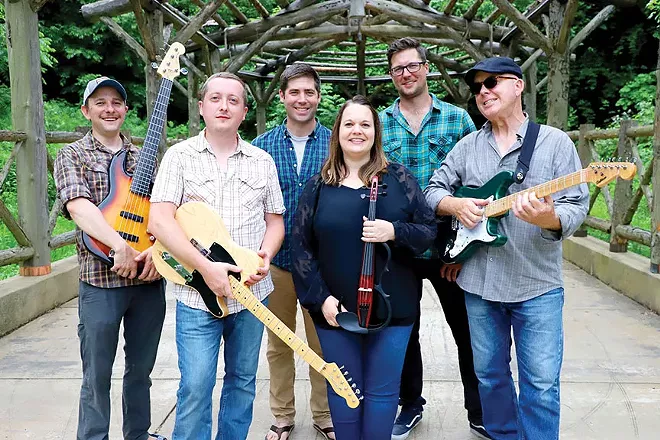 Yes, my friends, it's that time of year where many of us become beguiled with all things related to the annual St. Patrick's Day celebration centered around our local parade which starts on Saturday "promptly at noon" on the streets of lovely downtown Springfield. There's plenty of local Celtic music going on, but first let's offer an un-Irish item for your consideration. And please peruse all the other non-St. Pat's related music happening around town.
On Friday night, Springfield Community Broadcasters (https://scbradio.org/) host another fun fundraiser, this one happening at the Springfield Motorboat Club and featuring Wolf Crick Boys with Lowder & Manning opening the show at 7. It's five bucks to get in with proceeds going toward establishing a community radio station here in our hometown. Rumor has it the SCB group is currently negotiating with a local organization to acquire the necessary license to proceed legally on the airwaves, so let's help them get there as soon as possible.
Now we're off to our St. Pat's party duties as the first shamrock salvo of the week comes in the form of a major fundraiser known as the Blarney Bash for St. Patrick Catholic School. Held on Friday from 5:30 to 8:30 p.m. in the LRS Hangar on the grounds of the Abraham Lincoln Capital Airport, the live music comes from our friends-in-song Dave Littrell and Micah Walk. The tickets are available at the school, online at www.st-patrick.org, by calling 217-523-7670 or at the door during the event, and the rest is up to you.
The Emerald Underground continues a two-decade run of Celtic fusion (see this week's Band Spotlight) with Friday, Saturday and Tuesday evening shows at Lime Street Cafe, plus a Sunday matinee performance at Danenberger's Family Vineyards (2 to 5 p.m.). TEU does a full band with an electric edge to create their combination of Celtic music and rock. Our little trio of McKinney, Hennessey (got it right, Aunt Judy!) & O'Hare, comprised of Rick Dunham singing, me on acoustic guitar and singing a few, and Theresa O'Hare on flute and Irish whistle, as well as singing a few too, hit up our old haunt of George Ranks (2 to 5 p.m.) after the parade on Saturday with a special appearance by Gene (Mac) Acree on bodhran. Then we make a run to Chatham for a Sunday late afternoon show (4 to 7 p.m.) at 3 Sixteen. We do mostly old Clancy Brothers classics, with a couple regular American Irish standards, along with some instrumental numbers and pub singalongs.
On Saturday before the parade, Skibbereen stands and delivers at WQLZ's annual Kegs N' Eggs shindig from 8 to 10, giving us a healthy and happy dose of Irish classics and Skibbereen originals, "earl-eye" in the morning. Take note that the new location for 2020 is at DH Brown's. Frankie's Brewhaus presents all-day music with Deep Lunar Blue (shouldn't that be Green?) starting at 9 in the morning and Mike Burnett and the (Green) Suns taking over at 1 in the afternoon. The Fireside Relics burn the green flame at Anvil and Forge from 2 to 5, while Bar None features the Wolf Crick Boys (algae?) from 3 to 6 for more of your downtown action. And on the day of the parade and St. Pat's proper, keep your eyes and ears open for groups of folks dressed in kilts and sporrans armed with bagpipes and drums roaming the city streets and watering holes. They're the real deal.
Now, go grab your green garb and get going with gusto.