Orville Dash is no stranger to addiction.

Now 79 years old, he is a recovering alcoholic but hasn't drank a beer in 35 years. He quit smoking, too; he once inhaled three or four packs per day but hasn't touched a cigarette in years. Still, there's something about video gambling that keeps him hooked.
Dash, who lives about five miles north of Decatur in Maroa, is addicted to video gambling machines. Illinois legalized the machines in 2009, and the first machines began operating in 2012. Since then, the number of machines across the state has increased quickly, followed by mountains of tax revenue for state and local governments. Springfield has the most video gambling terminals of any city in Illinois, and the City of Springfield has received $4 million in tax revenue so far.
As video gambling has grown, so has the amount of money patrons have relinquished to the machines; Springfield video gambling patrons have given up $80 million since 2012. The number of people seeking treatment for video gambling addiction has also risen. Proponents say the video gambling machines are an economic engine intended for entertainment, but critics say they only bring misery.

The boom

Drive along Wabash Avenue in Jerome, and you can't miss the signs. They feature "lucky" sevens, words like "jackpot" and even free money to start playing. That strip of road is one of the more visible concentrations of video gambling in Sangamon County.
Just a few years ago, this was all hidden in plain sight. Unlicensed and unregulated video gambling existed for decades in bars, truck stops and other establishments. Officially, the games were for amusement only, but the unspoken understanding in many places was that winners still got paid.
The state legislature legalized video gambling in 2009 and, after taking a few years to design the system, Illinois' first legal video gambling machines started operating on Oct. 9, 2012. Since then, tax revenue from video gambling has flooded state and local coffers, providing much-needed money to governments.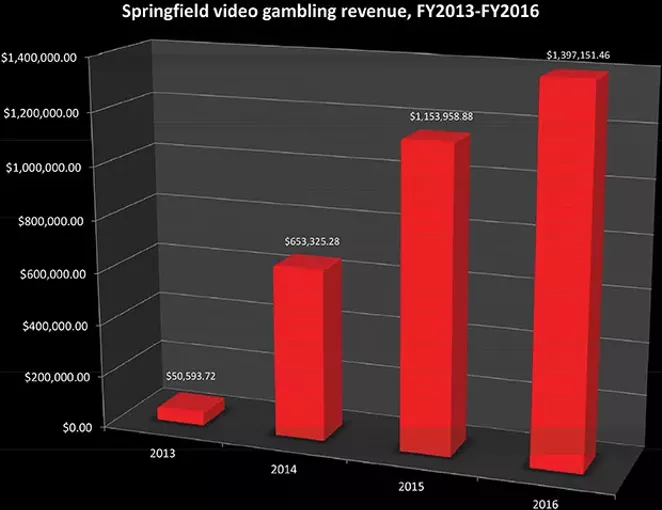 The entire system is tightly controlled by the Illinois Gambling Board from its offices in Chicago and Springfield – from the initial approval of vendors, technicians and establishments to the location of terminals within an establishment. Even disposing of a terminal requires permission from the state, and an agent of the gambling board must be present when the machine is destroyed. Every machine has an internet connection to the gambling board, allowing regulators to monitor the entire system.
The gambling board requires extensive record keeping by establishments, providing a detailed look at how quickly video gambling has expanded, where it's concentrated, and how much money is flowing into and out of the machines.
In the four years since video gambling went live, state government has reaped a total of $653.5 million in tax revenue, including $20 million which came from machines in Springfield. The state passed along another $130.7 million in tax money to municipalities which allow video gambling, with the City of Springfield receiving more than $4 million since 2012.
Springfield is the capital of video gambling in Illinois. The city of Chicago banned video gambling shortly after the law was passed, eliminating potential competition for that title. As of August 2016, Springfield had 176 establishments which offer video gambling – the most of any city in Illinois.
Springfield started with 25 video gambling machines, called "terminals," in November 2012. By August of this year, there were 569 terminals – also the highest in the state. To put that in perspective, consider that Rockford, a city with nearly 32,000 more people than Springfield, came in second with just 437 terminals. (Loves Park, a suburb of Rockford, had another 240 terminals.)
In total, gamblers in about 1,000 communities across the state have put nearly $9.8 billion into video gambling terminals since 2012, winning back almost $7.2 billion. The remaining $2.6 billion was income for the establishments hosting video gambling terminals.
The tax on that income is 30 percent. Five-sixths of the tax money gets deposited in the state Capital Projects Fund, and the remaining sixth goes to the Local Government Video Gambling Distributive Fund, where it's passed on to municipal governments. Each city or county's take is proportionate to the amount of video gambling tax generated there. Springfield's share of that money goes into the city's Capital Improvements Fund, used to build and maintain roads and other infrastructure.
The revenues have been a windfall for the state and local governments, making infrastructure improvements possible even as Illinois faces an unprecedented budget crisis. Bill McCarty, budget director for the City of Springfield, says the revenue is "extremely important" to the city's long-term infrastructure plan.
Currently, the city is in the middle of a three-year infrastructure renovation paid for by bonds. Although only $300,000 of Springfield's $4 million in video gambling money has been spent for the city's overhead sewer rebate program, McCarty says the money will help the city pay for roads and other infrastructure once the bonds are paid off in about 15 years.
Meanwhile, a 2015 economic impact brief created by Union Gambling Analytics for the Illinois Gambling Machine Operators Association says legalizing video gambling machines has led to 10,000 direct jobs and almost 23,000 indirect jobs being created or retained – not including the state's capital construction program funded in part by video gambling. While the group doesn't have a similar brief for this year, Michael Gelatka, president of IGMOA, says that "most of their assumptions about future growth and revenue were more conservative than what has since happened."
The bust
Orville Dash, who goes by "Ollie," knows in his head that he can't really win at video gambling. Before he retired, he worked in quality control for Caterpillar in Decatur, tracking statistics to help perfect the plant's manufacturing processes. Dash knows the probability of winning and losing every time he sits at a video gambling machine. He knows exactly how much he can bet in one minute or in one hour, and he knows that he's capable of losing $1,000 per month. That knowledge doesn't help him avoid the addiction; it only helps him see it as it happens.
"I knew right away when I started going in and out of these places, that I was going down a slippery slope," he said. "I think about this stuff all the time. I can quit for a day or a month, but I'm always going to regress. I struggle with why it's so powerful."
Anita Pindiur, president of the Illinois Coalition on Problem Gambling based in Bartonville, says her group has seen an increase in people seeking treatment for gambling addiction since 2012. She says it's not clear whether that's due to more need or better outreach. Pindiur runs The Way Back Inn and Grateful House, a treatment program in Maywood for various types of addiction.
"Like anything else, it's not always easy to say there's a specific correlation," Pindiur said, noting that her group doesn't take a stance for or against gambling.
"But we have seen clients relapse on the video gambling terminals, and have seen an increase of clients coming into our program," Pindiur said.
Elizabeth Thielen, secretary of ICPG, says problem gambling tends to be concentrated around gambling venues, meaning people with gambling addictions tend to gamble near where they live. She says that raises concerns about the effects of increased accessibility to gambling venues.
"The stories are heart-wrenching," Thielen said. "People losing their entire paychecks before they know it, pawning belongings in a desperate attempt to get money to try and win back losses, marriages breaking due to strain caused by gambling, job loss due to missed work, theft from employers.…"
Although there are no numbers available about who uses the video gambling machines in Illinois, the company which operates the 1-800-GAMBLER Problem Gambling Helpline for the State of Illinois keeps statistics on the volume of calls, where they come from and more. Call reports from Bensinger, DuPont and Associates, now part of the Canadian firm Morneau Shepell, show that the overall number of calls seeking help with gambling addiction has actually declined slightly in 2015 and 2016 compared with 2013 and 2014. The hotline receives numerous calls not specific to gambling addiction.
Despite the overall decrease, the number of callers who listed video gambling as their main form of gambling more than tripled from 82 in 2013 to 292 in 2014. That jump seems to have leveled off in the past year and a half, with 257 people calling about video gambling last year and 156 so far this year.
Meanwhile, the number of callers who preferred riverboat gambling has dropped precipitously over the same period. In 2013, a total of 1,006 people called the hotline about riverboat gambling addiction. That dropped to 854 people in 2014, then 670 per month in 2015. So far this year, 388 people have called the hotline about an addiction to riverboat gambling.
Anita Bedell, executive director of Illinois Church Action on Alcohol and Addiction Problems in Springfield, says video gambling is designed to be addictive. In fact, she and other opponents call it the "crack cocaine of gambling." She explains that video gambling machines combine instant gratification with misleading feedback that spurs further gambling.
That feedback is a tactic called "a loss disguised as a win." For example, a player bets 100 credits, spread across several rows or "lines" of a virtual slot machine. While betting on multiple lines increases the chance of a win, the payout for that win will often be smaller than the 100 tokens wagered. In short, the player gets the gratification of winning even as he loses money.
In a 2015 study by researchers at the Centre for Gambling Research at the University of British Columbia, students were asked to play a virtual slot program that was programmed to give four losses, four wins and seven losses disguised as wins. Asked afterward how often they'd won, the students estimated on average that they had won eight times. The students overestimated their wins, and the researchers said it was probably because of the losses disguised as wins.
Researchers in Rhode Island performed two studies in 2002 and 2004 of people seeking treatment for gambling addiction and found that video gambling – such as video poker and video slots – led to "compulsive gambling" behavior significantly faster than traditional gambling. On average, people in the studies became addicted to video gambling in just over one year, compared to nearly three years for instant lottery, nearly four years for cards, and more than five years for horse racing, dog racing and sports betting.
Bedell shares stories of crime and dysfunction related to video gambling in Illinois and other states, saying that gambling has turned restaurants, car washes, laundromats and many other establishments into "mini casinos."
"A lot of the stuff we told (lawmakers) about is coming to fruition," she said.
Statewide, video gambling patrons have given up more than $2.6 billion since 2012. Last year alone, patrons forfeited $274 million at the machines. In the first eight months of 2016, patron losses have totaled $218 million, about $1 million short of being on track to match 2015.
In Springfield alone, video gambling patrons have relinquished more than $80 million since 2012. Springfield video gambling patrons relinquished more than $27 million last year and more than $20 million so far this year.
Bedell compares the $80 million Springfield gamblers lost with the $4 million the city gained in taxes and concludes that the cost outweighs the benefits.
"The math doesn't work," she said.
Only entertainment?
Michael Gelatka, president of the industry group IGMOA, says "loss" is a loaded word.
"It conjures up visions of the state making money from lost wallets found on the street," he said.
For Gelatka, gambling is a form of entertainment which players freely choose.
"Those players are in complete control of the financial choice that they have made in playing the (video gambling terminal)," Gelatka said. "For these players, the potential to 'win' is part of the fun, but any 'losses' are seen as the cost of that entertainment."
Rather than compare the city's revenue with the amount video gamblers "spent," Gelatka notes that video gambling yields more tax revenue per dollar than if those patrons went to the riverboat casino in Peoria, where the state takes only 24 percent of income versus 30 percent for video gambling. If those same players went to a casino in St. Louis, Illinois wouldn't get any of the resulting revenue, he says.
Even if no gambling occurred and the same patrons instead spent their money on new clothes, a night at a movie or a $300 bottle of wine, the money would still have been spent, Gelatka says, and Illinois would have only gotten a small fraction of the tax revenue raised by video gambling.
As for the addiction potential of video gambling, Gelatka points out the authors of the Rhode Island study on the relative pace of addictions conceded their results ran contrary to other studies, which blamed gender differences more than gambling type. He also notes that Illinois limits bets to $2 at a time – a limit that Gelatka says "certainly was not in place on the casino slots studied in 2004."
Springfield mayor Jim Langfelder, too, says video gambling is entertainment.
"When an individual goes to play the video machines, they need to go in with an amount they can afford to play with," he said. "When it goes beyond that point, it can become an issue. Everybody should exercise good judgment and discretion in all of their activities."
Ollie Dash says he's seeking help for his addiction by talking with his pastor and a support group. He's vocal about it because he says the nature of addiction has always fascinated him, and he hopes his experience helps others.
"You tend to see the same addicted people at the same spots," he said. "It's really, really sad – the social impact it has."
Dash says he doesn't believe state lawmakers understood the addiction potential of video gambling when they approved it.
"I guarantee you they did not," he said. "I didn't understand it, or I wouldn't have dived into it in the first place."
Contact Patrick Yeagle at pyeagle@illinoistimes.com.