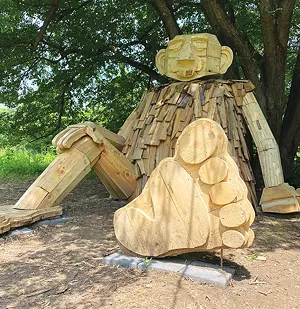 Take a stroll at Lincoln Memorial Garden and discover a giant Sleeping Troll. This fun addition near Council Ring 1 is the first of three public art projects created through the Springfield Art Association (SAA) high school summer art camps. SAA education director Erin Svendsen was inspired by Danish sculpture artist Thomas Dambo, who is known for creating large-scale sculptures out of scrap wood and placing them in hidden locations. This seemed fitting since the garden was designed by Danish-American landscape architect Jens Jensen. Svendsen also has Danish heritage.
Svendsen, along with wood artist Todd Schumacher and other dedicated volunteers, created the skeleton. High school students from all over Sangamon County, with no previous experience using saws and other tools, had a blast sawing, drilling and screwing pieces of wood onto the armature to create the finished project. Ralph Winch, Schumacher's neighbor, has a specialty sawmill and donated 12 pine trees for the project. The seated troll is nine feet high with legs extending nine feet.
A colorful, creative collage covers a four-panel window on the east side of Lincoln Library. High school girls created the mural during a week-long art camp led by Svendsen. Springfield's Lincoln Public Library requested a folk art native pollinator garden motif to connect with its summer reading program theme – "Reading Colors Your World." Colorful butterflies, caterpillars, hummingbirds, flowers and bees adorn the exterior wall.
Each day the students focused on a piece of the mural. They drew with colored pencils and markers, created flowers using block printing and a watercolor wash, painted with acrylics and created an abstract background. They collectively assembled their pieces into a collage. The designs were scanned and printed onto a perforated window scrim by Solution Printing. Students kept their original work of art, while the community gets to enjoy the results of their creativity.
Coming soon – the third public art installation will be an outdoor mural at Clay's Popeye's BBQ on South Grand Avenue East which will pay tribute to this Springfield icon.