As the days become shorter, the temperature cools, and leaves turn vibrant colors of yellow, orange and brown. The Springfield area is not short on its variety of fall festivals sure to keep you and your family entertained this autumn.


Springfield
Some come for the mouthwatering barbecue. Others come for good old down home blues. Whatever the reason, you won't want to miss Springfield's 7th Annual Old Capitol Blues and BBQs, taking place Aug. 28 at Fifth and Capitol. This year's event includes more than 40 BBQ competitors and vendors, children's activities and entertainment, and artists performing funk groove, punk and old school blues. Hours are noon to midnight. $5. 544-1723.

The Springfield Ethnic Festival is scheduled Sept. 3-5 at the Ethnic Village area of the Illinois State Fairgrounds. The event runs 5-11 p.m. Friday and noon-11 p.m. Saturday and Sunday.

Arts and crafts fill the Carillon at Washington Park's 5th annual Art Spectular at the Carillon, held Sept. 11 and 12. More than 50 artists display works representing a variety of mediums. Children's activities and kids' art sale, music, silent auction, door prizes and food vendors round out the festivities. Saturday 10 a.m. to 5pm., Sunday 10 a.m. to 4 p.m. Free admission to Art Spectacular; $1 admission to the "Kids Place." 753-6219.

The Route 66 Film Festival boasts of showing 62 films from around the world in just three days. And with a choice of comedies, dramas, documentaries, animations and experimental films, one would be hard pressed not to find an appealing film or two. The film festival takes place Sept. 17 through 19 at the Hoogland Center for the Arts. $60 festival pass. $50 two-day pass. $30 one-day pass. $25 for three sessions on either day. $10 per single session. 217-523-2187 for complete film schedule.

More than 1,000 classic cars, a night cruise, and 24-hour live entertainment featuring popular songs from the '50s, '60s and '70s, can only mean one thing: It's time for the 9th Annual International Route 66 Mother Road Festival & Car Show. Classic car enthusiasts can look forward to the Mickey Thompson Tire BURNOUT Competition, a poker race, Family Fun Zone, and more. Sept. 24 through 26 in downtown Springfield between Washington and Capitol and Fourth and Seventh streets. Free. 317-236-6515. www.Route66Fest.com.

Bluegrass lovers are sure to enjoy the 24th Annual Greater Downstate Indoor Bluegrass Festival, held Nov. 12 through 14 at the Crowne Plaza Hotel. Billed as the largest bluegrass event in the Midwest, the weekend includes top artists, instrument workshops and a guitar show. Weekend, single and multiple concert passes. 217-243-3159.

Jacksonville
Jacksonville plays host to several fall events beginning with the 12th Annual Prairieland Chautauqua, featuring historical reenactments, storytelling, lectures and music and dance. "Special appearances" by Daniel Boone, Edgar Allen Poe, Mother Jones, Walt Whitman, Jonny Appleseed, Thomas Jefferson, Mark Twain, and W.C. Fields make this year's Prairieland Chautauqua fun and educational. Sept. 3 through 6 at Jacksonville Community Park. Free. 217-243-2423.

Horse-powered equipment, gas and steam engines, steam train rides, musical entertainment, flea market, parade, horse and tractor pulls, petting zoo and various "prairieland" demonstrations, including blacksmithing, threshing and baling, are sure to make the Prairieland Steam Show and Fall Festival Days a joy for the entire family. The festivities are held Sept. 24 through 26 at the Prairie Land Heritage Museum. Hours are Friday 9 a.m. to 7 p.m., Saturday 9 a.m. to 3 p.m., Sunday 8 a.m. to 4:30 p.m. $5. Free for children under age 12. 217-243-7262.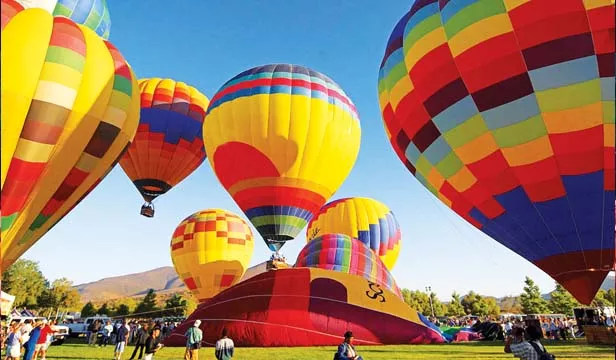 Lincoln
A 30-minute drive from Springfield to Lincoln Aug. 27 through 29 can lead to a soaring adventure at the city's annual Art and Balloon Festival. Tethered balloon rides, rock climbing, professional wrestling matches, parade, flea market, wine tasting, family activities and live entertainment, are just a few of the activities. The festival's 37th Annual Fine Arts Fair features 77 juried artists representing a variety of mediums and a children's art fair with hands-on arts and crafts. Its annual Craft Fair includes more than 40 booths of handmade crafts. Lincoln Airport, downtown, and Scully and Latham parks. Call 217-735-2385 for hours and more details.

Channel Old Abe at the 40th Annual Abraham Lincoln Rail-splitting Contest and Crafts Festival, held Sept. 17 to 19 at the Lincoln Park Recreation Center and Logan County Fairgrounds. Civil War Ball ($5 per person, $7.50 per couple, $10 per family), flea market, trap shoot, parade, quilt display, storytelling, pioneer games, cooking demonstrations, antique car and tractor show, quilters and historical displays, as well as sawing, rail splitting, corn shelling and log rolling competitions, are just a few highlights. $3 one day. $5 all weekend. Call 217-732-8687 for more details.

Other area events

Beardstown Fall Fun Festival
Sept. 25 and 26
Pancake breakfast, 5k walk/run, tractor pull, musical entertainment, talent contest, parade, dachshund race, baby contest, carnival rides, car and motorcycle show, crafts, flea market, and musical entertainment. Art Zeeck Park. Downtown Beardstown. 217-491-3771.

Carlinville Fall Festival
Macoupin County Fairgrounds
Sept. 18-19
Craft and toy show, antique tractors and cars, country store, and one-room country schoolhouse are just a few highlights. The event also includes musical entertainment, tractor parade, bluegrass jam, rug weaving and other farm demonstrations. 9 a.m. to 4 p.m. Free. 217-854-8916,

30th Annual Traditional Music Festival
Lincoln's New Salem State Historic Site
Sept. 11 & 12
Song and dance reminiscent of days past fills the site's pioneer village — a replica of Abe Lincoln's neighborhood as a young adult. 10 a.m. to 5 p.m. 217-632-4000.

Contact Jolonda Young at ladyj2066@aol.com.