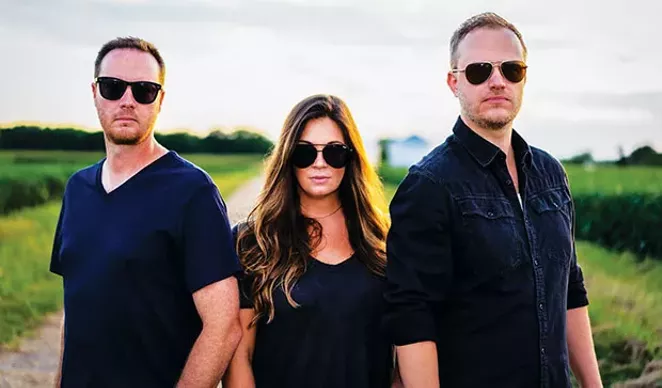 Here we are rolling into Labor Day weekend 2018, signalling the end of summertime and the beginning of autumn, if not by weather, at least by date and tradition. Let's go out and in with a band and a bang, becoming a blustering, beautiful beacon of believers in our musical labors on this celebratory day for the workers.

I can tell you most musicians work very hard for the money made in the moments of performance. There are a few area musicians working full time at music and that's a 24-hour-a-day job, since you can't let go an opportunity to take a gig or to make one, all while running your own self-promotion business. Those who do part-time work to keep playing when they can are also on the clock most of the time. Even guys with steady, well-paying occupations still work their tails off booking gigs and playing weekends, making the most of their time away from labor to rock some joint somewhere out there. So on this Labor Day celebration, especially as you are enjoying your time off while musicians are working (well, we do actually call it playing) to entertain the extra audiences available out enjoying a break from the mines, give your musician a hug and/or high five to thank him and/or her for the good work going into playing music without much reward other than the sure joy of just doing it. No one is complaining (too much), but music matters and so do the folks making it.
Speaking of well-worked musicians, The Deep Hollow, the triumphant trio of Liz, Dave and Micah, kick off this weekend with a CD pre-release show at Bar None on Friday with special guest Ethan Taylor Stephenson. Their new album, Weary Traveler, due for national release on Oct. 26, will be available for purchase at the Bar None event. Next up, catch the thriving threesome Saturday at the ninth annual SOB (that stands for Springfield Oyster & Beer) Fest held on the grounds of the Inn at 835 on Second Street along with Fireside Relics. Sunday afternoon finds this trying triad out at the third annual Crime Stoppers Hangar Party fundraiser in the LRS hangar at Abraham Lincoln Capital Airport, followed by their alter ego cover band, The Shenanigans. Hey, you Hollows, get some rest, but don't forget to clock out first!
A highlight of the extra holiday happenings includes music at the Edinburg Labor Day Picnic with Betty Whitesnake on Friday and Bluesmattic with Creek Walker early evening on Saturday, plus several other acts all weekend long. On Saturday, Liz Fitz brings live music to the Free Press Coffee in the fairly new location on the corner of MacArthur and South Grand and Casey Cantrall plays away down at the Craft Beer Bar downtown.
But Sunday, undeniably due to the Monday holiday, stacks up as the big night for area music. A random glance at the Pub Crawl gives us some regular Sunday Funday afternoon, small town spots featuring Al Kitchen at Trails End in Curran, Antone DeRocchi at South Fork in Kincaid, me at 3Sixteen in Chatham, Jonnie Concaroo Band at Sheedy Shores near Loami and Capt. Quirk at Danenberger's near New Berlin. Then the big stuff happens at the unusual Sunday night venues with Run DMC at Curve Inn, Uncle Dolphin's Redneck Coffin at Route 66 Motorheads Bar, Phantom Lordz with Killer of Giants at Crows Mill Pub, Deja Voodoo at the Blue Grouch and Casper's Kountry Kustoms at the Stadium across from the state fairgrounds on Peoria Road.
Enjoy your last blast of summer as fall approaches and thank a hard-working musician.
Contact Tom Irwin at tirwin@illinoistimes.com