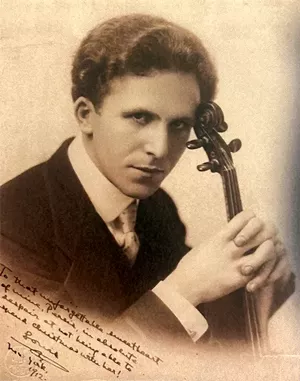 When Ray Bruzan of Rochester researched a previous book, published in 2017, he discovered that an internationally known violinist had been born in Rochester in 1887. He had never before heard of Louis Persinger; to help others know of this amazing virtuoso, Bruzan wrote a children's book,
The Violinist of Rockychester
. Now, Bruzan has published
Have Violin Will Travel, the Louis Persinger Story,
a well-researched book that is part biography, part history and part travelogue. Photos of people and places and images of musical notes and pianos between chapters add to an interesting read.
Bruzan takes us on a virtual journey – along named or numbered routes, down back roads and into small towns – to visit the various places the Persinger family lived, starting with a six-hour trip from Rochester to Washington County, Indiana. There is where the Persinger family history started and where Louis Persinger's grandparents are buried and his father, Amos, was born.
Amos worked for the railroad as a telegraph and ticket agent, a position which often required moving to new locations. That is how he ended up in Rochester in June 1886, now married to Susan Humphrey, a well-known pianist, and ran the Rochester train station of the B&O railroad. (The tracks have been converted into today's Lost Bridge Trail.) Louis was born in February 1887. Persinger was four when his father accepted a position with the Chicago, Rock Island & Pacific Railroad in Pratt, Kansas. There were frequent moves to various towns as Amos pursued his career.
As Bruzan takes us on his virtual journey to the many towns the Persingers called home, sometimes briefly, we learn about the history or people of the area. For example, in Dover, Oklahoma, we learn of the land rush of 1892; in Colorado Springs, we are introduced to gold baron Winfield Stratton.
Fate was on the side of Louis when the family met Stratton. Louis was now nine and had already been playing the violin, often playing for Stratton at his home in the evenings. Stratton recognized the young lad's talent and encouraged the Persingers to send Louis to study in Germany, something financially impossible for the family. Stratton paid the way by writing a check for $1,000 (equal to around $30,000 today). Stratton later paid for Louis to remain in Germany to study.
Persinger was on his way to a life that would take him across the world, earning accolades for his amazing talent, performing, and later teaching.
In 1900 at the age of 13, Persinger, accompanied by his mother, set sail from New York, eventually arriving in Hamburg, Germany, to study at the Leipzig Conservatory. Bruzan offers a reminiscence of a recent trip he and his wife took to Hamburg and their thrill at sitting on the very stage where Persinger had once performed. After a year in Hamburg, Susan Persinger, the violinist's mother, returned home; Louis stayed and studied with various violinists. He became a virtuoso, hailed as one of the greatest violinists who ever lived.
Travel across the world followed, with Louis performing in orchestras, at concert series, in large concert halls and for well-connected patrons.
He married Angela Gianelli, a gifted pianist with whom he often performed duets. They lived in Germany, where Louis was the concertmaster for the Berlin Philharmonic Orchestra, and in San Francisco, where Louis performed with the city's symphony orchestra. He toured the United States with the Chamber Music Society from 1916-1928 and gave violin instruction to young people. The couple raised two sons.
In 1930 Persinger accepted a teaching position at the Juilliard School of Music in New York, a position he held for 36 years. He taught well-known violinists such as Isaac Stern and Yehudi Menuhin.
Bruzan has tracked down Persinger's former students, friends and relatives and adds interesting interviews and letters, along with many photos.
Persinger never returned to Rochester; his legacy lives on, thanks to the interest and research by Bruzan.
Cinda Ackerman Klickna of Rochester is a frequent contributor to Illinois Times. She was inspired by Bruzan to write her own children's book, Out of the Beaks of Birds: Our Crazy, Pesky...Verbs.