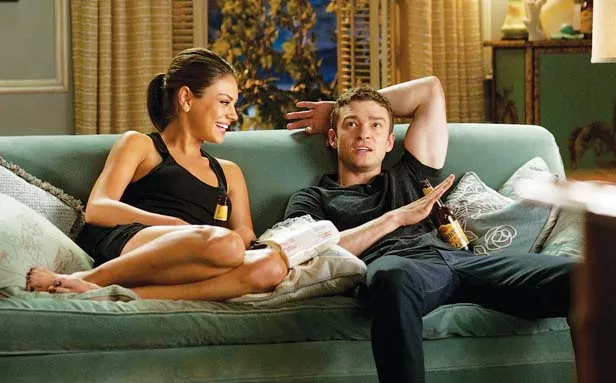 Will Gluck's Friends with Benefits is two – count 'em – two movies in one. The first is a lighthearted, "hip" urban comedy that tries hard to please but falls flat due to a fatal case of the cutesies and two performers who fail to deliver a single comedic moment between them. The other is a surprisingly effective tale of two damaged people who try to deal with their emotional baggage and bravely take a chance on love, knowing full well the minefield they're entering.

Mila Kunis is Jamie, a professional headhunter who brings Dylan (Justin Timberlake) to New York City for a job interview at GQ magazine, a position he eventually takes. Both are smarting from recent breakups and, in order to fill their lonely hours, they proceed to "hang out." A couple months pass and, in a moment of semi-drunken candidness, they both admit they miss sex but wish they could find someone to take a roll in the hay with without any emotional entanglements. Their wish is granted, as they decide to embark on this arrangement, which as social experiments go has a better success rate then starting and maintaining a Utopian society and that's about it.

Timberlake proves he's no light comedian as he forces every joke and hasn't mastered the rapid-fire delivery material like this requires. He's far better suited for drama, and fortunately this film requires that he display these chops, as the final hour becomes much more serious with Jamie and Dylan's true feelings finally emerging. Kunis is quite good throughout.

While Friends with Benefits is a Jekyll-and-Hyde affair, it manages to do what we require of every film of this sort – it leaves us happy that the two boneheads up on the screen finally realize what we've known all along. Yes, Jamie and Dylan are perfect for one another and it only takes a well-executed flash mob routine to make them realize it. That's true love in the 21st century for you.

Contact Chuck Koplinski at ckoplinski@usd116.org.