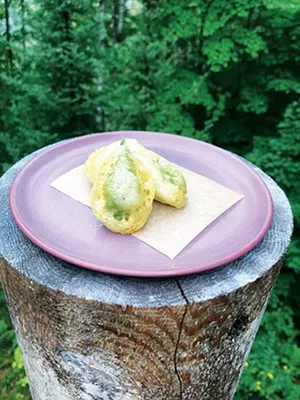 "I will meet up with Bertha Bus at the Rapid River Mini Mart and will lead you to the Inn. You'll never find it on your own. The last 10 miles are on an unpaved dirt logging road."
Hidden away in Hiawatha National Forest in Michigan's Upper Peninsula is Milkweed Inn, the latest project from Michelin-starred chef and award-winning author Iliana Regan. To call the location remote is an understatement. And to call the muddy, bumpy, rut-filled 10-mile dirt path through the woods a "road" is also an understatement. A trip up that road is enough to knock all the fillings out of your teeth. How is my poor old 20-year-old bus going to survive the ride?
Before becoming our rolling tiny home, Bertha was a school bus and school buses are built to be sturdy enough to safely transport kids through rugged rural terrains. But the road ahead was something perhaps no Bluebird Freightliner had ever attempted. Foot-high ridges between the foot-deep ruts left by the logging trucks would surely break her axles and tear off poor old Bertha's driveshaft. The 10-mile drive took nearly an hour and I was certain that all the intervertebral discs in my lower back were going to end up looking like deflated balloons.
Chef Regan purchased the log cabin lodge on 150 wooded acres three years ago with the plan of creating a wilderness culinary weekend retreat. Last year was its first season, and reservations, priced between $1,100 and $1,400 per person, sold out within 48 hours. Spurred on by big write-ups in the New York Times and Washington Post, this summer was also fully booked... until the coronavirus pandemic changed our world.
The Inn can host 10 guests, the space is cozy, and meals are communal. With guests traveling in from all over the country, Chef Regan had to make the hard decision to reschedule all the reservations until next summer, with the exception of one group of five family members who promised to wear masks and wash their hands. This is why our new jobs as cooks and innkeepers were pushed back from the beginning of May to the end of August.
Iliana Regan made a name for herself in the culinary world at her restaurant Elizabeth in Chicago by offering creatively inspired, gorgeously plated tasting menus featuring a variety of foraged and wild-caught ingredients. Celebrity chef David Chang calls her one of the best chefs he has ever known. The New York Times wrote: "If the chef Rene Redzepi (also a Regan fan) is the Nordic godfather of a culinary movement that cultivates a deep connection to the surrounding landscape, Ms. Regan is like Greta Thunberg, steering her tiny boat steadily into uncharted waters and attempting a new definition of what it means to be an American chef."
The Inn was named Milkweed as an homage to the Asclepias syriaca, the common milkweed plant that grows wild in meadows, fields and ditches and is so beloved by the monarch butterflies. As we traipsed through the woods in search of mushrooms and ripe blackberries, and Queen Anne's Lace, Chef Regan stopped and raised her hand and said, "Peter bring your gathering bag." She called me over to a stand of milkweeds. "The small pods are quite delicious. Let's gather some. We can fry them in a tempura batter and serve them to our guests. The texture of fried milkweed pods resembles okra. They are mild-tasting, tender and quite wonderful."
She explained that the pods start appearing late summer and look like a bright green, plump, spiny fruit. As they mature, they become a paler greenish-yellow and start to split open to release their seeds. For culinary applications, milkweed pods should be harvested when they are small, no longer than two inches, and before the white seeds take on any color.
Turning common "weeds" into a gourmet treat may seem foreign and exotic, but the milkweed plant was a food source to indigenous inhabitants of America's heartland.
Fried Milkweed Pods with Sambal Oelek Dipping Sauce
Serves 4
For the dipping sauce:
1/2 cup mayonnaise
3 T sambal oelek
½ lime, juiced

For the fried milkweed pods:
1 cup AP flour
1 T baking powder
1 t baking soda
1 t salt
1 bottle club soda-chilled
12 1-inch to 2-inch unopened milkweed pods
Neutral oil for frying
Prepare the dipping sauce:
Put the mayonnaise, sambal oelek, and lime juice in a small bowl, and stir until combined.
Prepare the milkweed pods:
Combine the flour, baking powder, baking soda and salt in a mixing bowl. Slowly whisk in the cold club soda until it reaches the consistency of a thin pancake batter.
Pour 1 inch of oil into a wide, heavy pot. Heat the oil to about 350-375 degrees F over medium heat. If you don't have a thermometer, assess the temperature by dropping a tiny bit of batter into the oil. It should immediately float to the top and turn golden in about 8 seconds when the oil has reached the proper temperature.
Drop milkweed pods into the batter, then lift them out one by one, allowing excess batter to drip back into the bowl. Working in batches, slowly lower the milkweed pods into the oil. Do not overcrowd the pan. Fry the pods until golden and crunchy, 2 to 3 minutes. Remove with a slotted spoon to a plate lined with paper towels and sprinkle with salt. Repeat with the remaining milkweed pods.
Serve the warm fried milkweed pods with the sambal oelek mayo for dipping.
Peter and Ann are currently residing in the wilderness of Michigan's Upper Peninsula, surrounded by brown bears and a litter of baby wolves.