One of the dearest memories my husband has of his childhood is watching his mother and grandma, standing side by side in his grandmother's kitchen on Sunday afternoons, frying chicken together. Once their task was complete, his family would gather around the table, the air heavy with the delicious aroma of cooked poultry, spices and hot grease, and they would eat the crispy pieces of perfectly seasoned chicken for dinner. Other times, the chicken would be fried and placed in the refrigerator overnight. The next morning, it would be tucked into picnic baskets alongside Tupperware containers of potato salad and sliced melon and eaten cold as part of a picnic lunch.
I'm envious of these priceless memories. My grandma was the complete opposite of my husband's grandmother, and she never had any desire to cook. My mom, on the other hand, taught herself to cook by watching television shows like "The Galloping Gourmet" and "Yan Can Cook." She definitely knows her way around the kitchen, but she unfortunately never mastered the fine art of frying chicken. Instead, when she got a craving for chicken, she would bring it home in a big bucket with sides of impossibly buttery biscuits and Styrofoam containers overflowing with whipped mashed potatoes or red beans and rice.
Whether the chicken you grew up eating was made by the hands of people you love or purchased from a favorite fast-food chain, chances are that you loved it. In fact, a recent study showed that by the year 2025, the global fried chicken market is expected to reach more than $8.25 dollars, and according to a forecast from Market Research Future, North America is responsible for around 31% of that takeout. That means that North Americans will spend more than $2.56 billion at quick-serve fried chicken restaurants. Perhaps that is why America has dubbed July 6 National Fried Chicken Day, and why we took it upon ourselves to sample fried chicken from six Springfield restaurants that are known for their perfect poultry. We wanted to let you know what makes each of them deliciously unique so that the next time you get a hankering for fried chicken, you'll know exactly where to go.
The first fried chicken that we sampled came from Dublin Pub, 1975 Wabash Ave. It had made the journey to our tasting site in an aluminum container with holes poked through the cover for ventilation. This packaging ensured that the chicken not only arrived piping hot, but it was still incredibly crunchy. Looking at the chicken, we were very impressed with the color, which was a beautiful chestnut brown. The meat was juicy and tender, but some of the tasters thought that perhaps the breading needed a bit more spice. We all agreed that it was some of the best chicken we had ever tasted, though, and knew that it would be one of our favorites from the tasting.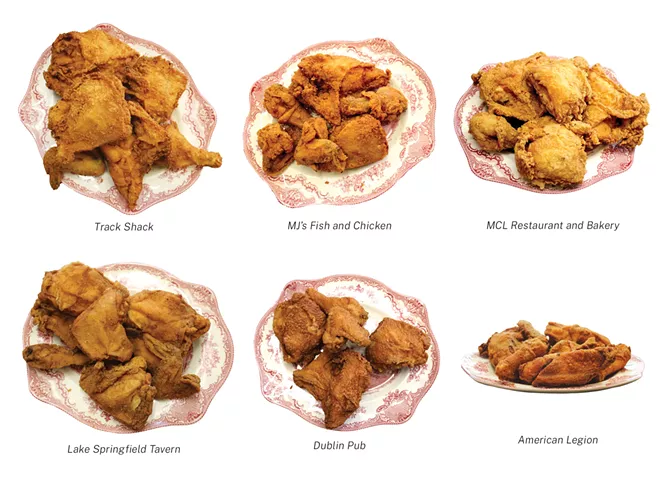 The second chicken sample came from American Legion, 1120 E. Sangamon Ave. Right away, we could see that they used a different type of breading and wondered if perhaps the Legion mixed some cornmeal into their version. It reminded some of us of the popular Shake and Bake mix, and the skin was surprisingly crisp and quite flavorful. One of our testers visits the Legion often with his family and said that he could immediately tell that this was Legion Chicken. He said the kids in his family love it, so if you're looking for a place where everyone can agree on a single dish, be sure to visit the American Legion on Thursday nights.
Fried chicken from MCL Restaurant and Bakery, 2151 Wabash Ave., was next on our list. Right off the bat, we could see that the breading was much paler in color and fluffier than the previous two chickens we had tasted. Upon sampling the skin, all of us agreed that it was a little too salty for our liking, but the criticism didn't last long because the meat, even on the breasts – which are notorious for being dry and stringy – was absolutely juicy and succulent.
Next up in the taste test was fried chicken from MJ's Fish and Chicken, 716 E. Enos Ave. I had eaten the fish from here and loved it, so I was stoked to try their chicken. The first thing we noticed was that the breading on the chicken was flecked with big pieces of black pepper. Seeing this made us assume that this chicken would be spicier than the ones we had already sampled, but that was not the case. The flavor balance on the skin was nice, but we did note that the meat was not quite as juicy as some of the other chicken we had previously tasted. As far as its flavor, though, MJ's chicken did not disappoint. Two of the three testers on our panel said that it was the most flavorful chicken they had tasted so far, cementing online reviews that MJ's consistently serves up "first-rate southern style cuisine."
Our fifth fried chicken came from Lake Springfield Tavern. Due to its location, 1221 Stevenson Dr., this is a great option for a family outing at the lake or a meal to take to a Muni performance. If you are getting your order to go, be sure and ask your server to vent the container to allow steam to escape. This will help your chicken keep a crisp crust. The sample we tasted had absorbed some of the steam, which softened the crust a bit and the skin peeled off in one clump. This chicken does not have a heavy crust, which may appeal to those who prefer a lighter crust option. The tasters felt more spices might be in order, although if you have people with a sensitive pallet or kids, they may prefer an option with less spice.
It wasn't on purpose that we saved Track Shack's, 233 E. Laurel, fried chicken until the very end of our tasting, but as this beautiful, golden chicken was being plated up, it was easy to see why it's Springfield's favorite. From the moment we opened the box, we could tell that Track Shack's chicken (despite having been in a Styrofoam container longer than all the other fried chicken we sampled) was going to be incredibly crispy, and upon biting into it, we were not disappointed. The balance of flavors in the breading was just about as perfect as you could hope for, and the meat was juicy, tender and packed with flavor. This chicken checked all of our boxes; we agreed that it was worthy of all of the awards it has won. If you haven't eaten chicken at Track Shack, do yourself a favor and order it. Trust us, you won't be disappointed.
Lana Shovlin is a freelance writer who lives in Springfield. Because she loves fried chicken so much, she didn't "bawk" when she was asked to write this article.