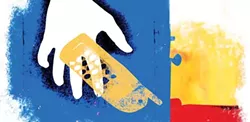 As many as 20,370 low-income households in Sangamon County could qualify for a free cell phone and 60 minutes of free monthly talk-time, according to a spokesperson with TracFone Wireless, Inc., a national prepaid cell phone provider.
Jose Fuentes, TracFone's director of government relations, announced earlier this month that the company would add Illinois to the list of 17 states that offer SafeLink Wireless — a new extension of Lifeline, a government program that has provided affordable landline telephone service to low-income families for 25 years.
"There's never been a jump into 21st century communications," Fuentes says. "TracFone came up with this device to bridge that gap."
The Federal Communications Commission created Lifeline in 1984. SafeLink Wireless will now take the service a step further by offering free cell phones and service for a year to any household that receives federal public housing assistance, food stamps, low income home energy assistance, supplemental security income, temporary assistance for needy families or Medicaid.
During tough economic times, Fuentes explains, these families usually cancel cell phone service first — even though they may need it in case of emergencies, to communicate with their children or to find jobs or housing.
"People are trying to find relief where they can," Fuentes says. "Sometimes you can alleviate their problems at least a little bit if you're able to provide a free service such as a cell phone."
The Universal Service Fund supports the Lifeline program. All cell phone users are billed a universal service charge — a fee that is collected by more than 1,700 telecommunications companies and funneled into the USF for use by various initiatives. Lifeline receives its funding as part of the USF's low-income program.
Companies deliver Lifeline assistance to low-income households as a discount to their monthly landline bill. SafeLink Wireless, however, applies its USF subsidy toward 60 minutes of monthly airtime. In addition to free service, those eligible for this program also receive a free phone from TracFone.
Fuentes can't disclose how many households in Illinois have so far signed up for SafeLink Wireless, but says 1 million low-income families statewide qualify for the program.
Several nonprofit organizations in Springfield benefit from free cell phone programs, including Sojourn Shelter and Services, an agency that serves victims of domestic violence.
Sojourn collects donated cell phones and provides them to clients in its 911 emergency cell phone program.
"Cell phones are important for our clients, because they're another tool they can use in their safety plan," says Candi Clouse, prevention and development coordinator.
One Sojourn client, Clouse says, hid several 911 phones throughout her home and used one to call the police during an emergency. Even cell phones that don't have service plans will dial 911, she adds.
The agency is organizing cell phone drives in October as part of National Domestic Violence Awareness Month. The Feminist Activist Coalition at Lincoln Land Community College will host a drive from 9 a.m.-3 p.m. Wednesday, Oct. 28, in the school's cafeteria.
"We know there are probably thousands of unwanted cell phones just sitting around," Clouse says. "It's a great way to donate and get involved with an organization without reaching into your wallet."
To coordinate a cell phone drive for Sojourn, contact Clouse at 726-5100 ext. 213.
To learn more about SafeLink Wireless or to sign-up for the program, visit
www.safelink.com
or call 1-800-SAFELINK.
Contact Amanda Robert at
arobert@illinoistimes.com
.