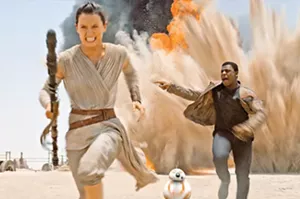 Faced with the daunting task of resurrecting Star Wars for the big screen, director J.J. Abrams takes the same approach he did when helming the Star Trek reboot – recycle the past, give fans exactly what they want and do so with a subtle wink that lets us know we're all in on the joke. I can't imagine any of the Star Wars faithful will be disappointed with Abrams' effort The Force Awakens, a film that manages, for the most part, to recreate a sense of wonder and excitement much as the first entry in the series did way back in 1977. Working from a script he co-wrote with franchise veteran Lawrence Kasdan and Michael Arndt, the director recycles much of the plot from George Lucas' initial episode, Part IV- A New Hope. Much as he did with Star Trek Into Darkness, he takes a familiar scenario, shuffles a few characters around and gives the production a high-gloss sheen, doing so with a boyish enthusiasm that persuades us to buy into the notion that everything old being new again isn't necessarily a bad thing.
After the familiar bottom-to-the-top of the screen scroll informs us that master Jedi Luke Skywalker has been missing for years and that his sister, General Leia Organa (Carrie Fisher), has been searching for him in vain, we see her best pilot Poe Dameron (Oscar Isaac) ambushed on the planet Jakku where he's tracked down a clue to her brother's whereabouts. About to be taken by the evil First Order and their leader Kylo Ren (Adam Driver), he puts a hard drive containing the information in his droid BB-8 and sends it away. Rolling about the sand dunes that cover the planet, the machine is eventually found by Rey (Daisy Ridley), a plucky scavenger and Finn (John Boyega), a stormtrooper with a conscience who's abandoned his post. Together they manage to stay one step ahead of the First Order, stealing a very familiar large flat, circular ship that's been put into mothballs and getting help from the craft's original owners, Han Solo (Harrison Ford) and Chewbacca (Peter Mayhew).
I'm loathe to go any further into the machinations of the plot, but suffice it to say there are plenty of plot twists in store, as well as some genuinely exciting battles and a cliffhanger or two that will fans chomping at the bit for the next installment. It's really no surprise that the production is as slickly executed as it is and that the production values are of the highest order. Many of the locales are familiar, yet have been subtly enhanced with modern computer imagery while the aerial dogfights the franchise is known for are much more fluid and sustained due to digital effects being used as opposed to models. It's all visually engaging and at times even jaw-dropping, as Abrams ably manages to fill both the emotional and visual scope the franchise and its fans expect.
Perhaps the one element that was the source of the most consternation among fans is the inclusion of new characters in the Star Wars universe. Fortunately, he's cast wisely in Ridley and Boyega. The young actress shows a sense of toughness and vulnerability in her first moments that wins us over immediately. This is not a character that needs rescuing, yet her heart drives her, and Ridley nails every scene she's in, a performance that will make her an immediate fan favorite. Boyega creates a similar impression, giving us a young man attempting to shake off an identity that's been foisted upon him as he tries to find his true self. Saying that I am eager to see them both in other projects as well as future Star Wars films is the highest compliment I can give.
In the end, the biggest contribution Abrams makes is that he's made Star Wars fun again. While there were dire circumstances and consequences in the initial trilogy, there was still a sense of youthful enjoyment about it all that went missing in episodes one through three, what with Lucas' plodding political subplots being the underpinning of those installments. That's not the case here as a sense of sly humor runs throughout The Force Awakens, making it a fun, welcomed trip through that galaxy far, far away instead of a slog viewers feel obligated, rather than eager, to see.

Contact Chuck Koplinski at ckoplinski@usd116.org.