To get away for the day, consider a jaunt just a couple hours south of Springfield to Kimmswick, Missouri. This historic town offers everything for a girl's day out or a couple's daycation. There is a great restaurant, fun shops, history and an estate to tour, all located just south of St. Louis off I-55, but minus St. Louis traffic and parking jams.

Founded in 1859 by Theodore Kimm, a successful St. Louis dry goods merchant, odds are pretty good that Kimm named the town after himself. The town thrived after the St. Louis Iron Mountain and Southern Railroad came through in 1858. The trains brought settlers, tradesmen and farmers who built an iron forge, grist mill, limestone quarries, brewery and large greenhouses that shipped fresh flowers to St. Louis. By 1876 Kimmswick was the second largest town in Jefferson County.
A stop at the visitor's center is a great place to gather brochures on what is available to see and do. The Visitor's Center (http://visitkimmswick.com/visitors_center) is located in the Maul House that was built in 1872.
Kimmswick history can be found at the Kimmswick Historical Society museum (http://visitkimmswick.com/museum) that is open on the weekends. Some of the older log cabin buildings in town were moved to Kimmswick when a huge restoration program began in the 1970s under the auspices of Lucianna Gladney-Ross, (http://visitkimmswick.com/in_memory_of_lucianna_gladney-ross) heiress to the 7-UP fortune. It was her vision that fostered the restoration project.
When planning your trip to Kimmswick, call ahead and make reservations to eat at the wonderful Blue Owl restaurant. The restaurant is down home with comfort food and desserts. The restaurant has been profiled on several travel channels and owner Mary Hostetter is famous for her Levee High Apple Pie, which was selected as one of Oprah's favorite things in O Magazine. We saw one of these pies; they have lots and lots of apples that form a mound under a beautiful crust. Log onto http://theblueowl.com/ to learn more.

There are several fun shops (http://visitkimmswick.com/shopping) to enjoy after lunch at the Blue Owl. Kimmswick offers over 20 unique shops, many located in historic homes and buildings dating back to the mid-1800s. If you are a Christmas buff, the Christmas Haus has some amazing items and the owners also have the very cool Everything Nice shop too, just to name of few of the stops you can make.
For me sometimes it is the history that draws me to a town. When I learned that the Anheuser Estate and Museum (http://visitkimmswick.com/anheuser_estate) was open I hightailed it down to take a peek. The house was first purchased by the Anheusers in 1916 as a summer house. It was built in 1867 and sits on 23 acres with a horse arena and a wonderful view of the mighty Mississippi.
The estate was purchased by William and Olga Anheuser and in 1943 they gave it to their son, Fred, and his wife, Mabel-Ruth. In1943 Fred and Mabel Ruth registered it as their primary residence.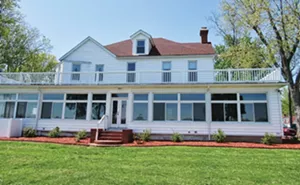 The Anheuser brewery connection is through Fred's great grandfather, Eberhard Anheuser. He was the founder of E. Anheuser Brewing Company. The merger between Anhesuer and Busch happened on both a business and personal level when Adolphus Busch, a wholesaler who had immigrated to St. Louis from Germany in 1857, married Eberhard Anheuser's daughter, Lillie, in 1861.
Fred worked in the refrigerated truck section of the brewery but retired in his early 30s and started a tack business with his wife who also loved horses. Fred was the last Anheuser to work at the brewery.
Located at 6008 Windsor Harbor Rd., Kimmswick, Missouri, tours are available every Thursday in April thru November from noon until 4 p.m. Cost is $5 per person. Reservations should be made for groups of 15 or more. To schedule a date and time call the Kimmswick City Hall at 636-464-7407.
Another historical attraction next to Kimmswick I missed looks like a great kid stop – Mastodon State Historic Site, which contains an important archaeological and paleontological site, the Kimmswick Bone Bed. Bones of mastodons and other now-extinct animals were first found here in the early 1800s. History was made in 1979 when scientists excavated a stone spear point made by hunters of the Clovis culture, a culture that has a direct association with mastodon bones. The website states, "This was the first solid evidence of the coexistence of people and these giant prehistoric beasts."
At the 425-acre property a museum tells the natural and cultural story of the oldest American Indian site one can visit in Missouri's park system. The museum has a full-size replica of a mastodon skeleton, and the park offers a picnic area, trails and a special-use campground. For more information, call the museum at 636-464-2976.
Kimmswick has several summer festivals that you may want to work into your visit, from a Strawberry Festival to an Apple Butter Festival in the fall that brings visitors from all over. Whenever you decide to head south, go with an empty stomach and time to spend near this Mississippi River town filled with history and fun.
Cindy Ladage, an author of children's books, lives on a farm near Virden.