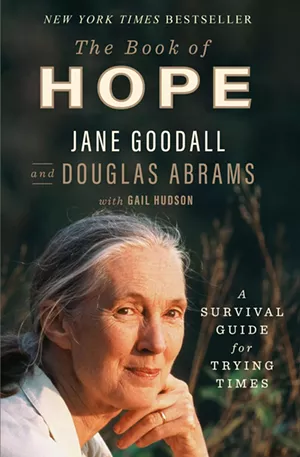 "Where there's life, there's hope," my husband's Swedish grandmother used to say. Renowned conservationist Jane Goodall provides greater insights to hope in her 2021 book coauthored with Douglas Abrams,
The Book of Hope, A Survival Guide for Trying Times.
It's a stimulating read for a new year.
With so many challenges facing the world today, from an ongoing global pandemic to climate change and loss of biodiversity, there are many reasons to feel despair. Yet Goodall wants people to realize that their actions, however small, will make a difference when combined with small actions by many others. "Hope is what enables us to keep going in the face of adversity," says Goodall. An important determinant of hope is seeing one's ability to be effective. She cites four main reasons for being hopeful – the amazing human intellect, resilience of nature, power of young people and the indomitable human spirit.
Goodall's stories dramatically convey our interconnectedness with the natural world. She says true wisdom involves thinking with our heads and understanding with our hearts. Having clear and inspiring goals, realistic ways to achieve the goals, a belief in being successful and social support to continue in the face of adversity all contribute to hope.
She urges us to not let the pandemic distract us from the climate crisis and the loss of biodiversity, which she says is a far greater threat to our future. "Only if we can understand, can we care. Only if we care will we help. Only if we help, shall all be saved." There are numerous programs coming up in Springfield to gain a greater understanding of climate change and its impact in Illinois. The Academy of Lifelong Learning is presenting a four-part series on climate change – The Action You Take, The Difference You Make (Jan. 19, Feb. 16, March 16, April 20; https://www.llcc.edu/community-education/academy-lifelong-learning).