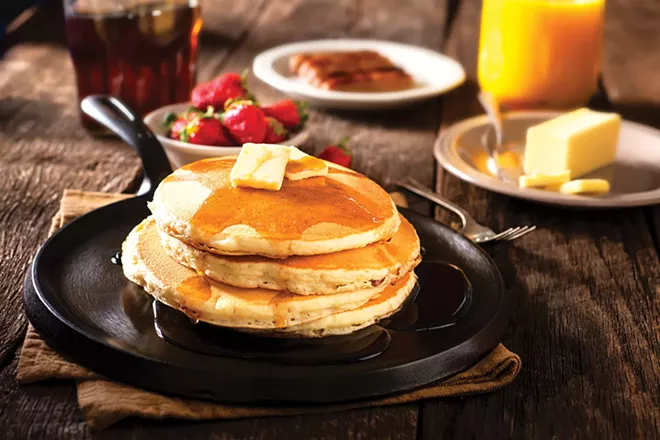 Whether they're the centerpiece of a lazy Saturday morning brunch or hastily gobbled up on a hectic weekday, fluffy homemade pancakes are a sure crowd pleaser. Pancakes generally freeze well, separated with waxed paper in a zip-close bag, so it's easy to make a big batch and get a jump on meal prep for the week ahead.
Paramount to making tender, fluffy flapjacks is not over-mixing. Two things happen in baking when mixing dry ingredients together with liquid ingredients. Firstly, the gluten in the flour becomes activated when it's combined and mixed with liquid. The more the dough or batter is worked, the more gluten will develop. That's why chewy well-structured artisan breads are often kneaded for several minutes, in order to develop a strong network of gluten that will trap the air bubbles produced by the yeast. Secondly, when making quick breads like pancakes and muffins, the delicate air bubbles that are created by the reaction of the baking powder and baking soda coming into contact with the liquid ingredients are easily burst by over-mixing. That's why lumps in pancake batter are actually ideal. After mixing let the batter rest for 20 minutes, especially if baking with whole-grain flours. This resting period gives the gluten that's developed time to relax and the starch in the flour to swell.
Cook pancakes on medium low heat in order to give them time to cook evenly without getting too brown. I don't add butter or oil to the pancake batter, but I do use a liberal amount on the griddle when I cook them. Scoop about ¼ cup full of batter onto a well-buttered skillet, making sure to leave plenty of room around each pancake. If you want to make blueberry, banana or nut pancakes, now is the time to sprinkle them on top of each cake. Resist the urge to flip them too early – there should be bubbles evenly dotted on the surface of the batter. They will only take half as long to cook on the other side.
Perfect pancakes
Diastatic malt powder is the secret ingredient for getting that classic "diner" pancake flavor. Order it online or look for it at specialty home-brew stores.
2 cups flour (whole wheat, all-purpose, or a combination)
2-3 tablespoons diastatic malt powder, or substitute 1 tablespoon sugar, or just omit entirely
2 teaspoons baking powder
1 teaspoon baking soda
3 eggs
2 cups full-fat or low-fat yogurt or buttermilk
(To make apple spice or pumpkin pancakes, substitute two cups applesauce or one 15-ounce can pumpkin for the yogurt, along with apple or pumpkin pie spice to taste.)
Combine the dry ingredients in a mixing bowl. In a separate bowl, thoroughly whisk together the eggs, yogurt and ¼ cup water or milk. Add this to the dry ingredients and mix gently to combine. Avoid over mixing. Set the batter aside to rest for 10 minutes while you heat the griddle.
Drop spoonfuls of batter onto a preheated buttered griddle and cook until bubbles begin to form in the middle of the pancake. Flip once and continue to cook until pancakes stop steaming and spring back lightly when pressed in the center. Makes 10-12 four-inch pancakes.
Almond pancakes
These are a delightful low-carb option that's well received by kids and grownups alike. As much as I love a big stack of traditional pancakes, I often feel bogged down by an overload of carbs first thing in the morning. Filled with protein-rich almonds and eggs, these simple griddle cakes are delicious topped with a simple fruit compote. Combine fresh or frozen berries with a tiny pinch of salt and a small amount of water and bring to a boil over medium low heat. Stir frequently and simmer until the mixture bubbles and the berries begin to burst. Remove from heat and add honey or maple syrup to taste. Freeze or refrigerate for up to one week.
1 ½ cups almond flour
2 tablespoons coconut flour
1 teaspoon baking powder
¼ teaspoon baking soda
¼ teaspoon salt
3 eggs
½ cup plain yogurt, kefir or buttermilk
1 teaspoon vanilla extract and/or ¼ teaspoon almond extract (optional)
Zest of one lemon (optional)
Prepare according to the directions above.
Savory sweet corn pancakes
¾ cup flour (AP, whole wheat or cup for cup gluten-free flour)
¼ cup cornmeal
1 teaspoon baking powder
½ teaspoon baking soda
1 egg
1 ¼ cups buttermilk, or substitute plain yogurt thinned with a little milk
1 ear fresh sweet corn, or ¾ cup frozen corn kernels
2 green onions, sliced
1 jalapeño, finely diced (remove the seeds to make it slightly less hot), or one small can diced green chilis, drained
Microwave the ear of corn in its husk for three and a half minutes. Let it sit until cool enough to handle, then pull away the husk and silks. Use a sharp knife to cut off the kernels by holding the ear vertically by the top and slicing downward. Do this in a mixing bowl to limit the mess. Add the egg, buttermilk, chopped green onion and chilis if using. In a separate bowl combine the dry ingredients and mix well, then add to the egg-buttermilk mixture and mix gently.
Cook according to the instructions above.
Contact Ashley Meyer at ashleyglatz@gmail.com.