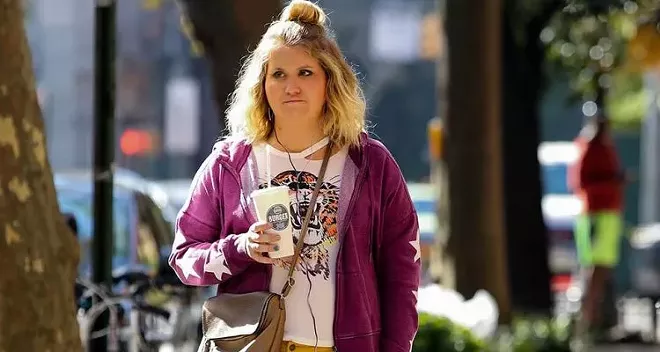 Now that movie watching has become a home-viewing option for the time being, this space will be devoted to small reviews of films that can be seen on various streaming services, cable channels and video-on-demand. Stay safe and happy viewing!
Amazon Prime
Brittany Runs a Marathon - 4 Stars (Rated R, 104 minutes)
Promoted as a quirky comedy, Paul Colaizzo's film is a tale of personal redemption in which a young woman takes stock of her life and successfully pulls herself out of a pit of self-loathing. Jillian Bell gives an unexpectedly moving performance as Brittany, progressively finding her footing after contending with one setback after another, going from being everyone's doormat to a self-assured woman brimming with confidence. Surprisingly moving, this is a film that defies expectations at every turn and ultimately delivers a powerfully poignant message.
Logan Lucky – 4 Stars (Rated PG-13, 119 minutes)
On the surface, Stephen Soderbergh's (Erin Brockovich, Traffic) return to directing seems like a low-rent redo of his heist classic, Ocean's Eleven, as two brothers (Channing Tatum and Adam Driver) and an explosive's expert (Daniel Craig) attempt to rob the Charlotte Motor Speedway. To be sure, it has elements of that film as it proves to be clever, funny and poignant. However, beneath the surface, Soderbergh shines a light on the disparity between the haves and the have-nots, effectively examining the economic circumstances that drive hardworking citizens to extreme acts to survive in a system that's stacked against them.
Overboard - 3 Stars (Rated PG-13, 112 minutes)
In this remake of the 1987 comedy, role reversal is the order of the day as a spoiled, wealthy yacht owner (Eugenio Derbez) is thrown overboard and becomes the target of revenge from his mistreated employee (Anna Faris). Though it's a simple change, switching up the roles from the Kurt Russell-Goldie Hawn version works towards making both characters more sympathetic and as a result, their coming together takes on an unexpected urgency. Surprisingly entertaining, the chemistry between the two leads succeeds in bringing just enough energy to make this a worthwhile time-filler.
Netflix
The Gift - 4 Stars (Rated R, 108 minutes)
Joel Edgerton directs, write and stars in this excellent thriller about a young couple, Simon and Robyn (Jason Bateman and Rebecca Hall), who find their lives turned upside down when a man claiming to be a friend from Simon's high school days (Edgerton) repeatedly imposes on them and takes advantage of their friendship. What initially seems to be a standard thriller along the lines of Fatal Attraction and Single White Female becomes an uncompromising examination of guilt, revenge and our society's win-at-all-costs mentality.
Molly's Game - 3 Stars (Rated R, 140 minutes)
Molly Bloom comes off as a fall gal for the rich and famous in Aaron Sorkin's directorial debut, a true-life tale of high rollers, lowlifes, movie stars and other untrustworthy sort who get called on the table when they all get involved in the titular weekly poker match. As the film is based on Bloom's best-selling account of her rise and fall, the fact that we are dealing with an unreliable narrator will likely cross the minds of astute viewers as our heroine comes off not simply as a victim but a saint as the story plays out. The result in a manipulative yet fascinating movie that's made worthwhile by the dynamic performance of Jessica Chastain and solid support from Idris Elba and Kevin Costner.
Video on Demand
Emma - 4 Stars (Rated PG, 125 minutes)
In this new adaptation of the Jane Austen novel, a well-meaning but selfish young woman (Anya Taylor-Joy) meddles in the love lives of her friends in England during the early 1800's. Vibrantly told, director Autumn de Wilde mines the social hypocrisy that's front-and-center in Austen's work with great success, bringing out the novel's wry humor and pointed commentary to great effect. Taylor-Joy is luminous in the role and her supporting cast, including Bill Nighy, Johnny Flynn, Mia Goth and Josh O'Connor, shine as well.
The Way Back - 4 Stars (Rated R, 108 minutes)
A former high school basketball phenom (Ben Affleck), struggling with alcoholism, is offered a coaching job at his alma mater. As the team starts to win, he may have a reason to confront his old demons. An unexpectedly moving film, Affleck finally realizes his potential, laying himself bare to portray a man stumbling through life in a haze, looking for an end to an existence that holds no meaning to him, Not the typical Hollywood sports film, this has the nerve to eschew many of the genre's conventions to deliver a meaningful, impactful movie.