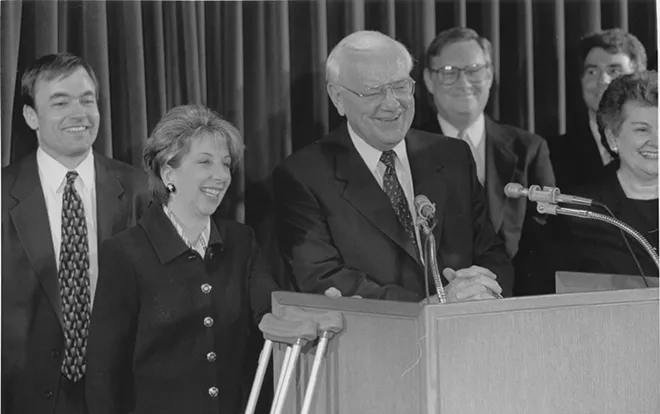 The Illinois GOP of 1998 had room for candidates like Corinne Wood of Lake Forest, who, as a freshman House representative, threw her hat into the ring to serve alongside Republican Governor George Ryan as lieutenant governor. She would be the first woman to ever hold the post in the state's history. For some of those who worked alongside her in her efforts to influence public policy in the years since, her death this year highlights how different the Illinois GOP of today has become.
"We had a great relationship," Ryan said, recalling his time working with Wood. "She was a great lieutenant governor and was always there to help me."
For Ryan, Wood was key to balancing the ticket of his 1998 race for governor. He had, as he recalled, "problems with women" in light of his opposition to the Equal Rights Amendment in his role as speaker of the Illinois House. Wood was perceived as a more centrist Republican, in particular due to her pro-choice stance on abortion. Ryan said he was approached by a group urging him to make a female Republican his running mate, and after an interview process, she emerged as the best candidate.
"I was to the right politically, certainly she was more to the left of me, and we felt that it was a good balance on the ticket, to have somebody who could talk to people on the left," Ryan recalled. "She was a good fit for me because she helped me work through those problems."
Wood was known for an incisive approach to policy, always ready with a barrage of tough questions. Madeleine Doubek, formerly a reporter with the Arlington Heights Daily Herald who covered Wood, had the tables turned on her when she became executive director of CHANGE Illinois and found herself on the receiving end of Wood's questions. Wood served on the board of CHANGE Illinois, which fights for redistricting reform.
"When I was the one being asked the questions, I came to appreciate even more fully what a brilliant master of strategy she was," Doubek said. "She asked me a lot of tough, incisive questions, and it wasn't ever the case where she was phoning it in. She expected a lot, and she demanded a lot."
Wood's work with CHANGE Illinois was a highlight of a career that was often focused on ethics, Doubek said.
"She was very committed to improving ethics in Illinois and very much committed to the battle to try to end gerrymandering, and she was a key contributor to shaping our strategy on various attempts over the years to get an independent redistricting commission in Illinois," Doubek said.
Terry Cosgrove, president and CEO of Personal PAC, recalled not only Wood's tough questions, but her principled stand on pro-choice matters. She was, he said, not one to put on kid gloves or hide what she thought.
"Anti-choicers introduced a bill that made the erroneous connection between abortion and breast cancer, and as a survivor of breast cancer, she was outraged that they were manipulating medical facts to fit their agenda," Cosgrove recalled. "She killed the bill by going to the committee and testifying against it as a breast cancer survivor. My respect for her grew immensely when she did that, because she stood up for what she believed in. As you know, in politics, that can sometimes be a rarity."
As a pro-choice Republican, Wood was not so uncommon in the Illinois GOP of the late 90s. Largely because of Wood's stance, Cosgrove said he voted in the Republican primary in 2002, supporting Wood's candidacy for governor in the hopes of taking abortion politics off the table. Now, he said, the GOP in Illinois has become staunchly anti-choice. Wood came in third in that primary.
Cosgrove spoke with Illinois Times on the same day the U.S. Supreme Court heard oral arguments in a Mississippi abortion case that advocates fear could overturn Roe v. Wade. In one way, Wood's passing highlights a total shift in the Illinois GOP, which, Cosgrove said, has become radical on abortion even as the supposedly pro-life party argues against things like COVID-19 vaccine mandates. He said he often wonders how Republicans in Wood's mold feel about the change.
"There is not a single pro-choice Republican left in the state of Illinois in elected office," Cosgrove said. "That's what's so frustrating: The Republicans are so right-wing."
Wood fought the metastatic breast cancer that eventually claimed her life even as she stepped up to run alongside Ryan. Though it wasn't a secret, Wood didn't want it to dominate headlines.
"I think it was a few months after our election that I found out she was struggling with breast cancer, but she was in remission and was handling it very well," Ryan said.
"I think that she was a very engaged and committed public servant, but she also loved her family very much. Very quietly, for 15 or more years, she waged a courageous battle against breast cancer and very rarely let the people of Illinois know what was going on," Doubek said, saying that news of Wood's death came as a surprise to her. "She really wanted to not make that battle the center of everybody's focus on her."
Wood was visible in Illinois politics long after she left the electoral landscape, standing alongside then-Gov. Bruce Rauner when, in 2017, he signed controversial legislation expanding the state's public funding of abortions for low-income women and eliminated a provision some argued would have made abortion illegal in the event Roe v. Wade is ever overturned.
"I think it has always been a challenge but is just more magnified right now: Someone in her mold would probably have a very difficult time getting out of a primary," Doubek said. "And yet, I think that someone in her mold could have a real shot in a general election."
Kenneth Lowe once served in a lieutenant governor's office and has followed Illinois politics for some time. For him, the passing of Corinne Wood was like the passing of an age.