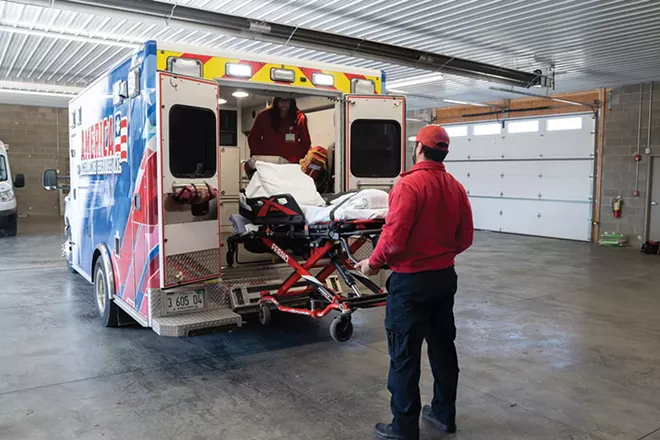 The union representing Springfield firefighters wants to see the city move into the ambulance business, transporting patients to the hospital in the most urgent situations to reduce waits for care.
"We'd like to grow our department," said Kainan Rinaberger, president of Springfield Fire Fighters Local 37. "We have the resources. We have the people. We have the paramedics on the job, and we want to provide that service because that's what people expect of us."
City officials are studying a fully or partially municipally operated ambulance service as one option for improving emergency medical services. The concept was discussed in a January analysis of fire department operations done by the nonprofit Center for Public Safety Management in Washington, D.C.
Since 1996, Springfield code has restricted the transport of patients to hospitals to up to three state-licensed, private organizations. The current three are for-profit America Ambulance and LifeStar Ambulance and nonprofit MedicsFirst.
The Dec. 18 death of Springfield resident Earl Moore Jr., allegedly related to improper treatment by a LifeStar paramedic and an emergency medical technician, has prompted more public discussion of potential improvements in EMS.
Mayor Jim Langfelder has appointed an advisory group to study all the issues raised in the center's 219-page report regarding EMS, firefighting and other fire department services and report back to the City Council. No timeline has been set.
Municipally operated ambulance services in the state include those in Chatham, Rockford, Bloomington and Chicago.
City Treasurer Misty Buscher, who is challenging Langfelder's reelection bid in the April 4 election, said she supports a fire department-operated service that would handle only the most dire EMS calls and supplement services provided by the three private ambulance providers.
The firefighters' union would like to discuss a potential municipally operated service as part of talks to resolve a complaint filed by the union. The complaint came after the city in December 2021, in consultation with local ambulance providers and hospitals, began to require fire personnel, rather than ambulance employees, to act as chief medical providers in certain circumstances when private ambulances transport patients to hospitals.
The city isn't paid for medical services performed by its firefighters.
Firefighters, all of whom are either EMTs or paramedics, have ridden in the back of ambulances for years to assist private ambulance paramedics when the need arose, Rinaberger said.
The new ride-along requirement to become the chief care provider for certain patients was related to ambulance service staffing challenges and an ongoing growth in requests for emergency medical services, according to Robert Bajier, operations director for America Ambulance.
The city doesn't believe it needs to bargain over the new requirement, but the union disagrees. The Illinois Labor Relations Board has sided with the union thus far, but Springfield Corporation Counsel James Zerkle said the dispute is "currently on review" with the board.
"These issues will be fully addressed through the regular hearing process or by mutual settlement of the parties," Zerkle said.
Firefighters want extra pay and the right to bargain other details associated with the new requirement, such as a startup of a city-operated ambulance service to improve responses, Rinaberger said.
"There have been times that people have died on-scene, or their condition got worse, because we didn't have an ambulance available to take them to the hospital," he said.
However, Susan Zappa, owner and president of America Ambulance, said, "We don't know of any of those cases."
Firefighters ride in the back of a private ambulance at least once a day now, Rinaberger said, though Bajier and Zappa said information America has received indicates the frequency is less than half of the union's estimate.
Fire Chief Brandon Blough said more data need to be collected, and the issue needs to be studied in-depth, before the city decides whether to operate an ambulance service.
The study estimated such a service could cost $2 million to $2.8 in startup expenses for ambulances and equipment, and between $3 million and $4.5 million per year in base personnel costs, not including pension liabilities.
Rinaberger said bills to patients, as well as state and federal grants, could be used to pay for a municipally operated ambulance service, but the study didn't make such a conclusion. – Dean Olsen