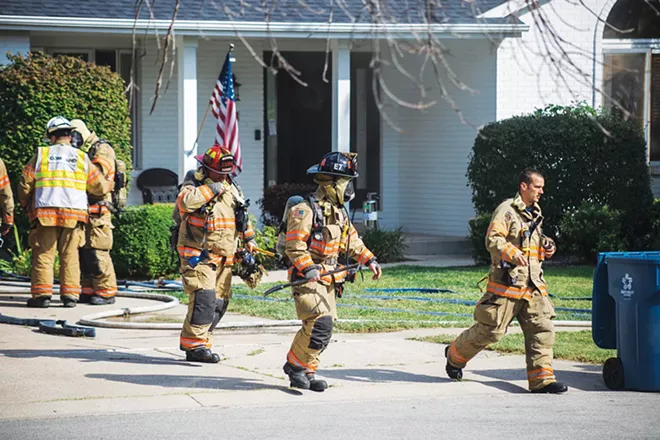 Visit Springfield Fire Department Station #1 on East Capitol Avenue and you will see the firefighters' pole near the garage entrance. It's partially enclosed by a metal railing – as if it were a shrine to the profession. The city's 206 firefighters now take the stairs to respond to fires or, increasingly, to attend to medical emergencies.
During its Sept. 21 meeting, the city council approved a measure for St. Louis-based Archimages Inc. to design up to three new fire stations. The contract with the architecture firm is slated to cost up to $750,000. Springfield fire chief Brandon Blough said during a council meeting that it's possible at least two of the fire stations could be completed by the end of 2022. Locations have not been finalized for the sites.
Firefighters in 2020 responded to 592 fires, including 212 fires at residences. Medical emergencies gained far more attention from the fire department, with 11,023 cases attended to in 2020, according to a department report provided to Illinois Times. While the number of fires the department responds to has stayed flat for at least 40 years, the number of medical calls the department receives grows rapidly each year, Blough told Illinois Times. But it's not just fire and medical emergencies. Blough recalled the department's technical emergency team rescuing a horse that fell in a well. "Our people are fixers by nature," he said.
The fire department began responding to medical calls in 1986. All firefighters are now required to have basic emergency medical technician (EMT) training. Nearly half are able to administer drugs during a medical crisis such as a heart attack or stroke. Crucially, firefighters stabilize patients until an ambulance arrives, Blough said. The department also responds to car crashes – sometimes ripping cars apart to remove injured people pinned inside them.
"Generally speaking, due to the position of where the stations are, we can get to the scene pretty quickly and we can provide an advanced level of care," Blough said. But relocation is needed to improve response times, he said. On a list of fire stations prioritized for relocation is one to cover the southwest region. There's also a proposed replacement for Fire Station #10, located at the Illinois State Fairgrounds.
The creation of an underpass, as part of the Springfield Rail Improvements Project, has boxed in Fire Station #6, near the intersection of Ninth Street and Ash Street. Development, such as a Starbucks near Fire Station #8, at the intersection of Chatham Road and Monroe Street, causes concern for firefighters cautiously maneuvering trucks in the congested area, Blough said.
Mayor Jim Langfelder, who is pushing for the updates, said it was early this year when he began talks with Blough about the relocation plans. But the areas in need of improved coverage were identified in three different reports beginning in 1996.
A new station is planned to better serve the southwest area near Piper Glen and Panther Creek neighborhoods – an area that has experienced population growth, Blough said. The gold standard for response time that first responders strive for is four minutes, he said, but the average time for that area is close to seven minutes.
Payroll costs and fringe benefits make up 88% of the fire department's $42.9 million annual budget, according to city documents. Since fiscal year 2019, the fire department's budget has gone up an average $1.2 million per year, also according to city documents. Personnel costs led Ward 7 Ald. Joe McMenamin to propose an intergovernmental agreement with Chatham to cover service in the southwest area of Springfield as a cost-saving measure. "We have way too much brass in the fire department, too many battalion chiefs in the ranks. We need to achieve some cost savings in the fire department," McMenamin told Illinois Times.
On Sept. 21, McMenamin was the only council member to vote against the measure to contract with the St. Louis architecture firm, citing his dissatisfaction with current staffing levels.
Ward 3 Ald. Roy Williams, Jr. has raised questions about a new station near Chatham and said he is wary of the possibility that the department would service a community which, he said, has not agreed to annex into the city.
Langfelder said the city has hired a consultant to study cost-saving opportunities, but there are some limits since the city's contract with the firefighters' union requires a minimum staffing level. Langfelder would not say when the consultant's report might be available.
Langfelder said all city departments went through a restructuring since the pandemic, except the fire department. The role of the fire department has changed and the consultant will help answer questions such as: "How do you maintain service levels and live within your means?" and "Is it best to bring a fire truck to an EMS (emergency medical services) call?" said Langfelder.
Maria Gardner is a graduate student with the Public Affairs Reporting program based at University of Illinois Springfield. Her work has appeared in South Side Weekly in Chicago and Laredo Morning Times in Texas.