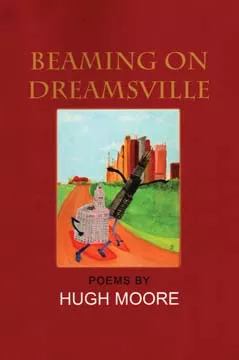 I first met Hugh Moore in Allen Ginsberg's living room, which often served as an auxiliary classroom for Naropa Institute, home to The Jack Kerouac School of Disembodied Poetics. We spent a solid three hours discussing Ezra Pound's poetics before going to the weekly poetry reading. At the time (1981), I was astounded (and very pleased) to meet a fellow poet from downstate Illinois in the bohemian badlands of Boulder, Colo. This brief encounter illustrates well Moore's lifelong engagement with poetry; in the time since we first met, he has become a constant presence in Illinois poetry, earning numerous awards. His latest book, Beaming on Dreamsville, contains poems spanning nearly two decades. Published by Adonis Designs Press, the collection runs to more than 80 pages of finely crafted verse that demonstrates his ability to renew the forms of traditional, metered poetry and to innovate in free verse with equal daring and aplomb.
Hugh Moore is a poet, artist and composer living in Williamsville. He edited the hometown newspaper, The Edwards Trace Times, for a couple of years and was the director of the public library for 10 years. He has also worked, off and on, as a stringer for the State Journal-Register. His poetry is published regularly in Light Quarterly out of Chicago and The Lyric in Massachusetts. Hugh has also been in many juried art shows from Boston to Chicago over the years. He released a CD of instrumental pieces for Spanish guitar called Original Passions in 2009 and is host of a weekly radio show, "The Fly Over Zone," at WQNA 88.3 in Springfield.
Moore's poetic sensibility is quintessentially lyric. Many poems begin with an observation about the natural world, such as noticing the "peacock sheen" of a grackle as it lofts into flight ("Grackle"). In his evocation of the concrete, his relation to Imagism is evident throughout: "We shake wet leaves into broken rainbows / flakes of light in the droplets / bead on shrub and pine needles" ("Rain on the Muledeer Trail"). Yet Moore's imagism never descends into the dully reportorial — he consistently invents new ways of seeing and rendering.
In other poems, Moore evokes a mock heraldic feeling similar to Gregory Corso, the enfant terrible of the Beat Generation. "Dead," for instance, is a playful, yet serious, meditation on a traditional subject of romantic poetry, i.e., death, done very much in the vein of Corso: "We'll throw Death a party / Build Death a brand new house / with lots of flowers and open windows / and no doors." Like Corso, Moore delights in combining formal diction with modern slang, swinging wildly between the two extremes: "Scroll of history, one long winding sheet / The big 'D.' " And just as Corso loved to do, Moore exploits puns, "Dead on / dead as a door nail, / dead right, dead wrong," using them to meditate on the various meanings of death contained within each.
Although Moore stakes out a Modernist commitment to experimentation, like many Modernists, he maintains his links to traditional neoclassicism. His use of the villanelle, for example, is always a fresh and exciting adventure, adopting such an ancient form to more modern diction and postmodern sensibility. A poem such as "Villanelle of Old Men" is a perfect instance of Moore's ability to give life to old forms by managing to rhyme without being trite or overly sententious: "They hear it as music, the old men / Softly first like a distant tide, / Brittle as leaves in the bundling wind." The effect here achieves a stately tone reminiscent of William Butler Yeats.
In brief, there are very few poets who can manage to work in more than one tradition — Hugh Moore is one of them. He is quite at home writing in traditional metered forms, eschewing the pitfalls that await every poet drawn to formalism; that is, artificial "literary" diction spoken by no living person and rhymes worn out a century ago. His modernist-based verse avoids similar pitfalls: he does not descend into Language poetry's obsession with exploiting the vagaries of syntax and thus avoids the leaden solipsism that characterizes the vast majority of American poetry being written today. Moore does not obfuscate in an attempt to be poetical. Instead, he achieves the poetic by combining the qualities of limpidity, careful observation and a wry sense of humor. It is these qualities that make Moore's poetry a joy to read — and read again — always the test of durable work.
Brian Jackson has been an itinerant scholar, attending the University of Kansas, the Jack Kerouac School for Disembodied Poetics (where he served as a teaching assistant for beat poets Allen Ginsberg and Gregory Corso), New York University, Southern Illinois University, and the University of Illinois at Urbana and at Springfield. He holds a doctorate from Saint Louis University in trans-Atlantic Modernism. His recent scholarship explores the interrelationships of visual art and modernist poetry, including impressionism, cubism and surrealism. Currently, he serves as writing specialist for the University of Illinois Springfield.