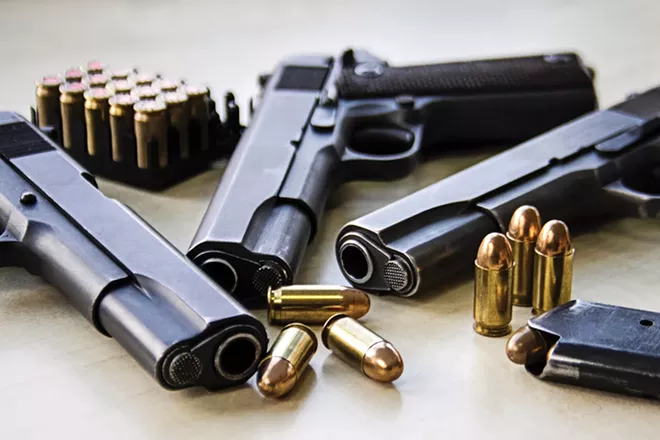 Even before the pandemic, Illinois State Police were not complying with the law when it came to processing gun permits in a timely manner, a report released Wednesday by the Illinois Auditor General said.
In fact, in 2019, 52% of concealed carry applications were not acted upon within the period set by law – 90 days if applicants submit their fingerprints – or 120 days otherwise.
The story is much the same for Firearm Owners Identification cards – only 73% were processed within the mandated 30-day period. FOIDs are necessary to purchase or possess firearms and to buy ammunition.
The Illinois Auditor General's report focused on 2018 and 2019, before the advent of COVID-19. In response to the pandemic, Gov. JB Pritzker issued an executive order indefinitely extending the expirations of gun permits so long as applications can be shown to be on file.
The audit found that 19,275 FOID cards were revoked during 2018 and 2019. The most common reason for revocation was the person being deemed mentally unfit or being the subject of an order of protection or restraining order. However, in two-thirds of these revocation cases, the State Police have no record of the person's firearms being transferred to someone who can legally possess them.
Also, most revoked FOID cards are never returned to the State Police as prescribed by law.
A tragic example of this shortcoming came to light Feb. 15, 2019, at the Henry Pratt Co. in Aurora when Gary Martin killed five of his former co-workers and wounded six others. Because Martin was a convicted felon, he wasn't entitled to own a gun in Illinois. But an Illinois FOID background check failed to find any record of his aggravated assault conviction in Mississippi in 1995. Years later, when he tried to get a concealed firearm permit, the felony was flagged and his FOID card revoked.
But as in thousands of other cases, law enforcement did not get Martin's FOID card back, or his guns.
Perhaps in anticipation of the release of the audit, the State Police issued a news release Tuesday afternoon noting that their FOID renewal backlog has been reduced by 89% and their new FOID backlog by 75%.
"About all that I can tell you is that we are on the mend," said Beth Hundsdorfer, a spokesperson for the agency. She did not immediately respond to questions regarding what percentage of FOID and CCL applications are now being processed on time.
State lawmakers say they still receive daily calls from constituents who say the gun permits are taking more than a year to process.
"I think the State Police are doing the best they can. But the state legislature handed them a lemon," said state Rep. C.D. Davidsmeyer, R-Jacksonville. "Lawmakers come up with these 'good ideas' but don't give much thought to how difficult they are for the agency to implement."
Davidsmeyer noted that 46 states do not require FOID cards and said it is time for Illinois to eliminate the requirement altogether. Now that instant background checks are required for all gun purchases, the need for FOID cards has diminished, he said.
But it is unlikely Illinois lawmakers would vote to eliminate the FOID, said Todd Vandermyde, a lobbyist for Federal Firearms Licensees of Illinois.
"It's like a security blanket, you know. It's like that ragged old teddy bear your kid drags around when they're 6 years old," he said. "The only way the legislature is going to give it up is when they're forced to by the courts."
Richard Pearson, president of the Illinois State Rifle Association, has said his group is challenging the constitutionality of the FOID requirement in the courts.
In the meantime, the State Police are working to make the agency more efficient. Since early 2020, the agency has hired 35 analysts to screen FOID and CCL applications and plans to hire more in the coming months.
Last month, Pritzker signed House Bill 562, the first significant rewrite of the FOID Act since 1968. It also revised the CCL Act.
The measure will:
• Make the FOID and CCL a single card for individuals who have paid and qualified for a concealed carry license
• Grant the State Police the authority to create an electronic card that can be stored on cellphones, much like an electronic airline ticket.
• Update FOID information when individuals revise the addresses on their driver's licenses.
• Establish the Violent Crime Intelligence Task Force to aid in enforcement of FOID card revocation or suspension enforcement.
The agency has also created a statewide gun coordinator for FOID revocation teams within the State Police. The teams will recover revoked FOID cards and ensure the guns don't remain with that person.
State Sen. Sally Turner, R-Lincoln, said she is still receiving phone calls from constituents having trouble with their FOIDs and CCLs being processed. But the number of calls seem to have dropped off this month, she said.
Turner said she is skeptical whether the legislation signed by Gov. Pritzker will solve the problems related to processing the gun permits.
"Gun violence needs to be addressed, and we must get to the root of the problem. Drugs and illegal guns must be prosecuted and those guilty held accountable. Sadly, both kill innocent people every day," Turner said.
Scott Reeder is a staff writer with Illinois Times.