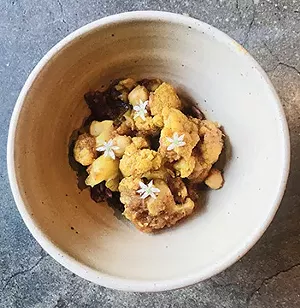 On this day 18 years ago I was on a plane flying to New York City to spend a weekend with my daughter, Anne, who was attending law school at Columbia. The flight had been rescheduled from a week earlier due to the Sept. 11 World Trade Center attack. The mood on the plane was very tense. My arrival at LaGuardia felt like I was entering a war zone. The airport was crawling with armed military and law enforcement personnel. I rode the cab in total silence to my daughter's apartment as we passed through armed roadblocks.

The air in my daughter's apartment, 9 ½ miles away from the World Trade Center, had an acrid smell. A layer of soot from the still-smoldering wreckage coated her windowsills. "Sorry. I haven't been out of the apartment much this past week. There's no food in the refrigerator. Do you mind if we go out for dinner?"

We entered the subway and headed to Curry Row, a strip of Indian and Bangladeshi restaurants in the East Village where my vegetarian daughter could find meatless options. Curry Row arose in the 60s in a sketchy, rundown neighborhood near St. Marks Place, a popular hangout for tripping hippies. The Beatles' pilgrimage to the Maharishi Mashesh Yogi's spiritual training camp had popularized Indian culture and created a demand for inexpensive Indian food. Curry Row arose in response to that demand.
We walked into the silent empty dining room of a vegetarian Indian restaurant on Curry Row and wondered if it was open for business. "Oh yes! Please come in!" I explained that I had just flown in from Illinois to visit my daughter. "We are so glad to have you here! You are the first customers we've had since the attack. Please come sit at the big table as our guests!"
New Yorkers are usually quiet and tense. You don't chitchat with your seat partner on the subway. If you smile at a passerby on the street don't expect to get a smile back. For this moment at least, all that reserve and aloofness had been put aside. People were reaching out to each other for comfort.
We were led to the big table. No menus were presented. Our host retreated into the kitchen. Anne and I sat there alone in an empty dining room in awkward silence wondering what was going on. The kitchen door eventually opened and a server emerged carrying a tray of glasses and a pitcher of salty mango lassi. Others soon followed with platters of samosas and pakoras and naan flatbreads and aromatic bowls of curries and rice. Then the whole kitchen staff sat down at the big table to eat with us and thanked us for being there! We all shared stories about where we were and what we were doing at the time of the Trade Center attacks. I realized that they were working through their post-traumatic stress by finding comfort and solace in breaking bread and sharing food together.
I have been blessed to have had many transcendent dining experiences in my life and this was certainly one of them. The dish I remember the most from that night was the warmly spiced cauliflower curry. Over the years I've tried to recapture that food memory and, though a copy is never as good as the original, I still find comfort in this cauliflower curry. I've added chickpeas to boost its nutritional benefits. I am in charge of the staff meal once a week at my restaurant. We have a vegetarian and a person intolerant of gluten and this is a dish that can be enjoyed by everyone. The ingredients are relatively inexpensive, it is easy to make, and comes together quickly.
Cauliflower and Chickpea Curry
Serves 4
Serve with rice or quinoa
Ingredients
1 onion (not sweet), peeled and roughly chopped
4 garlic cloves, peeled and roughly chopped
2-inch piece of ginger, peeled and roughly chopped
14.5-ounce can of diced tomatoes (or substitute fresh)
4 tablespoons coconut oil
1 tablespoon garam masala
1 teaspoon ground turmeric
1 head of cauliflower, separated into florets 15-ounce can of chickpeas, drained and rinsed (or 1 ½ cups of cooked chickpeas)
1 jalapeno or serrano chile, thinly sliced
13.5-ounce can coconut milk (or substitute 2 cups water)
Salt and pepper to taste
Optional garnishes: yogurt, cilantro
Preparation
Puree the onion, tomatoes, garlic and ginger in a food processor or blender,
Heat the coconut oil in a large saucepan or Dutch oven and add pureed vegetables. Cook over medium heat, stirring often, until somewhat thickened, about 20 minutes.
Stir in the garam masala and turmeric and cook a few minutes more.
Add cauliflower, chickpeas, chile and coconut milk (or water). Season to taste with salt and pepper. Bring to a boil then reduce to a simmer and cover. Cook until the cauliflower is tender, about 20 minutes.
Serve with rice or quinoa. Optional: garnish with yoghurt and/or cilantro
Note: To separate cauliflower into florets without getting cauliflower crumbs all over your cutting board: Place a whole cauliflower stem side up on your cutting board. With a paring knife, carefully cut out the core as you would with a tomato, cutting in a cone-shaped motion around the stem into the heart of the cauliflower. If done properly, the cauliflower florets should just fall to the side around the core. To make smaller florets, cut part way up from the base of each stem and use your fingers to pull apart into smaller pieces.
Peter Glatz is anxiously awaiting the arrival of the Monarch butterflies; their annual fall migration passes through Oklahoma City!