Many people want to stay in their homes as long as possible. However, more and more seniors are opting to move to a senior living community earlier, where they have opportunities for socialization and a host of amenities.
Cost and availability are two major factors. However, many other issues should also be considered. Most important is to plan ahead. By having a plan, potentially years in advance, there is time to prepare and make the transition easier when it happens. Consider purchasing long-term care insurance well before it is needed.
A waiting list can be a good indication of the popularity of a community and another reason to plan ahead. Getting on a waiting list makes it more likely a place is available when you decide it is time to move. Advance planning can also relieve the burden on families and avoid a situation where someone cannot stay in his or her own home safely, doesn't want to move, is not fully capable of making sound decisions, and no power of attorney has been designated for someone else to act.
Jennifer Cole is the director of Community Sales and Marketing at Concordia Village, which is operated by Lutheran Senior Services. She says if people wait too long to move, they don't get the opportunity to enjoy themselves. She often hears people say they wish they had moved earlier. Cole describes Concordia Village as a life plan community. With independent living, assisted living and long-term care all on one campus, people moving to Concordia can live out the rest of their lives there. As needs change, they can readily transition to different levels of care and don't have to experience another upheaval. She says statistics show that people live longer, healthier lives when they have opportunities for socialization, participate in fitness activities and eat well.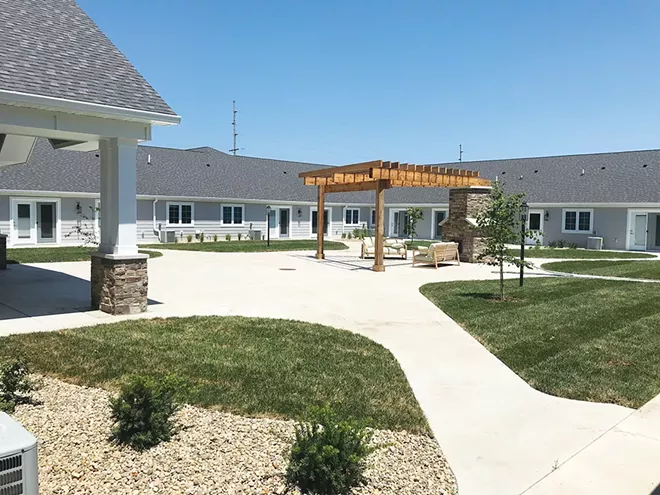 For some communities, such as Concordia, residents buy in. Others, such as Cedarhurst, which opened in Springfield last fall, have a month-to-month commitment which can be terminated with a 30-day notice. Becky Woiwode is the senior executive director of Cedarhurst, which offers assisted living apartments and memory care. She says Cedarhurst is committed to person-directed care and emphasizes the importance of providing services that are tailored to residents' specific needs.
Ultimately, selecting a senior living center involves finding the best fit for the individual's needs and desires. There are other things to consider in addition to cost.
Medical What level of care of is needed? Is assistance needed with medications, showering, other daily activities? Assisted living may mean different things at different facilities, so it is important to understand the details of what is provided. Is there on-site physical, occupational and speech therapy? Is there round-the-clock access to nursing staff? Is there an on-site medical clinic?
Physical facility Is the property physically appealing, well-maintained and clean? Is it well designed to facilitate socialization? Are there desirable places for residents to spend time when they aren't in their individual rooms? A sprawling connected complex may have an entirely different ambiance than a high-rise facility. Are the individual rooms well-maintained and designed for safety? Is housekeeping provided in apartments? Are there spaces residents can use to entertain family or friends? Are there outdoor areas, such as decks, porches, walking paths? Is the outdoor area attractive, well-maintained and landscaped?
Meals What is the food service arrangement? Where and when are meals served? Is there a commitment to providing fresh, tasty and healthy meals?
On-site activities and amenities Is there a regular schedule of activities, such as fitness classes, wellness programs, group activities, entertainment, movies, music programs, social hours, church services, etc.? What amenities are on-site – pool, library, piano, game room, movie theater, exercise equipment, TV areas, hair salon, etc.?
Off-site activities What off-site opportunities are provided – trips to grocery stores, restaurants, entertainment? Is individualized transportation available on request?
Staff Do staff stay a long time or is there a high turnover rate? Is there evidence of a caring relationship with residents? What measures are in place to keep residents safe?
Leadership/administration Is the facility locally owned or operated or part of a larger organization? What is the mission of the organization that owns and operates the facility? COVID-19 is changing everything in our world. Ask how the organization has managed during the pandemic, what lessons have been learned and how things will be changing in the future.
Word of mouth is valuable. In-person visits are also important. Ask to visit at different times and experience meals, activities, etc. What is the vibe? Are people smiling? Cole says Concordia has a heart, which is reflected in the staff, many of whom have been there since it first opened.
Preplanning and talking to family can make moving to a senior living community much easier. Those who have experienced a move advise to start planning earlier than you think.