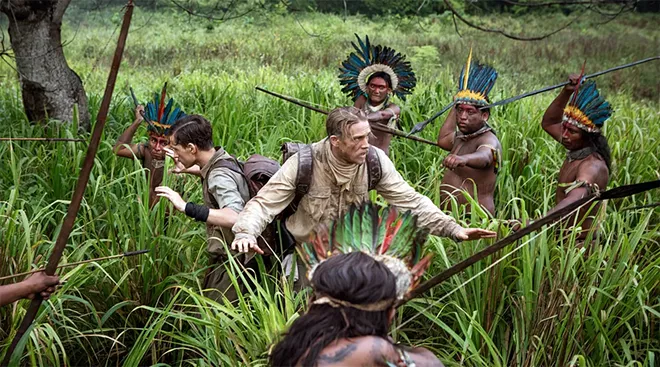 Now that movie watching has become a home-viewing option for the time being, this space will be devoted to small reviews of films that can be seen on various streaming services, cable channels and video-on-demand. Stay safe and happy viewing!
Amazon Prime
The Lost City of Z - ½ (Rated PG-13, 141 minutes)
Director James Gray adapts David Grann's account of British explorer Col. Percival Fawcett (Charlie Hunnam) who trekked into the wilds of the Amazon three times in search of a mysterious, lost city. Reminiscent of "Aguirre, the Wrath of God," and "Apocalypse Now," Fawcett's obsession is the driving force of the film while Gray does a marvelous job of creating a sense of wonder, hope and dread with the jungle setting. Covering nearly two decades, the movie can't help but have a disjointed feel to it at times, while the ending comes off as a bit too abrupt. Still, this is a remarkable achievement and an amazing story that can't help but sweep you away.
True History of the Kelly Gang (starts Friday) – (Rated R, 124 minutes)
Based on Peter Carey's novel, the film tells the story of Australian bushranger Ned Kelly and his gang as they flee from authorities during the 1870s. As directed by Justin Kurzel, this is a muddle from the start. Visually murky, the action is hard to follow while previous knowledge of Kelly is necessary in order to follow the fractured narrative. George MacKay is fine as the outlaw but his efforts are in vain as this proves to be a movie that, while having plenty of ambition, lacks coherency. Russell Crowe is wasted in a supporting role as is Charlie Hunnam.
Netflix
Haywire - ½ (Rated R, 93 minutes)
One doesn't often think of Stephen Soderbergh as an action filmmaker, but he proves adept at bringing thrilling, bone-crushing sequences to life in this feature he wrote to showcase the abilities of MMA champion Gina Carano. She plays Mallory Kane, a spy who reluctantly takes on an assignment and soon regrets it. When things go sideways and she's accused of murder, she sets out to clear her name and a high body count is the result. The plot is simple and inconsequential – Carano is the whole show and empresses with her lethal prowess which is, at her best, on par with Jackie Chan. The impressive cast, which includes Michael Douglas, Michael Fassbender, Ewan McGregor, Bill Paxton, Antonio Banderas and Channing Tatum lend the film a sense of gravitas it doesn't need.
Hail, Caesar - ½ (Rated PG-13, 100 minutes)
When the biggest star at Capital Pictures, Baird Whitlock (George Clooney), is kidnapped, studio fixer Eddie Mannix (Josh Brolin) has to pull out all of the stops to keep the story from leaking to the press. A loving tribute to Hollywood's studio system and the high-gloss product it generated, this is a blistering, funny take on the dichotomy between reality and illusion in all facets of life. The cast, which includes Ralph Fiennes, Channing Tatum, Scarlett Johansson, Jonah Hill and Tilda Swinton bring a sense of farce to the proceedings while relative newcomer Alden Ehrenreich steals every scene he's in as an earnest singing cowboy. Not only is the film great fun, it's uncommonly smart as well.
Video on Demand
Ride Like a Girl - (Rated PG, 98 minutes)
Director Rachel Griffiths' rousing biopic does a fine job capturing the trials of Michelle Payne, the first female jockey to win the Melbourne Cup, on and off the racetrack. Teresa Palmer brings a passion to the role of Payne that allows us to understand what drove this woman to success, while Sam Neil, as her father, delivers the sort of solid work we've come to expect from the veteran actor. While the scenes on the racetrack are a bit lacking, the film has enough heart to get it to the winner's circle.
To the Stars (starts Friday) - (Rated PG-13, 109 minutes)
Under small town scrutiny, a withdrawn farmer's daughter (Kara Hayward) forges an intimate friendship with a worldly but reckless new girl (Liana Liberato) in 1960s Oklahoma. A success at this year's Sundance Film Festival, the film has a self-important feel about it that's off-putting, primarily because it wants the audience to take it as a serious social drama when it's nothing but a piece of melodramatic pulp. The two leads are fine, but the screenplay by Shannon Bradley-Colleary relies on coincidence to the point of distraction, while many of its character are drawn much too broadly to be believed. The film's message of staying true to yourself may be timely, but the execution here is botched from the start.