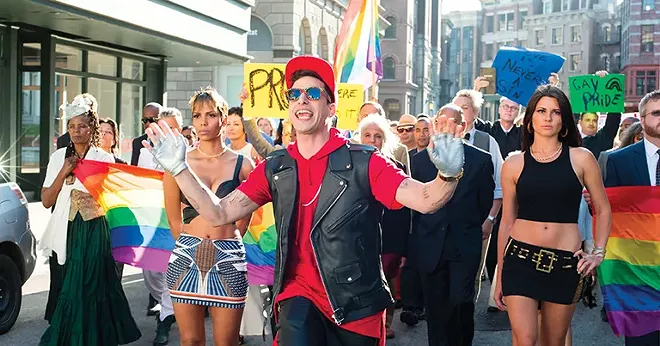 Now that movie watching has become a home-viewing option for the time being, this space will be devoted to small reviews of films that can be seen on various streaming services, cable channels and video-on-demand. This space will be fluid and include as many new viewing options each week as possible to provide a wide variety of choices. Your suggestions are welcome in this regard. Stay safe and happy viewing!
Amazon Prime - Blow the Man Down 3 Stars (Rated R, 91 minutes)
Mary Beth and Priscilla Connolly (Morgan Saylor and Sophie Lowe) attempt to cover up a gruesome run-in with a dangerous man. To conceal their crime, the sisters must go deep into the criminal element of their hometown, uncovering the town's darkest secrets. Though the film gets off to a bit of a slow start, this mystery ultimately rights itself as the underbelly of the small coastal Maine town is exposed. The movie benefits greatly from its location shooting and veteran cast that includes Margo Martindale, Annette O'Toole and June Squibb.
Amazon Prime - Popstar: Never Stop Never Stopping 3 Stars (Rated R, 120 minutes)
When it becomes clear that his solo album is a failure, Conner4Real (Andy Samburg), a former boy band member, does everything in his power to maintain his celebrity status. Beneath its infantile exterior, the film proves to be a wicked skewering of the vacuous nature of modern pop music and the idols it produces. Shot in faux-documentary style, luminaries such as RZA, Carrie Underwood, Ringo Starr, Usher and many more weigh in on the genius of Conner4Real, brilliantly undercutting the modern state of pop idolatry. There are more successful jokes here than duds as this movie winds up being far smarter than you expect.
Amazon Prime - Resistance 3 Stars (Rated R, 120 minutes)
The story of French mime Marcel Marceau, who worked with the French Resistance to save the lives of 10,000 orphans during World War II, is a well-intentioned film that moves in fits and starts before delivering its powerful message. The movie rights itself during its second hour with a series of tense sequences showing our heroes trying to shepherd a group of children to safety, the Nazis hot on their trail. As Marceau, Jesse Eisenberg delivers a quiet, solid performance that shows he's capable of giving much more on screen than he's previously shown.
Disney Plus - The Finest Hours 3 ½ Stars (Rated PG-13, 117 minutes)
One of the most overlooked films of the last five years, this gripping drama retelling the heroic efforts of the Coast Guard's 1952 rescue off the coast of Cape Cod after a pair of oil tankers are destroyed during a blizzard is genuinely exciting and poignant. The film benefits from strong performances from Chris Pine as Coast Guard officer Bernie Webber and Casey Affleck as engineer Ray Sybert, the two men who coordinated the rescue effort on land and sea. A rousing adventure the whole family can enjoy.
Disney Plus - The Rocketeer 3 ½ Stars (Rated PG, 108 minutes)
An overlooked entry from the early days of the modern superhero genre, this adaptation of the Dave Stevens' graphic novel is a rollicking throwback to the days of the 1930s serials as our hero Cliff (Billy Campbell) uses an experimental jetpack to fight Nazis, spies and various ne'er-do-wells. Alan Arkin steals every scene he's in as Cliff's mechanic mentor, while Timothy Dalton brings an Errol Flynn-like swagger to his role as an undercover agent. Throw in a young Jennifer Connelly as Campbell's love interest and some exciting action sequences and you have an adventure fit for all ages.
Hulu - Big Time Adolescence 3 ½ Stars (Rated R., 91 minutes)
A suburban teenager (Griffin Gluck) comes of age under the destructive guidance of his best friend (Pete Davidson), an aimless college dropout. Better than expected, this is far from the typical goofy teen comedy as it takes a sobering look at how impulsive decisions can have dire consequences. There are laughs along the way, but writer/director Jason Orley doesn't shy away from a responsible conclusion, while Davidson proves to be more than simply a crude comic.
Netflix - Lost Girls 3 Stars (Rated R, 95 minutes)
When Mari Gilbert's (Amy Ryan) daughter disappears, police inaction drives her own investigation into the gated Long Island community where Shannan was last seen. Her search brings attention to over a dozen murdered sex workers. Based on a true story, this is a riveting story for the most part as it puts New York's Suffolk County Police Department in the crosshairs as it exposes their indifference in investigating the deaths of 16 young women. While the story is compelling, the script fails to fill in all the narrative gaps, leaving many questions. Still, Ryan's fierce performance saves the movie.
Netflix - The Other Guys 3 ½ Stars (Rated PG-13, 107 minutes)
The first collaboration between Will Ferrell and Mark Wahlberg is a riotous parody of buddy cop films that finds the stars as polar opposites who must unite to take down a corporate scam artist (Steve Coogan) out to take control of the police officers' pension fund. Like any successful comedy, the chemistry between the two leads generates explosive laughs, and their conflicting styles sparking big laughs from beginning to end.
Video on Demand - Emma - 4 Stars (Rated PG, 125 minutes)
In this new adaptation of the Jane Austen novel, a well-meaning but selfish young woman (Anya Taylor-Joy) meddles in the love lives of her friends in England during the early 1800s. Vibrantly told, director Autumn de Wilde mines the social hypocrisy that's front-and-center in Austen's work with great success, bringing out the novel's wry humor and pointed commentary to great effect. Taylor-Joy is luminous in the role and her supporting cast, including Bill Nighy, Johnny Flynn, Mia Goth and Josh O'Connor, shine as well.
Video on Demand - The Hunt - 1 Star (Rated R, 89 minutes)
Twelve strangers wake up in a clearing. They don't know where they are, or how they got there. This is a rather slick piece of exploitive cinema that gives voice to hate from both the right and the left, but never clearly stating its intent, which may simply be that if both sides continue to spout hate and make faulty assumptions about the other, we are ultimately doomed. Unfortunately, any message director Craig Zobel may be offering up is lost in his clumsy execution and the script's muddled intent.
Video on Demand - The Invisible Man - 2 ½ Stars (Rated R, 124 minutes)
When Cecilia's (Elizabeth Moss) abusive ex takes his own life and leaves her his fortune, she suspects his death was a hoax. As a series of coincidences turn lethal, Cecilia works to prove that she is being hunted by someone nobody can see. Though there are some impressive action set pieces and one genuinely frightening moment, the lax pacing prevents us from ever getting truly invested in the characters or their plights.