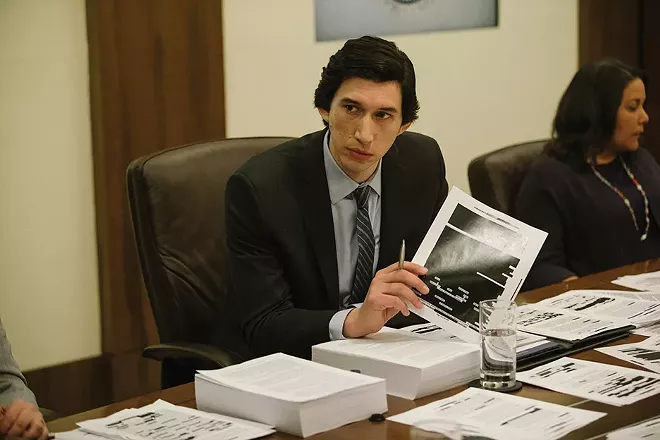 Now that movie watching has become a home-viewing option for the time being, this space will be devoted to brief reviews of films that can be seen on various streaming services, cable channels and video-on-demand. This space will be fluid and include as many new viewing options each week as possible to provide a wide variety of choices. Your suggestions are welcome in this regard. Stay safe and happy viewing!
Amazon Prime – Paterson (Rated R, 118 minutes)
Jim Jarmusch's delightful meditation on daily life and the interconnectivity of separate people's existence is a quiet and delightful examination of how irony can often set things right. Adam Driver takes on the title role as an introspective bus driver who discovers that his daily life, with its slight variations, hold revelations about his own life which give it meaning. Smart, funny and moving, this is a movie that slowly gets under your skin as you come to realize how the revelations Paterson makes about his life apply to your own.
Amazon Prime – The Report (Rated R, 119 minutes)
Scott Z. Burns' insightful and compelling film, dealing with the report commissioned by Senator Dianne Feinstein (Annette Bening) to expose the government coverup regarding the post-9/11 interrogation system, is a revelation. Adam Driver is Daniel Jones, the investigator charged with culling the vast number of facts to compose a comprehensive report that ultimately reveals the new policy as one consisting of inhumane torture. In the tradition of All the President's Men, this is essential viewing.
Amazon Prime – Swallow (Rated PG, 94 minutes)
Hunter (Haley Bennett), a newly pregnant housewife, finds herself increasingly compelled to consume dangerous objects. As her husband and his family tighten their control over her life, she must confront the dark secret behind her new obsession. Though it meanders early on, the film rights itself, proving to be a compelling, complex look at mental illness. Bennett gives a stunning performance as she embraces the complexities of this role, showing us a troubled young woman forced to peel away the many layers of denial she's used to cover up a deep sense of self-loathing.
Netflix – In the Tall Grass (Rated TV-MA, 101 minutes)
When siblings Becky and Cal (Laysla De Oliveira and Avery Whitted) hear the cries of a young boy lost within a field of tall grass, they venture in to rescue him, only to become ensnared themselves by a sinister force that quickly disorients and separates them. Based on a story by Stephen King, director Vincenzo Natali creates a genuinely disturbing atmosphere, highlighting the inherent claustrophobia of the setting. While the story's metaphor is a bit labored, there are enough scares along the way to keep fans of the horror genre engaged.


Netflix – The King (Rated R, 140 minutes)
Hal (Timothee Chalamet), wayward prince and heir to the English throne, is crowned King Henry V after his tyrannical father dies. Now the young king must navigate palace politics, the war his father left behind and the emotional strings of his past life. Epic in scope, both visually and emotionally, this is ambitious period filmmaking that sweeps the viewer along with its intriguing court politics and thrilling battle sequences. Co-starring Joel Edgerton, Ben Mendelsohn and Robert Pattinson.
Turner Classic Movies – Great Escape (1963) (Not Rated, 172 minutes )
Based on true events, this compelling account of an escape from a German POW camp pulled off by a group of determined prisoners of the Allied Forces is an exciting war film, made all the more compelling by the humanity brought to the characters by the all-star cast. Steve McQueen, James Garner, Charles Bronson, James Coburn and Donald Pleasance not only brought considerable gravitas to the film but Sturges and the script by James Clavell and W.R. Burnett allowed each to create distinctive characters we come to care for. The film never feels long, despite being nearly three hours in length with the pacing becoming relentless as events come to a head. Simply put, this is one of those rare productions that comes as close to filmmaking perfection that you're likely to see.
Video on Demand – Pain and Glory (Rated R, 113 minutes)
Pedro Almodovar's semi-autobiographical film has his long-time collaborator Antonio Banderas giving a career-best performance as a filmmaker hobbled by pain, drug addiction and doubt. Far from being a pity party, this is a celebration of the experiences that made him into the artist he becomes as we are treated to poignant flashbacks focusing on his relationship with his mother (Penelope Cruz) as well as scenes from a heartbreaking love affair. Quiet and moving, the filmmaker's ultimate triumph comes from taking stock of himself and, most importantly, asking for help in order to get back on his feet once more.
Video on Demand – Standing Up, Falling Down (Rated PG-13, 91 minutes)
A comedy about the unlikely friendship that kindles between a struggling stand-up comedian (Ben Schwartz) from L.A. and a tragically flawed, but charming and charismatic, alcoholic dermatologist (Billy Crystal). An unexpected delight, this modest movie is buoyed by the charming performances from the two leads as well as a sincerity that helps the rather cliched moments seem fresh. The film's comedic scenes develop organically and never seem contrived while director Matt Ratner's deft touch ensures that the poignant moments never smack of insincerity. This is a quiet, assured film that confidentially delivers its message, knowing it doesn't have to shout in order to get its point across. A pleasant surprise.
Contact Chuck Koplinski at koplinski@usd116.org.