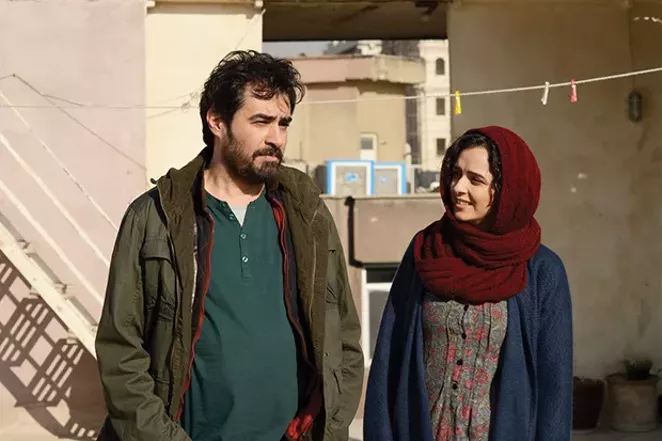 For more than 25 years, the Molly Schlich Independent and International Film Series – presented each winter by the Springfield Art Association – has brought acclaimed and lesser-seen movies to Springfield. From January through early March, each Sunday (matinee) and Tuesday (evening showings) one of the screens at AMC's Parkway 8, 3025 Lindbergh Blvd., is transformed into an "art house cinema," giving area cinephiles a chance to visit cultures and ideas rarely seen on local screens. This year's offerings range from a Middle Eastern social drama, to a depiction of an American family languishing in the shadow of Disney World, to an animated trip inside the vibrant paintings of Vincent Van Gogh, with many stops in between.

"Critically acclaimed independent and international films tend to be really dark," said Betsy Dollar, executive director of Springfield Art Association. "It's almost impossible to find a comedy. I've had essentially the same committee choosing films for many years, and I rely heavily on them to bring the right films to the table. The tricky thing is finding the right mix so it's not all completely depressing."
Jan. 14 and 16: The Salesman
Winner of the Best Foreign Film prize at last year's Academy Awards,
The Salesman
(written and directed by Asghar Farhadi) tells the story of an Iranian couple putting on a performance of Arthur Miller's play Death of a Salesman in modern Iran and the various troubles which ensue. "There's a certain irony built into the idea," said Dollar. "It's clear that the characters putting on the play are walking a very thin line with the Iranian censors. It's a very intimate glimpse into a different culture. The performances are great and it's a very powerful film."

Jan. 21 and 23: Columbus
Dollar describes
Columbus
, directed by Kogonada, as a "visually stunning" film. "Aside from the fact that it utilizes the incredible mid-century architecture of the city of Columbus, Indiana, the photography is just amazing." She says the film tells a sweet story at a contemplative, artistically pleasing pace, which manages to maintain its narrative thrust while stopping long enough to take in the details of its setting.
Jan. 28 and 30:
The Florida Project
Featuring an acclaimed performance from Willem Dafoe,
The Florida Project
, directed by Sean Baker, is cropping up on many critics' best-of-the-year lists. Telling the story of a family living on the margins of the Orlando community that is home to Disney World, the film is said to be a mordantly humorous drama of domestic displacement. "The mother is trying to provide for her family, in a way," said Dollar, "but the kids are left entirely to their own devices throughout the day, going off on mini-adventures, In comparison to the Little Rascals, these kids are way more destructive. The toughness and cynicism in these six- and seven-year-old kids is kind of mind-boggling. But it's a very real story – these are the kids who ultimately fall through the cracks."
Feb. 4 and 6: Polina
"It is a beautiful dance movie," Dollar said, describing the French-made Polina (directed by Valérie Müller and Angelin Preljocaj). "If you like dance, this is for you. It starts out with a character being trained for the Russian ballet but turns her back on that and goes to France to concentrate on more modern dance." She also said that the film provides a great message for artists, regardless of medium.

Feb. 11 and 13: Loving Vincent
Adopting a novel approach to depicting the circumstances surrounding the 1890 death of Dutch painter Vincent Van Gogh, directors Dorota Kobiela and Hugh Welchman tell the iconic story via animated extrapolations from Van Gogh's famous paintings, using classically trained painters, rather than professional animators, to bring the vision to life. "They do a beautiful job of pacing it so it doesn't get too visually overwhelming," said Dollar. "They use the actual paintings and colors but when they go into a more narrative section they switch to black and white and the brush strokes tone down."

Feb. 18 and 20: Faces Places
Directed by the mischievous and iconoclastic French director Agnes Varda in collaboration with photographer and artist JR (coincidentally known to Springfieldians for having sent his team to create the temporary murals in support of DACA recently displayed on the walls of Frankie's Brewhaus and the Kerasotes buildings downtown). The film is a documentary of the unlikely pair's journey together through rural France, creating public art displays based on their encounters and experiences. "It's a documentary but it's a very fun story with very engaging characters," said Dollar.

Feb. 25 and 27: Frantz
This year's series' sole period piece, Frantz, directed by French director François Ozon, takes place mostly in Germany in the immediate aftermath of WWI. Named for an absent character, killed during the war, and examining the animosities between French and German cultures, Dollar describes it as "a lovely and very interesting film, very well done."

March 4 and 6: The Midwife
Also hailing from France, but with a contemporary setting, director Martin Provost's The Midwife brings together two generations of that country's most acclaimed actresses in the persons of Catherine Deneuve and Catherine Frot. "It's an interesting story with Deneuve as the mistress of Frot's late father." Frot, a successful midwife, is forced to navigate the emergence of Deneuve's vexing, free-spirited presence just as her clinic is being threatened by the increasingly technology-based medical industry.
This year, the series' primary selections will be followed by three weeks of family-oriented programming, including the Kazakh-made documentary The Eagle Huntress (March 11); director Todd Haynes' acclaimed Wonderstruck featuring Julianne Moore; and the animated Ernest and Celestine, about an unlikely friendship between a bear and a mouse. "Celestine the mouse happens to be a budding artist," said Dollar. "She's always drawing, so I think she makes a nice little role model for future Art Association members."

Scott Faingold can be reached at
sfaingold@illinoistimes.com