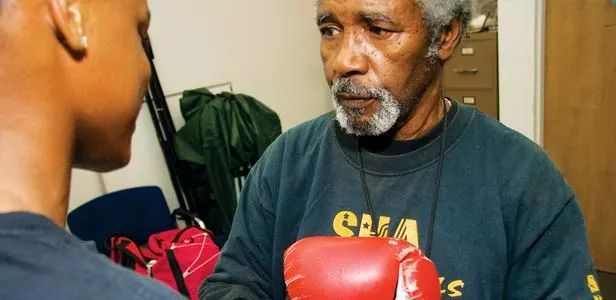 In a flurry of precise motions, the young boy's gloved fists shoot forward like a barrage of missiles, seeking an exposed cheek or unprotected stomach.
The older, taller boy throws a hook, but 12-year-old Michael Turner-Bey ducks and lands a triple jab in the other boy's ribs.
"I like the training and the exercise," Michael says after his practice fight. "I like how it builds up momentum, keeps you healthy. It keeps you off the streets."
Michael has been training as a boxer since he was eight, joining about 20 other kids on the Springfield Housing Authority's Cobras boxing team.
Their leader is local legend Luther Howell, a successful amateur boxer during the 1950s and a boxing coach for more than 30 years. He has churned out at least seven winners of the famed Golden Gloves boxing tournament, and he trained big boxing names like Harvey Richards, who represented the U.S. in the 1986 Goodwill Games in Moscow.
Howell, now in his early 70s, has led the Cobras program since it began, but now the team faces a challenge for which their training has not prepared them.
They are essentially homeless, booted from their space at the Springfield Housing Authority on Truman Road about a year ago — in favor of someone who could pay rent. Howell says the group took to training in city parks after losing their practice space.
"We just picked the warm days to go out there and sweat a little bit," Howell says with a smile. "It worked out well — until it started getting cold."
The team currently borrows a cramped space at the Harriet Tubman Susan B. Anthony Center at 1415 N. Grand Avenue to do their training. When they practice in the undersized room, they literally fight back-to-back, sometimes running into one another as they circle their opponents in a seemingly choreographed dance.
Seeing the Cobras stuffed into such a confined area is not an option for Eddie Williams, owner of Touch of Class Sports Bar in Springfield. On Oct. 19 he is hosting a fundraiser for the boxing club, hoping to raise money toward finding them a more suitable practice space.
"I think it's a great program," Williams says. He's been a mentor for young men around here for years."
Howell hopes to someday have a permanent place that the Cobras can call their own.
"We used to have lots of space to train, exercise, to fight," he says. "I have a boxing ring in storage, but I can't set it up because we've got nowhere to put it."
For the kids that Howell trains, there's more to boxing than learning how to punch.
"He becomes a father figure to these kids," says James Howell, Luther Howell's 32-year-old son and a 1993 Golden Gloves winner. "A lot of these kids come from homes with just a mother.... When I was growing up, he took money out of his own pocket for the (boxing) trips, just to support them. It isn't just about boxing. He doesn't think like that. He feels like he's saving a soul."
Fifteen-year-old Eddie Burnom says if it weren't for Howell's guidance, he doesn't know where he'd be.
"I'd probably be in a gang, causing trouble," Burnom says. "It keeps you off the streets. It's just something to do. You can learn a lot here."
The fundraiser, featuring exhibitions by the boxing club, begins 6 p.m. Oct. 19 at Touch of Class Sports Bar, 1031 S. 11th St., 217-528-3999
Contact Patrick Yeagle at
pyeagle@illinoistimes.com
.