William "Sam" McCann, former state senator and failed candidate for governor, has been indicted by federal prosecutors who say that he used campaign funds as a personal piggybank, with thefts running into the six figures.
Charged with fraud, tax evasion and money laundering, McCann for years dipped into campaign accounts to buy vehicles and pay for various personal expenses ranging from membership in a shooting club to a family vacation in Colorado, prosecutors say. They say he also took cash, on one occasion using the money to pay off a delinquent loan.
One example, according to prosecutors, was McCann's 2017 purchase of a $61,000 Ford Expedition SUV that was
first reported more than three years ago
by
Illinois Times
. While buying the SUV, McCann also used campaign funds to replace the motor in a Jeep he owned that he said was used for campaign and governmental purposes. McCann at the time used email to tell the paper that he'd done nothing wrong. The SUV was needed, he told the paper, because he needed a dependable vehicle that was large enough "to deliver the people and supplies required for the task at hand." As for using campaign funds to replace the motor in his Jeep, McCann told Illinois Times in 2017 that it was needed as a backup vehicle and to transport people and supplies to parades.
The indictment made public Wednesday does not mention a Jeep, but it is filled with scores of accusations that could bring McCann 20 years in prison for wire fraud and money laundering. The tax evasion charge carries a potential five-year prison sentence.
McCann used $10,000 in campaign funds as partial payment for an RV, prosecutors say, then pocketed the money after it was returned when the deal didn't go through. One year after buying the SUV and titling it in his name, prosecutors say that McCann, then running for governor as a third-party candidate, bought a new 2018 Ford F-250 pickup truck, which was also titled in his name, and used campaign funds to make payments. In the spring of 2018, prosecutors say, McCann used campaign funds to buy a new travel trailer for $18,000 and a 2006 recreational vehicle for $25,000, titling both in his name. He then set up accounts with an Ohio RV rental broker and rented the trailer and RV from himself using more than $62,000 in campaign funds, according to the feds, who say that the RV rental broker, who hasn't been accused of wrongdoing, received more than $9,800 in commissions while McCann deposited more than $52,800 in his personal checking account. While McCann paid $18,000 to his campaign fund as reimbursement for the rental of the RV and trailer, prosecutors say that, between the purchases and subsequent rentals, he converted $77,000 in campaign funds to personal use.
The feds also say that McCann for years used campaign funds to pay mortgages on a home in Carlinville and adjacent property where a construction business was based. In 2016, prosecutors say, McCann used $20,000 in campaign funds to pay off a personal loan that had fallen in arrears. He also spent about $50,000 in campaign funds on such personal expenses as credit card charges incurred during a family vacation to Colorado, expenses related to a skeet and trap shooting club and purchases at such places as Cabela's, Amazon, Scheels and Best Buy, prosecutors allege.
Illegal diversion of spending continued after McCann received slightly more than 4 percent in the 2018 gubernatorial election, prosecutors allege in the indictment. Although he hasn't run for public office since 2018, the Conservative Party of Illinois, which McCann created to support his run for governor, paid him about $187,000 between the 2018 election and last June, according to prosecutors, with the money going through a payroll company to hide his status as recipient of the funds, according to prosecutors who say that the expenditures weren't reported to the Illinois State Board of Elections.
McCann's frauds started in 2015 and lasted through June of last year, according to federal prosecutors. Suspicions go back years. In 2014, McCann paid himself $38,000 for mileage and the campaign made thousands of dollars in additional payments for "grouped expenditures" that were not itemized. A complaint was filed in 2016 before the Illinois State Board of Elections, which is controlled by an equal number of Republicans and Democrats who sit on the board, but the complaint was withdrawn after McCann, then a state senator, survived a GOP primary challenge to keep his Senate seat.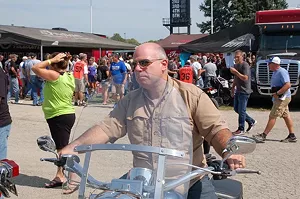 A state elections board official in 2017 downplayed McCann's purchase of the Ford SUV for more than $61,000. "I would say there's nothing in the (campaign disclosure) reports that…leaps out at me…as…a potential violation," Tom Newman, director of campaign disclosure for the board,
told the State Journal-Register
after the purchase was first reported by
Illinois Times
. At the time, Newman noted that campaigns are allowed to buy vehicles if purchases would be less expensive than leasing vehicles, which is commonly done with campaign funds.
Politicians in Illinois are allowed to keep campaign funds after they leave public office, even if they never run again, so long as expenditures are tied to politics or governmental duties and are not used for personal purposes. Former Gov. Jim Edgar, for example, has more than $249,000 in his campaign fund, according to his most recent disclosure report that shows the former governor, who left office in 1999, has given money to charities and for such expenses as membership at the Sangamo Club. Former State Sen. Larry Bomke, who left the Statehouse in 2013 after redistricting put him in the same district as McCann, has more than $221,000 available in his campaign account, plus more than $157,000 that is invested in a certificate of deposit, according to election board records. Bomke, who represented the Springfield area while in the state senate, has used the fund to support political causes and candidates, including U.S. Rep. Darin LaHood and the late Wes Barr, who served one term as Sangamon County sheriff.
The Conservative Party of Illinois, founded by McCann when he was running for governor, had $565 in its bank account as of Jan. 1, according to election board records. McCann's campaign account contains nearly $31,600. No contributions or expenditures have been reported since the first quarter of last year, when McCann reported spending $75.68 for expenses that were not itemized.
Contact Bruce Rushton at brushton@illinoistimes.com
.