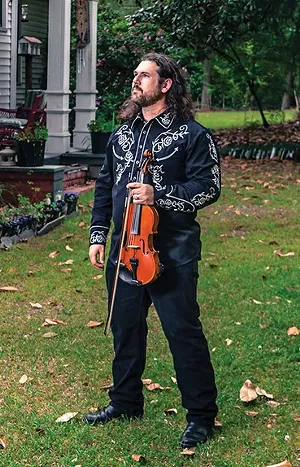 As we roll on into the last weekend of February 2021 (I know, right?), local, live mus ic shows are coming back as we approach our anniversary date of the lockdown, quarantine or whatever you want to call it, that occurred on March 21, 2020. Everything I have heard, seen or been informed of so far, indicates that our safe practices implemented on a necessary scale, including mitigations and vaccinations, will allow gatherings to continue to happen and increase. Then, that got me to thinking about the big stuff that could, would and should happen this year if the good news continues.
I found out our St. Patrick's Day Marching Band Parade, an institution in Springfield if there ever was one, is officially postponed for 2021, but could be moved to later on in the year. In case conditions allow for large get-togethers this year, other events at least scheduled with some music bookings include the LoG MusicFest on July 2-3, Old Capitol Blues & BBQs the last weekend in August and the Fat Ass Street Party postponed until Oct. 8-9. I'm sure other festivals, fairs and the like are just on a wait-and-see program, because what else can you do anyway? As the organizers of LoGFest say on their post about the July dates, "We've gotta give it a shot!" and I know some of the music acts would rather be booked and cancelled than never be booked at all, to paraphrase an old saying.
From what I understand, one of the main issues of starting up theaters, festivals, fairs and all, is the planning necessary to book acts, rehearse shows and set up marketing to make the events successful. And with everything still currently suspect, it's difficult to be ready to go while understanding the show may not go on at all. With that being said, let's see what is happening this weekend to walk February out the door with a 'hi dee hi dee hi dee ho" or an equivalent thereof.
Even if it wasn't the late-and-always-great Johnny Cash's birthday on Friday, Feb. 26, I'd sure run out to see the Folsom Prison Five at the Curve Inn. But the added bonus of celebrating the Man in Black's day of birth (born in 1932) puts this show on the must-do list. I hope they play "Don't Take Your Guns to Town," one of my favorite lesser-known JC songs, and I'm pretty positive they'll cover all the hits spanning his decades-long career.
Saturday looks like a good night to be out and about in Springfield with several cool shows a-happening. The Main Gate presents hard metal rockers No Backup Plans, covering tunes by heavy hitters such as Limp Bizkit, Linkin Park, Pantera, Tool, Rob Zombie and several more bands of loud renown doing the fast and furious sounds. Out west of town at Danenbergers, Birds of a Feather fly in their Phish tribute, while the Mary Jo Curry Band blasts the blues at Weebles on the city's northside. Hill Prairie Winery near Oakford hosts a whole day of Mardi Gras partying in the "it's never too late to celebrate Fat Tuesday" category of shindig time. Along with food and drink fit for a fais-do-do, Dennis Stroughmatt's Cajun-Creole Trio entertains from 6 to 9 in the evening, featuring Dennis' award-winning, world-famous fiddling in the original style of Upper Louisiana French Creole culture, in a way that's sure to please your heart, soul and dancin' feet.
Well, I guess we can call it a day, week and month and move on to March.