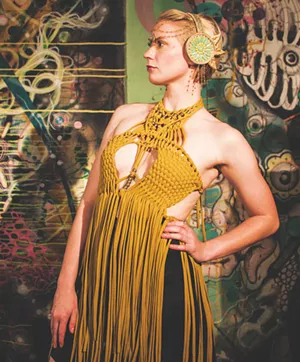 A body-painted model walks the runway in a flowing dress made from trash and an ornate headdress of flowers. A dress sculpted from 140 pages of Veranda magazine intrigues the crowd. A model glows with illuminated LED lighting sending pink blooms dancing skyward with iridescent rhinestones. Vintage clothing finds a new life on the runway raising money for a good cause.
"There's really nothing quite like fashion," said Clare Frachey, local artist and Prevention Educator at Prairie Center Against Sexual Assault. "I think many artists and creative people in Springfield are drawn to that because it has to do with adorning and decorating our bodies. It's grounding and empowering when it comes to the idea that everyone is beautiful."
Springfield has truly embraced the art of fashion with many local businesses and art galleries recently hosting packed runway shows. "Fashion allows for a different kind of exhibition," said Frachey, "where the art is taken from off the walls and into real-time life."
Clare has been involved in several recent fashion shows both as an organizer and an artist. "Seeing my dress featured by two different models in two different shows was truly an honor," said Frachey. Her design, titled "This dress is trash," showcases her talent as an assemblage artist. "I made a dress out of plastic bags and packaging and I had a lot of fun with it."


In September Willow & Birch Salon hosted "An Oddities Fashion Show" – a mixed-media fashion experience incorporating body painting, abstract fashion and interactive modeling. "The event organizer, Claudia Knight, had a vision for how she wanted to intentionally break out of the mold of traditional modeling and fashion exhibition," said Frachey. "She has a passion for creating themes and characters using body paint and makeup. From this idea I think she formatted the show around painted models that were showing off the work of local designers."
In October The Pharmacy Gallery & Art Space hosted "The Art of Fashion," a collaborative fashion show featuring local designers, artists and models. "This was a part of a fashion show series The Pharmacy has every other year," said Frachey. "They wanted this year's show to be more interesting and so their directive was to showcase wearable art."
In November the Prairie Center Against Sexual Assault hosted its annual "Dare To Be Different" fashion show in partnership with Springfield Vintage. The event featured local models wearing vintage fashion and performances from local female musicians.
"Producing a fashion show requires commitment and teamwork," said Frachey, reflecting on her work. "My favorite thing about helping put these shows on is watching everyone come together and make a great event happen. One of the successes is the fact that we can pull these events off in our town to the extent that the demand for them grows. I think that definitely says something."
Joseph Copley is production designer for Illinois Times and co-publisher of Activator, the music and arts magazine.