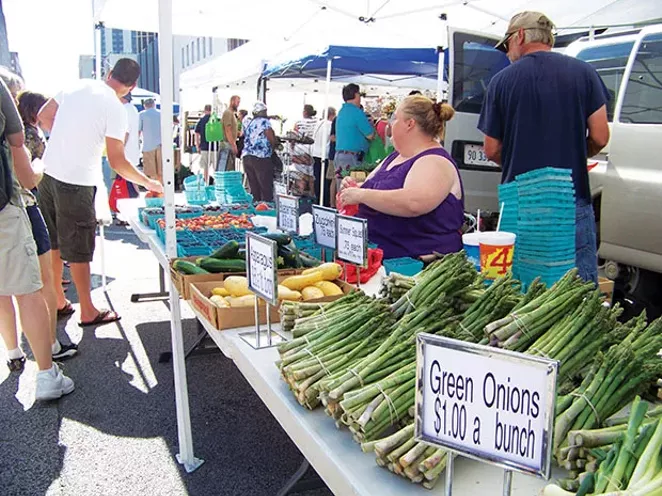 This weekend is the grand opening of the Old Capitol Farmers Market (OCFM), one of my favorite times of the year because it marks the return of our beloved Saturday morning market routine. The first stop is always coffee from Custom Cup, then croissants and crepes before getting down to the serious business of shopping.

Spring favorites like strawberries, radishes, asparagus, rhubarb, lettuces, arugula, spinach and herbs will all be on offer for opening weekend. Some vendors may have beets, carrots and peas ready for opening weekend, but those veggies will become more widely available in the next two to three weeks.
I love that my daughter will grow up knowing the farmers in her community, the hard-working folks who get up at the crack of dawn and stay up past midnight planting, raising and harvesting the wholesome food that will become our dinner. Some of these folks, like Jacque Suttil of Suttil's Gardens and Stan Shutte of Triple S Farms have been part of the OSCFM since its beginning. I'm always grateful to see their faces in the same spot year after year, and thrilled to see new farmers setting up alongside them.
On Friday, May 19, the Illinois Stewardship Alliance will host its second Community Supported Dinner. These dinners offer guests an opportunity to meet and connect with the individuals in our community who are working to create sustainable local food systems. Last month's dinner was prepared by Chef Sean Keeley and featured perfectly prepared roasted Sitka salmon over radish pilaf and succulent sautéed spinach. After dinner we heard from Marsh Skeele, an Alaskan fisherman who is working to make superb Alaskan Seafood available to Midwest diners in a sustainable fashion.
To celebrate the opening of this year's OSCFM, the dinner on Friday is themed "Stories from the Field" and will feature produce grown by Suttil's Gardens and Oak Tree organics, two longtime market vendors, as well as meat from Chase Sanert of Sugar Grove, who is new to the market this year. Chef Corey Faucon of the newly opened downtown restaurant Long Nine Junction will prepare this seasonal meal, and guests will have an opportunity to truly get to know the farmer behind the booth. The dinner is $20 per person and will be held at Third Presbyterian Church, 1030 North Seventh St. in Springfield. More information is available at www.ilstewards.org.
Below are two of my favorite recipes to make when I come home with a groaning basket of spring produce. They can both be made ahead and are always a hit at cookouts.
Quinoa Salad with Roasted Carrots and Beets
• 1 ½ cup quinoa
• 1 pound carrots, peeled and cut into ½-inch pieces
• 1 pound beets, scrubbed
• ¼ cup plus 2 tablespoons olive oil
• ½ teaspoon cider vinegar
• zest and juice of one lemon
• 2 tablespoons plus 1 teaspoon salt
• 1 teaspoon sugar
• 1 clove finely minced garlic
• ¼ cup chopped mint
• 1 cup chopped parsley
• 1 bunch spring onions or chives, thinly sliced
• additional salt and black pepper, to taste
• crumbled feta cheese, optional
Bring 6 quarts of water to a boil. Add 2 tablespoons salt and quinoa, and boil for 10 minutes. Drain through a fine-meshed sieve, then transfer to a large mixing bowl to cool.
While quinoa is draining, prepare the carrots and beets. Set up two racks on the bottom and middle section of the oven and preheat the oven to 400 degrees. Place the beets in the middle of a large section of aluminum foil and drizzle with 1 tablespoon olive oil. Season with salt and pepper, then fold the foil up and crimp the edges to make a sealed package. Place on a baking sheet and roast on the bottom rack for one hour, or until tender. Line another baking sheet with parchment, toss the cut carrots with 1 tablespoon olive oil and season with salt and pepper. Spread the carrots in a single layer on the parchment lined baking sheet and roast on the rack above the beets for 20-30 minutes, until just tender and lightly browned. Set roasted carrots aside to cool.
When beets are tender, set them aside until cool enough to handle. Peel the roasted beets, and cut them into ½-inch cubes. Toss the beet cubes with a pinch of salt and ½ teaspoon cider vinegar while they are still warm, then set them aside to cool.
Add cooled veggies to the quinoa in the mixing bowl. In a small bowl, combine ¼ cup olive oil, lemon juice and zest, minced garlic and 1 teaspoon salt and mix well. Add the dressing to the mixing bowl along with the chopped herbs and feta, if using, and mix well. Chill until ready to serve.
If you plan to make this salad ahead, wait until just before serving to mix in the chopped herbs. This way the salad can be held in the fridge for 3-4 days.
Strawberry Rhubarb Crumble
• 2 quarts strawberries, hulled and halved
• 4 cups sliced rhubarb
• 1 cup granulated sugar
• zest and juice from one orange
• ¼ plus ½ teaspoon salt, divided
• ¼ plus 1 cup flour, divided
• 1 cup old-fashioned oats
• 1½ sticks melted butter
• 1 teaspoon vanilla
• ½ cup brown sugar
• ½ teaspoon cinnamon
• ¼ cup turbinado sugar for sprinkling (optional)
Preheat the oven to 350 degrees.
Combine the halved strawberries, sliced rhubarb, 1 cup sugar, ¼ cup flour, ¼ teaspoon salt and orange juice/zest in a mixing bowl and toss to combine. Transfer the mixture to a buttered glass 9-inch x 13-inch baking dish. Using the same mixing bowl, combine the melted butter, vanilla, flour, oats, brown sugar and cinnamon. Mix well until crumbly, then spread over the fruit mixture. Sprinkle with turbinado sugar, if using, then place in the oven and bake for 60 minutes, until bubbly and golden brown. Let rest at least 20 minutes before serving.
Contact Ashley Meyer at Ashley@realcuisine.net.