click to enlarge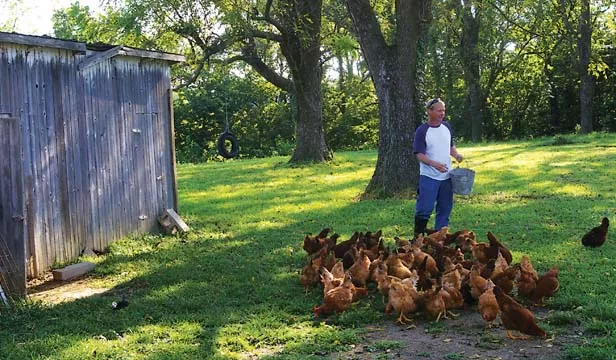 Summertime farmers markets have helped Chad Wallace of Oak Tree Organics prove the worth of small-scale, organic farming. But they've also taught him that packing up the produce and putting on the sometimes thrice-weekly show takes about as much effort as minding the land, plants and free-range hens that surround his Ashland home.
"Everybody's got the same variety, so it comes down to how good it looks and how you present yourself. Those kinds of people buy people and not products," Wallace says. Seven years ago he converted 18 acres of the farm he grew up on into a pesticide-free produce haven, and last month he accepted Illinois' 2010 sustainable agriculture farmer award.
But beyond the work required to entice customers to purchase these tomatoes instead of those, the farmers market also has limitations in terms of audience. Not everyone can go, and the selling season only lasts so long. It's the latter problem that sparked the latest addition to Wallace's business model, a weekly online market he's hoping will thrive throughout the year.
Faced last year with "the perfect growing season," Wallace built a low-cost, temporary greenhouse to maintain crops beyond what most people think possible. It was a successful year, but his most abundant harvest weeks came only as the farmers market ended, and it turned out he could supply fresh produce for all but four weeks of the year.
In an effort to maintain sales even when the market closed, Wallace shifted the purpose of his regular weekly e-mail update from a way to make his customers feel more connected to the farm through the telling of farm life anecdotes, into an online market where people can order produce. He found a drop-off location near Washington Park where customers may pick up their orders. He let word of mouth spread until his web-connected customer list grew from about 35 to about 80 families. Even in the winter, people were hungry for fresh, local produce, Wallace found.
Now, Wallace is hoping the model – customers ordering online and then picking up their orders – can reach potential customers who just don't have time for the farmers market and instead head to the grocery store at their convenience.
"They would like to get it [fresh, local produce] just as much as the people who work downtown, who can walk there on Wednesdays, or the house moms," Wallace says, adding kids' activities and summer sports to a list of barriers to providing sustainable agriculture to a wider audience. "There's tons of stuff that stops people from being able to get the good produce."
Lindsay Record, executive director of the Illinois Stewardship Alliance, agrees that there's a demand for local produce that farmers haven't yet figured out how to meet. "I think there's enough demand and interest, and I think the farmers can grow it," Record says. "The biggest challenge is rebuilding the infrastructure. It's such a challenge for both the farmer and for the buyer to sell through outlets other than direct to consumers," she says, explaining that grocery stores and many restaurants opt for suppliers who can provide a consistent inventory from week to week, even if that means trucking it in from across the country.
This year, Wallace also started implementing a community supported agriculture (CSA) model to deliver his produce. A CSA allows farmers to share the risks of weather and pests with their customers who pay in advance for an entire season's worth of produce. While customers risk less plentiful harvests than they expect, they gain an intimate connection to their food. "Some people are really concerned about the food they eat, others just like the idea … they call me their farmer," Wallace says. This year he had 13 CSA customers who paid $500 for 22 weeks' worth of produce. Next year he's hoping for 35 CSA customers.
Record says a handful of other area farmers using the CSA model have waiting lists of customers, meaning demand for the CSA still outweighs supply. But as time goes on, and more and more farmers head to the farmers markets and use established business models such as CSA, the competition will only get steeper. "It's going to reach a saturation point where people are going to have to come up with new ways of getting products to consumers."
"Farmers are subject to the same sort of rules of business," Record says. "You have to keep up and you have to be flexible and you have to be able to reach your customers where they are."