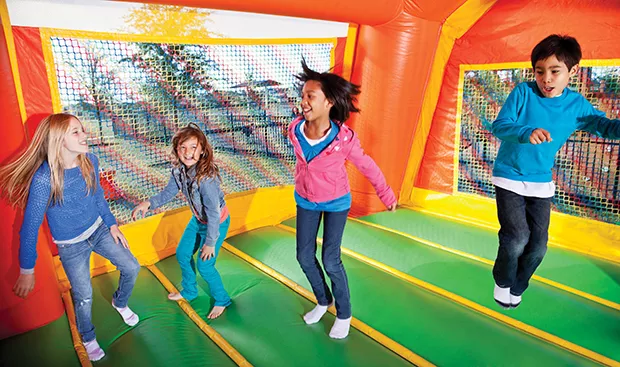 Illinois State Fair
Aug 8-18, Thu-Sun. An abundance of fried food-on-a-stick, a butter cow, beer tents, exhibits, livestock judging, a carnival and top-notch grandstand acts. Children up to 12 free, ages 13-59 $10 and seniors 60+ $3. Illinois State Fairgrounds, 801 Sangamon Ave., 217-782-6661.

Wizard of Oz
Aug 8-11, 8:30pm Thu-Sun. L. Frank Baum's classic novel comes to life at one of the area's outdoor theaters. themuni.org. The Muni, 815 E. Lake Dr., 217-793-MUNI.
SCHEELS Run Bike Club
Aug 8, 5:45-8pm, every Thursday through Sep 26. All levels of riders and runners are welcome. All ages welcome, but if you are 17 or younger, you must bring your parent with you. Free. Scheels, 3801 S. MacArthur Blvd., 217-726-6330.
Exhibit Walk and Talk
Aug 9, 16, 23 and 30. 2-2:30pm Fri. Join a museum curator for a guided walk and talk that is appropriate for all ages. Explore different topics and galleries. $5 ages 19-64. illinoisstatemuseum.org. Illinois State Museum, 502 S. Spring St., 217-782-7386.
Looking for Lincoln at the State Fair
Aug 9, 8am Fri. Visitors can build with Lincoln Logs, watch period demonstrations such as blacksmithing or broom making, enjoy period music and, of course, look for Lincoln. 217-782-6817. lookingforlincoln.com. Illinois Building, Illinois State Fairgrounds, 801 E. Sangamon Ave., 217-782-6661.
Old Capitol Farmers Market
Aug 10, 8am-12pm, every Saturday and Wednesday through Oct 26. Springfield's longest-running farmers market. Fresh, local produce, honey, meats, baked goods and locally produced textiles and merchandise. Fourth and Adams streets. 217-544-1723.
Cowboy Randy
Aug 10, 10am-12pm Sat. A one-of-a-kind show of yodeling and roping. Part of SAAC's Music at the Market series. Old Capitol Farmers Market, Fourth and Adams streets, 217-544-1723
Springfield Comic Expo
Aug 10-11, 10am-6pm Sat, 10am-4pm Sun. Comic vendors and creators from around the region. Panels, gaming and cosplay. $15 Sat, $12 Sun and $25 for a two-day pass. stlcomics.net. Crowne Plaza Springfield, 3000 S. Dirksen Pkwy., 217-529-7777.
Fleming Academy of Performing Arts
Aug 10 and 18, 1pm Sat and 3:30pm Sun. Students from this local academy will present violin and piano performances. Free. flemingacademy.com. Illinois Building, Illinois State Fairgrounds, 801 E. Sangamon Ave., 217-787-6556.
Down on the Farm Story Time
Aug 13, 10-11am Tue. Discover what life is like on a farm with stories and a craft. Ages 3-5. Museum admission. illinoisstatemuseum.org. Illinois State Museum, 502 S. Spring St., 217-782-7386. 217-782-6044.
Kitten Circus
Aug 13, 12-5pm Tue. Enjoy some fun activities while you meet the kittens. Popcorn, snow cones and other fun snacks will be available and a friendly clown with free balloons will be there from 3-5pm. Free. apl-shelter.org. Animal Protective League, 1001 Taintor Road, 217-544-7387.
Yart Sale
Aug 24, 10am-3pm Sat. A sale of supplies and equipment from forgotten hobbies. Art supplies, photography equipment, metals equipment, crayons, canvases, totes, stools, paints, easels, larger canvases, frames and more. Free admission and open to the public. Springfield Art Association, 700 N. Fourth St., 217-523-2631.
Land of Lincoln Barbershop Chorus and Ice Cream Social
Aug 25, 5pm Sun. Good, old-fashioned fun. Enjoy some free ice cream while listening to the chorus. Bring your lawn chairs. Sherman Village Park Amphitheater, 1200 Rail Fence Road, Sherman.
Labor Day Ducky Derby
Sep 2, 10-11:30am Mon. A fun way to help support the families of Ronald McDonald House Charities of Central Illinois. $5 per ducky. Free admission. rmhc-centralillinois.org. Knights Action Park, 1700 Knights Recreation Dr., 546-8881.
Movies in the Park - Aquaman
Sep 6, 8pm Fri. Bring a lawn chair, sleeping bag or blankets to sit on. Movie begins at sunset, approximately 8pm. springfieldparks.org. Free. Kiwanis Park, Stanton Street.
Meet a veterinarian
Sep 7, 10am Sat. Heroes save more than just people, they save all kinds of animals. Fun activities. Kidzeum.org. Kidzeum of Health and Science Children's Museum, 412 E. Adams St., 217-971-4435.
Downtown Springfield Family FunFest
Sep 7, 11am-4pm Sat. This downtown festival is specifically geared towards children and families. Featuring inflatable obstacle courses and bounce houses, games and activities, food trucks, appearances by some special characters and a main stage packed with entertainment for the entire day. Tickets $10, children ages 2 and under are free. Hosted by Prevent Child Abuse Illinois. Springfieldfunfest.org. Washington Street between Fifth and Sixth streets. 217-522-1129.
Bites on the Boulevard
Sep 10, 5-9pm Tue. Dinner! Blessed Sacrament School, 748 W. Laurel St., 217-522-7534.
Art Spectacular at the Carillon
Sep 14-15, 10am-5pm Sat, 10am-4pm Sun. The Art Spectacular has ranked in Sunshine Artist Magazine's Best 200 Art Fairs for the past four years. It features children's programs, up to 50 artists with original artwork in a variety of media, artist demonstrations, music, Hy-Vee Grill, Patron Bucks, a gift basket raffle and silent auction. Free. carillon-rees.org. Washington Park Botanical Garden, 1740 W. Fayette Ave., 217-546-4116. 217-787-3532.
Mocha Moms, Inc. Muffins and Moms Open House
Sep 14, 11am-1pm Sat. Introductory meeting of a support network of moms. Children welcome. Light refreshments. Free. mochamoms.org. Lincoln Library, 326 S. Seventh St., 217-753-4900. 309-431-1410.
31st Annual Edwards Place Fine Art Fair
Sep 21-22, 10am-5pm Sat, 10am-4pm Sun. Fun for the whole family with over 60 booths to shop, artist demos to watch and a used book sale. Live music, food vendors and a beer and wine tent. Canine-friendly. Free. springfieldart.org. Springfield Art Association, 700 N. Fourth St., 217-523-2631.
Cruise Nite and Car Show
Sep 21, 9am-9pm Sat. One of the area's largest cruise nights, this event brings in classic and antique autos for a day of fun for everyone. Car show starts at 9am followed by the cruise at 5pm. jacksonvilleil.org. Jacksonville Community Park, 1201 S. Main St., Jacksonville, 217-243-5678.
Fall Festival
Sep 21, 10am-4 pm Sun. Chris Camp the Whip Guy will be here along with Professor Long Hair the magician and the 10th Illinois Cavalry. It will be a day filled with artisans, re-enactments, music, food, crafts and children's activities. $5 adults, $3 ages 6-12, and under 6 is free. clayville.org. Clayville, Route 125, Pleasant Plains, 217-572-4984.
Jacksonville Rotary Oktoberfest
Sep 21, 12-9pm Sat. German beer, wine, food, music and dancing, oompah bands, wiener dog races, keg toss contest and bags tournament. jacksonvillerotary.org. Morgan County Fairgrounds, 110 N. Westgate, Jacksonville, 217-245-6800. 217-243-5678.
E.T.
Sep 21, 8-10pm Sat. Part of the Movies in the Park series. Free. devonamphitheater.com. The Devon Lakeshore Amphitheater, 620 E. Riverside Dr., Decatur, 217-619-8025.
18th Annual International Route 66 Mother Road Festival
Sep 27, 6pm Fri. Come celebrate the golden age of Route 66. Over 1,000 cool cars and 80,000 spectators will roll into the heart of Springfield's historic downtown. 317-236-6515. illinoisroute66.org. downtownspringfield.org. Downtown Springfield, Inc., 3 W. Old State Capitol Plaza, 217-544-1723.
Fall Festival and Steam Show
Sep 27-29, Fri-Sun. Antique tractor pulls, gas and steam engines, demonstrations, children's activities, train rides, flea market and food. prairielandheritage.com. 217-243-5678. Prairie Land Heritage Museum, 1005 W. Michigan Ave., 217-243-7262.
PAW Patrol Live!
Oct 1, 6pm Tue. The Great Pirate Adventure. The heroic pups from the top-rated animated preschool embark on a pirate-themed adventure to uncover hidden treasure. $19+. theboscenter.com. Bank of Springfield Center, 1 Convention Center Plaza, 800-745-3000.
Jack-O-Lantern Spectacular
Oct 18, 6:30-9:30pm Fri. More than 2,000 illuminated hand-carved jack-o-lanterns will be displayed showcasing the carving talents of area residents, artists and District 186 students. Adults $7, children 4-11 $5 and children 3 and under are free. springfieldparks.org. Washington Park Botanical Garden, 1740 W. Fayette Ave., 217-546-4116.
Eldon Roark and Troy Roark
Oct 26, 10am-12pm Sat. A unique magician and juggler act at the farmers market. A part of SAAC's Music at the Market series. downtownspringfield.org. Old Capitol Farmers Market, Fourth and Adams streets, 217-544-1723.
Main Street Pumpkin Festival
Oct 26, 10am-3pm Sat. Pumpkin decorating, hay rides, costume contest, pet costume contest, pumpkin drop, carnival rides, food, fall vendors, petting zoo, Pumpkin Playland and trick or treating. jacksonvillemainstreet.com. Downtown Jacksonville, Central Park, Jacksonville, 217-243-5678.
Halloween at the Market
Oct 26, 9:30am-12:30pm Sat. Costume contests for kids, families and dogs. This festive event wraps up the 2019 market season. Free. Old Capitol Farmers Market, Fourth and Adams streets, 217-544-1723.
CINA Youth Coin Auction
Nov 10, 1-3pm Sun. The Central Illinois Numismatic Association hold a free youth coin auction in conjunction with its Fall Coin Show. Youth age 6-16 register prior to the auction start time of 1pm and can inspect the items available for bidding. Free. Northfield Inn, Suites and Conference Center, 3280 Northfield Dr., 217-523-7900. 217-793-2178.
Sensory friendly
The local nonprofit organization, Autism Support of Central Illinois (ASCI), in addition to providing support and resources to families impacted by autism, also sponsors many activities that are sensory-friendly. By means of donations, volunteers and community partners, the ASCI is able to offer the following activities free of charge to families affected by autism. Call ASCI at 217-585-1421 for more sensory-friendly events.
Story time
Aug 25, Sep 29, Oct 27, 10:30am Sun. Reduced lighting, reduced sound levels, hands-on material and fun sensory activities. All ages. Barnes and Noble Booksellers, 3111 S. Veterans Pkwy., 546-9440.
Shopping
Aug 27, 7-8am Tue. Back-to-school shopping can be overwhelming for some kids with sensory issues. ASCI board members and Target staff will be on hand to help. 217-585-1421. autismcil.org. Target, 3445 Freedom Dr., 546-5003.
Movie - Angry Birds 2
Aug 31, 10am Sat. AMC Parkway Pointe 8, 3025 Lindbergh Blvd., 888-262-4386.
Horseback Riding
Sep 14, 10am-12pm Sat. Bright Star Equestrian Centre, 13922 State Highway 97 (near New Salem State Park), Petersburg, 217-502-2737.
Henson Robinson Zoo
Oct 19, 5-6:30pm Sat. Free. hensonrobinsonzoo.org. Henson Robinson Zoo, 1100 E. Lake Shore Dr., 217-585-1821.