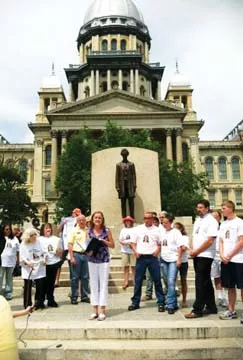 Three mothers traveled to Springfield on June 23 to speak out in support of another woman accused of shaking a baby to death.

Pamela Jacobazzi, 57, is currently serving a 32-year prison sentence at the women's prison in Lincoln for the murder of 10-month-old Matthew Czapski [see "Caregiver or killer?," by Patrick Yeagle, May 5, 2011].

Jacobazzi, formerly a resident of Bartlett, Ill., was convicted in DuPage County in 1999 of killing Czapski by violently shaking him at her daycare. She was sentenced to 32 years in prison. At her trial, nine expert medical witnesses testified that Czapski could only have died by violent shaking at the hands of Jacobazzi. She maintains her innocence, saying the child could have fallen and hit his head. Medical records show that Czapski already had sickle cell trait, abnormal hemoglobin, chronic bouts of infection, fever, anemia and dehydration.

Additionally, the records show the child had a disproportionately large head indicative of external hydrocephalus – a condition in which the space around the brain is enlarged and filled with spinal fluid, often leading to increased pressure on the brain.

Shaken Baby Syndrome, sometimes shortened to SBS, is a "triad" of medical symptoms including retinal bleeding, brain bleeding and brain swelling, which some doctors believe are caused by violent shaking of a young child. To some criminal prosecutors, SBS offers an explanation for the otherwise mysterious deaths of young children, while some medical experts and attorneys now point to new evidence that suggests the triad of symptoms associated with SBS can occur without any shaking at all.

The Illinois Innocence Project and Jacobazzi's attorney, Anthony Sassan, believe Czapski's existing medical ailments caused his death, not violent shaking. The Innocence Project is working to free Jacobazzi, who is currently trying to secure an appeal in her case. She must convince a judge that the omission of Czapski's medical records from her trial influenced the verdict against her.

In the meantime, the Illinois Innocence Project is taking the fight to the world of social media, creating a Facebook page titled "Free Pam Jacobazzi" and a petition on Change.org urging Gov. Pat Quinn to pardon Jacobazzi. Her current expected parole date is June 10, 2015 – three years in the future. Sassan submitted a petition to the governor's office seven years ago asking for a pardon for Jacobazzi. Quinn inherited a backlog of more than 2,500 clemency petitions from impeached governor Rod Blagojevich, and Quinn has so far acted on more than 1,900 of those.

"We are assisting Mr. Sassan with the Jacobazzi case and the clemency petition," said Erica Nichols/Cook, an attorney for the Illinois Innocence Project.

Michelle Weidner, one of three women who spoke at a protest on Saturday, had an experience similar to Jacobazzi's, except it involved a head injury to her own son.

On Oct. 8, 2010, Weidner, after noticing the young child looking "weakened" took her then five-week-old son, Jacob, to the Intensive Care Unit at the Children's Hospital of Illinois in Peoria. Jacob was born with a rare genetic disorder called pseudohypoaldosteronism – a disorder of infancy, characterized by severe electrolyte imbalances. While diagnosing him, the doctor ordered a CT scan of Jacob's skull, which Weidner said was not done correctly.

"Jacob's head was not correctly placed in the machine. It was placed at an angle and he moved, which was not noted," Weidner said. "As a result of him moving, a blurred line showed up on the CT scan image and right then we were transferred to the pediatric intensive care unit. At that point, we didn't know if our son was going to live or die."

Weidner said the Pediatric Resource Center (PRC) of the hospital ran a series of tests on Jacob, which didn't reveal any external injuries. However, after members of the Illinois Department of Children and Family Services, and officers of the Peoria police were called in and spoke with Dr. Channing Petrak, Weidner and her husband, David, were informed the blurred line on the CT scan represented a skull fracture, which could "only be the result of being hit over the head with a large, flat object."

The Weidners were then placed by DCFS in a "safety plan," which for two weeks did not allow the Weidners to be alone with their three children and held the chance of the Weidner children being placed in foster homes.

Weidner said at the end of the two weeks, DCFS returned to their home and informed them the PRC admitted to making a mistake with the diagnosis of Jacob and the case was being closed.

"What ended up closing the case was when the head of the radiology department for the Central Illinois Radiological Associates, Dr. Zagardo, returned from vacation and looked at the image (CT scan) and said it didn't look like a skull fracture," Weidner said.

To be on the safe side, the Weidners took Jacob to the Cincinnati Children's Hospital for a second opinion. Within 24 hours they were informed that Jacob never suffered a skull fracture.

After overcoming the ordeal, Weidner, along with Nikki Critser and Laura Nimke – who faced their own situations dealing with head injuries to their children – joined together in support of the release of Jacobazzi.

"Pam was not convicted on the basis of a thorough evidence differential diagnosis. She was not convicted based on the opinions of forensic experts," Weidner said. "She was convicted based on the failure of a broken system that allows hysteria to override logic."

Contact Neil Schneider at nschneider@illinoistimes.com.